Today I want to show you how taking the time to learn the 256 Chinese radicals (that is the basic components of any Chinese character) will allow you to learn Chinese characters much faster. I will do it through a real life experience (no worries, you won't hear any overly complicated or abstract theories here!)
Just to recap my situation, on February 2013 I've started to learn how to write Chinese characters using Skritter, an interactive software that allows you to learn characters faster by reviewing flashcards with a clever scheduling (click on the link if you want to understand how it works).
My goals were to:
Add new flashcards and review old flashcards for a total of ten minutes per day.
Using mnemonics to actively study the characters that I can't remember (instead of trying to remember them by reviewing them over and over again).
Study all the characters and words of the HSK lists from HSK1 to HSK4, that is 1076 characters and about 700 words composed by the same characters.
Where am I?
Using Skritter about ten minutes per day I was able to learn all the characters of the first three levels of the HSK and I'm now going through level 4, the last one I'm supposed to study. In particular, I've already learned 830 characters and 420 words.
At the moment I live in Shanghai, where both my girl and all my friends are fluent in English, and I speak Mandarin much less than when I was living in Hangzhou (where English is less common).
However I feel that studying the characters helps me to remember what I already know and improve the quality of my life as I can now reading in a more effective way and understand a lot of documents that before were a no go for me (bills, long text messages, food menus and so on).
The fastest way to learn new characters
I think everybody will agree with me when I claim that the fastest way to memorize new characters is to decompose them on their main components and connect these components together to somehow convey the meaning and the shape of the characters you want to learn. You can find several examples by watching the video at the beginning of this post (it's funny, watch it!).
The problem I was facing
Ok, if I know that the character 木 means "tree," then it will be easy for me to remember that the character 森 means "forest." After all I see a bunch of trees so it makes sense!
However it's not always that easy. Let's take another fairly common word, 分钟, which means "minute." I was able to identify three main components, that is 八 (it means "eight"), 刀 (it means "knife") and 中 (it means "center").
Unfortunately I had no idea about the left part of the character 钟. Thus I firstly came up with the following mnemonic:
"It takes a minute (分钟) to divide an hook at the center (钟) into eight knives (分)."
But I wasn't satisfied. Not at all! This is clearly too messy and almost impossible to remember. Also, I choose the trigger "hook" because the left part of the character 钟 remembered me the shape of an hook (钅). But this isn't its real meaning, so the process isn't scalable. Or, in other words, I can't effectively re-use the trigger hook for remembering different words.

钅 jīn: metal (Kangxi radical 167, standing variant)
I then took a second to dig on to Skritter's database and I found out that 钅 was a variant for 金, which is a character I know quite well (it means "metal" or "gold").
Now that I knew ALL the four components of the word 分钟 the situation changed. Fist at all, I was able to find an easier mnemonic, that is:
"Eight metal knives on the quadrant (that is the center) of a watch."
Why this mnemonic is easier than the previous?
Because the first mnemonic was a non-sense story. And stories are long and difficult to remember. Conversely, the second mnemonic is an image, that is a watch with eight metal knives as minutes hands of the quadrant, namely the center, of a watch.
Moreover, when I already know ALL the components of a word, I often don't need any mnemonic to remember the word as I'm already familiar with the shape, meaning and pronunciation of each component.
Despite what people may think, Mandarin has a logic and in most of cases the meaning and pronunciation of at least a component will trigger the meaning and pronunciation of the whole word.
As an example, the character 钟 is pronounced zhōng as the character 中.
What this taught to me?
The journey to learn how to write the word 分钟 taught me that it would be much easier for me to learn Chinese characters if I could just know ALL the basic components, which are called radicals.
I never took the time to learn radicals in the past because many of them are only used as components of more complicated words. Moreover, I thought there were thousand of radicals to learn!
Out of curiosity, I checked the Skritter's Radicals deck and I discovered that Mandarin only has 216 radicals, which become 256 if you take into account the different variants of some radicals. To stick to our example, 钅and 金 represent the same radical when used in different positions (see the characters 钟 and 鑫 for a graphical explanation).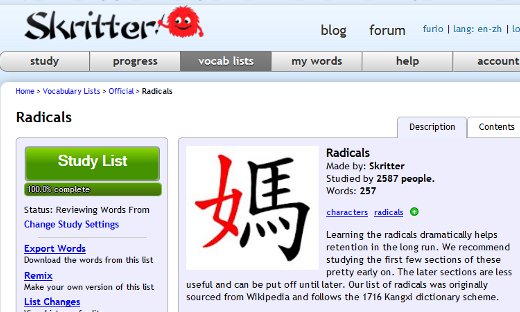 Skritter's deck of Chinese radicals
So I decided to learn the radicals
This mayor discovery took place on March the 10. I then decided to stop learning the HSK decks and focus on learning the radicals for awhile. It took me about three weeks to learn all the 256 radicals, at the pace of ten minutes per day, before to come back to my HSK decks.
I believe this was a great "investment" because now I recognize the basic components of ANY Chinese character, I can come up with a good mnemonic faster and learn complex characters became (relatively) easier.
I say relatively because there are still a lot of characters that challenge me (餐 for instance) for the simple reason that they contain a lot of radicals. However now I know how to decompose them on components I'm familiar with. So no character scares me me anymore ; )
p.s. If you buy a
Skritter
's subscription through one of the links on this page and uses the coupon "SDC3952" you get a 10% discount in all plans.