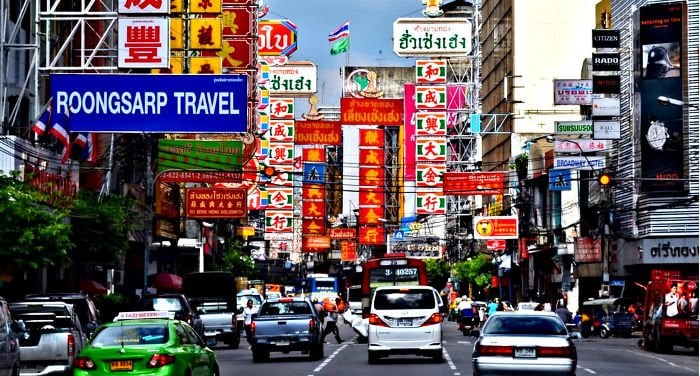 Chinatown in Bangkok is one of the oldest neighborhoods in the city. Founded in 1782 when Chinese merchants were moved off the lands where King Rama I wanted to build his palace, today Chinatown is located within the Samphanthawong District.
The first Chinese merchants had already arrived in Thailand by the 12th century. The Chinese community grew exponentially since the end of the 18th century, when the Thai government encouraged immigration, since they needed lots of people to rebuild the nation's economy which was destroyed during the wars with surrounding countries.
The integration of Chinese people with the Thais grew toward the end of the 19th century when half of the population of Bangkok had Chinese blood in their veins.
Even though Chinatown is one of the smallest neighborhoods in the city, it's also one of the most populated: almost 25 inhabitants per square meter. There's also a high density of buildings in the area, and for this reason buying real estate in Chinatown is expensive, with prices second only to those of the central neighborhood of Pathum Wan.
The first impression you get when visiting this part of Bangkok is that of chaos and frenetic rhythm that revolves around the market, traditional Chinese pharmacies, stores where they buy and sell gold, all mixed with the calm offered by the oases of peace found inside the colorful Taoist temples.
Chinatown is an area that's different compared to all the others; old and imposing buildings, colorfully bright neon signs, low houses, strong smells and typical restaurants are just a few of the characteristics that make this commercial area even more authentic and alive.
The Chinese community has also "imported" the entrepreneurial spirit: each house in fact has a family-run shop on the first floor, a so-called shop house, where they sell merchandise of all sorts at good prices. The Chinatown neighborhood is divided according to the type of shops; from jewels in gold to shop houses where they repair cars and motorbikes, up to the area that specializes in firearms.
If in the past Chinatown was mainly a commercial area, which at night transformed into a kingdom of opium and red light clubs, today it has become a destination for eating good local food, fully immersing yourself in Chinese culture, and trying your hand at low-cost shopping in the teeming local markets.
How to get to Chinatown
Bangkok's Chinatown can easily be visited in a day. Though the main thoroughfare is Yaowarat Road, I recommend that you also explore nearby streets like Charoen Krung, Mungkorn, Songwat, Songsawat, and Chakkrawat.
The symbolic entrance to the neighborhood is the Chinatown Gate, a typical Chinese monument symbolized by a red door built in 1999 that was placed inside a rotonda at the start of Yaowarat Road.
You can get to Chinatown in four different ways:
taking a taxi or tuk-tuk;

with bus number 25. Its route covers the northern part of Bangkok, passing near Lumphini Park and ending up in Chinatown. Bus numbers 1, 3, 7, 8, 9, 37, 49, 75 also pass through this district;

getting off at the Hua Lamphong metro stop then walking for 15 minutes;

by boat getting off at the Ratchawong Pier (N5).

Where to eat in Chinatown

In this area little known to tourists is Guay Chub Auan Pochana, a typical restaurant near the Chinatown Rama cinema, which is only open from 18 onward. For 50 THB you can taste a noodle soup with crispy pork bacon, or for the more courageous, you can ask then to add pork giblets.

If you prefer fish instead, T&K Seafood and Lek & Rut Seafood are for you. Both are located on Phadung Road, are open from the late afternoon (from 16:30 on) and offer menus with a wide variety of fish grilled or cooked in spicy soups.

A different category is Ba Hao (which in the Chinese language means "number 8", which is considered to be a lucky number), a small restaurant that also runs a hotel along Soi Nana, which is not to be confused with the street with the same name near Sukhumvit Road, in the middle of the city. Don't be fooled by the red lights in front of the restaurant, which are a little similar to the red light district of Shanghai.

The menu features typical Chinese dishes, for example sweet tofu dipped in soy sauce with herbs and spicy sesame (158 THB), sweet and sour duck dumplings (218 THB), and spicy soy puddings with goji berry jam (148 THB). Everything is made by the owner who has worked in such prestigious places like the Mandarin Oriental of Bangkok.

There are tons of places where you can try Chinese food in Chinatown. Among the most famous typical dishes that are most sought after by European tourists are:

toasted bread that's crispy on the outside and soft inside, filled with condensed milk and Sankaya;

Kway Chap soup, cooked with rice noodles, Thai peppers, and different types of pork;

swallow nest served in a bowl of hot or cold broth, which is sold practically everywhere on Yaowarat Road. Prices start from 200 THB a portion;

duck braised for several hours and served with Chinese herbs;

Chinese pork dumplings, served at Jek Sia (on Plang Nam Road), a tavern established more than half a century ago, where 5 dumplings cost just 15 THB;

shark fin soup;

fresh, dark red pomegranate juice, which is a typical symbol of Chinatown.

What to see in Chinatown

I recommend that you visit Chinatown in the morning from Monday to Friday so as to fully immerse yourself in the local atmosphere. If instead you want to take a culinary tour and taste the best local dishes, I recommend that you visit it in the evening and eat there for dinner.

One of the prettiest and most characteristic events is the Chinese New Year. Next year it will be celebrated beginning January 24th, with the start of the Spring Festival Eve. January 25th will be the actual heart of the celebrations with a dragon parade and on February 9th you can attend the lantern festival.

On the day of the New Year I recommend that you visit the Lengnoeiyi Temple, located on Charoen Krung Road, where thousands of people render homage to the gods by lighting incense sticks, which in Chinese culture are considered bringers of good fortune.

The most famous temple in the neighborhood is Wat Traimit. White and colored with gold, this temple has a massive 5.5 ton golden Buddha statue valued at 250 million dollars. Inside Wat Traimit there's also the Bangkok Center of Chinese Cultural Heritage. The price of entry is 40 THB, but if besides the Buddha you also want to visit the museum, you'll have to add another 100 THB.

In the middle of Chinatown there's Wat Mangkon Kamalawat, the biggest and most important Chinese temple in Bangkok. Inside you can admire various Buddha statues, but also typical Taoist divinities surrounded by hundreds of little smoking sticks offered to the gods.

Also nicknamed the Dragon Lotus, this temple goes back to the 1800's. Hours of operation are from 9 to 18 and during the Chinese New Year festivities in January and the vegetarian festival in October, Wat Mangkon Kamalawat becomes the meeting point of Taoism, Confucianism and Buddhism.

The crocodile temple, originally called Wat Chakrawrat Rachawas, is a place of worship with buildings going back to the 19th century. Its interesting name comes from a legend where a crocodile became in integral part of the local community after having been saved by a monk from the temple. Today, 3 crocodiles live in a pond located just beyond the main courtyard.

Considered one of the 8 most beautiful Taoist temples in the city, the Kuan Yim Shrine (Thien Fa Foundation) was built in 1902. It's history is particular because its construction represents the cooperation between immigrants that spoke 5 different Chinese dialects.

A small but interesting temple to visit is the Wat Kanmatuyaram. Going back to 1864, it has one of the most important intact frescoes in Thailand. Located on Mangkorn Road, it can easily be reached by air conditioned buses numbers 1 and 7.

Boonsamakan Vegetarian Hall is a small old temple where you can admire magnificent examples of Chinese wood carvings depicting dragons and Chinese mythological creatures. Each year, in October, during the Vegetarian Festival there are performances organized in the temple in honor of 9 different divinities.

Sampang Lane is a characteristic street considered to be the neighborhood's birthplace where you might feel as if you were transported into Ancient China. A very convenient place for buying cotton goods, this market is open every day.

Imagine the body of a dragon in movement where there are lots of stalls with all types of objects, and a very cramped main road where many pedestrians frenetically walk and scooters and carts full of merchandise pass by.

Another interesting but much less famous market , is Pak Khlong. Here you can buy fruit and vegetables. I recommend you go there in the early morning for better shopping since the Chinese are very superstitious and if the day starts with a sale it means that the whole day will go well. The buses that go through this area are numbers 3 and 9.

Chinatown is also a place known for buying and selling gold. In fact there are more than 100 jewelers just on Yaowarat Road. The most famous is Tang To Kang, at 345 on Soi Wanit 1, which opened in 1880. Located inside an impressive 7 story building designed by Dutch architect, this store was originally and exchange office.

A green space in Chinatown is Romaneenart Park, which is where Remand Prison used to be. This jail was built in 1892 by King Rama V was converted into a public park in 1990. Today some of the prison's original buildings have been maintained and converted into a museum, where visitors can see how life was during that time and the torture used on its prisoners.

If you want an authentic experience and have a few aches you want to cure, I recommend that you take a look at the pharmacies of traditional Chinese medicine located on Yaowarat Road. After filling out a form with your most important information like height and weight, you can speak with a Chinese doctor. Some of them don't speak English, so they are helped by Thais who serve as translators between Chinese and English.

The doctor will examine your tongue and check your heartbeat through your pulse. After asking you some specific questions on your health and the ailments you want to have resolved, you'll be given a prescription in Chinese that is entirely made of natural ingredients (among which could also include hedgehog skin!). At that point you'll be accompanied to the area where they keep all the ingredients in a traditional style.

A pharmacist will then prepare you 14 portions of your medicine, already divided by the day. For a week you'll have to prepare and drink a decoction made of these ingredients. You can do this at home or in your hotel, or if you prefer you can go to the pharmacy which would have a pharmacist prepare it for you twice a day.

Chinatown is a convenient area also for visiting Bangkok's Indian neighborhood: Phahurat. As the center of the city's Hindu community, here you can visit both the local market with the statue of the god Ganesh outside, as well as the large Gurdwara Siri Guru Singh Sabha Temple, a 6 story place of worship.

Each floor has 84 steps; the number in millions of reincarnations (8.4) that a human being has to do according to Sikhism, the fourth largest religion in India. You can get to Little India with buses numbers 1 and 7.

Photo Credits: Bangkok – Chinatown by Philip Roeland