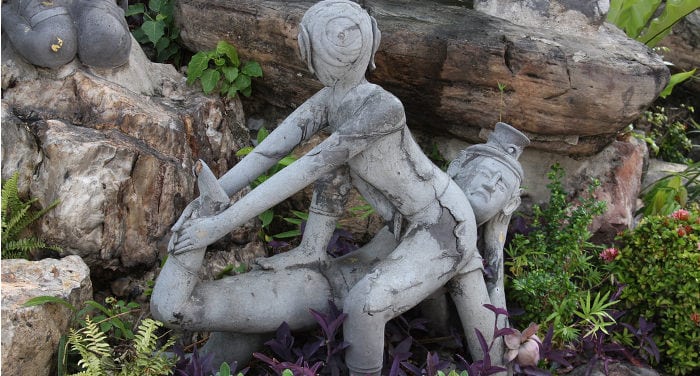 Besides the classic visits to Buddhist temples, museums, parks, markets, and shopping malls, Bangkok also offers lots of alternative activities.
In this article I'll speak to you about:
Thai massage from blind people
Dinner in the dark
Bars with animals
Trampolines and Jumping Parks
Amusement parks
Ancient City
Painting
Bowling
Sand bath
Thai Massage
Besides classic spas, or massage centers you can find spread throughout the city, there's also a well-being center run by blind people.
Perception Blind Massage is located in the Sathorn neighborhood, near the Chongnonsi SkyTrain stop, on Sathorn Soi 8. Operating hours are from 10:00 a.m. in the morning to 10:00 p.m., every day.
Opened in December 2014, Perception Blind Massage was launched with the idea of giving the opportunity to blind people to practice one of their most developed senses: touch.
There are four types of services offered by this massage center:
Classic Thai Massage: an hour-long massage costs 400 THB, for two hours, 700 THB.
Massage with aromatherapy: more expensive than the traditional massage, this activity is more centered around the sense of smell. An hour costs 900 THB, 1,700 THB for two hours.
Foot massage: not suitable for those who suffer from ticklishness, for an hour it's 450 THB, for two it's 600 THB.
Massage with Thai herbs: this type of massage is done with hot cotton bundles, which contain different types of herbs that relax muscles, relieve pain and give a sensation of relaxation. Prices go from 850 THB for an hour and a half, up to 1,100 THB for two hours.
The structure is well-maintained, the interior colors and even the atmosphere are designed for those looking to fully enjoy this particular activity.
Prices are slightly higher than classic massage centers that you can find for example at Victory Monument (Soi Rang Nam), where for an hour-ling Thai massage you have to pay 300 THB.
Nevertheless, unlike these centers where the most important thing for the owners is to make as much money as possible, often hiring people who have no idea of what they're doing and the damage that a wrong massage can do to the body, at Perception Blind Massage you'll be asked to provide important information about your health, such as if you suffer from low pressure or osteoporosis, if you have allergies, or if you're diabetic or suffer from heart problems.
Dinner in the dark
Staying on the theme of sensory experiences, another activity that's very popular in Bangkok is dinner in the dark.
This type of service is offered by Dining in the Dark, a restaurant located on the ground floor of the Sheraton Grande Sukhumvit hotel, near the Asoke SkyTrain stop.
The restaurant is open from Tuesday to Saturday from 6:30 p.m. to 11:00 p.m., and you need to reserve a table by calling +66 (02) 649 8358, or sending an email to [email protected].
When you get to the reception, you'll be asked what type of menu you'd like: Asian, European, vegetarian, a surprise combination or a menu that also offers wine tasting. After a brief explanation of what you're getting into, you'll be taken into the dining hall. The whole time you'll be in the dark.
You can taste the four-course dinner and also listen to live music at a base price of 1,450 THB just for food, drinks are sold separately. The wine tasting option is 2,600 THB a persona. For each menu bought, a portion of the proceeds goes to the Thai Association for the Blind.
Once you finish dinner, you'll be brought to the bar area where you'll be asked to fill out a form where you have to guess the dishes you ate during dinner. Lastly the dishes you tasted will be revealed so that you can have an idea of how well-developed your senses of taste and smell are.
This type of experiences in making inroads in various cities even in Europe such as Amsterdam, Berlin, and London.
The quality of the food served at Dining in the Dark isn't anything special and prices are rather high, considering that drinks are excluded. In addition you'll have to add a service charge and IVA, which will bring the final cost up to 17%. However the atmosphere and experience are something distinctive and will leave you with a fine memory of the evening.
Bars with animals
Continuing with the theme of refreshment, in Bangkok (and even in Chiang Mai) you can find bars where you can be in close contact with domestic animals like cats and dogs.
In the Ari neighborhood, for example there's the True Love Café, a bar/restaurant where you can feed and spend a few hours in the company of 17 Siberian Huskies.
Hours of operation are from Tuesday to Sunday, from noon to 21:30.
Unlike other places where you can also bring your pet, at the True Love Café this won't be possible.
Before coming into contact with the huskies (the hours are from 1:30 p.m. to 2:15 p.m., 4:30-6:00 p.m., and the last shift is scheduled from 8:00 p.m. to 9:15 p.m.) you'll have to fill out a form where you take responsibility for any incident that might befall you while with the dogs.
Besides a simple coffee, you can also eat local dishes like grilled pork with peppers for 160 THB.
A place where you can be with just cats is the Purr Cat Café Club. Inside this bar you can find both a coffee shop where you can pet the owner's cats and a room where you can bring your cat and enjoy yourself.
The bar serves both food and drink for us and our felines. You can also leave your cat at their hotel, or even have them groomed for a price starting at 450 THB.
You can find Purr Cat Café Club on Sukhumvit (Soi 53), open from Tuesday to Thursday from 11:00 to 20:00, on the weekend it stays open until 21:00.
Trampolines and Jumping Parks
For the young and daring there are also indoor parks called "Jumping Parks". The main activity is to jump on the trampolines and/or large mattresses.
Inside these parks you can also climb a "spring" wall and then let yourself fall and bounce on the mattress; the same with team games with foam balls.
Time inside these structures are limited, and depending on the predetermined rules of each park, you'll have to pay an entrance fee. The Rokin' Park for example, charges 400 THB for a half hour, and can go up to 4,000 THB a person for 10 hours. Slightly cheaper is Bounce Thailand, prices start at 390 THB for 1 hour.
Amusement parks
In Bangkok you can also find amusement parks in Gardaland style ( or something close to it!).
One of the parks I visited was Siam Park City. This park is located in the eastern part of the city and the best way of getting there is to take a taxi.
Inside Siam Park City you can find both roller coasters and kids rides as well as a water park where you can try slides and wave pools.
Tickets cost 1,000 THB a person, and the park is open every day from 10:00 a.m. to 6:00 p.m.
Unfortunately the truth is that it isn't worth the money or time it takes to get there. Lots of rides are closed (we don't know if it's for maintenance or other reasons), and those that are open are really old and in bad condition.
The rides are also located rather far from one another and you'll feel as if you're walking through an abandoned village: it's very dirty, there's nowhere to sit, hardly any bathrooms or restaurants where you can eat (just a few Thai-style stalls where you can get some coffee or popcorn).
You can also enter in the "water" part. In this section of the park you can find a pool (very dirty) where there are a few slides (some with rather big holes), and a larger pool that makes artificial waves. The truth is though that if you don't read the sign where it says it's a wave pool, you wouldn't know it since the waves are really low if not non-existent.
On the right you can find changing rooms and lockers where you can put your clothes. If you don't have a bathing suit and towel you can rent one. This area is also dirty and badly kept. On the upper floor there's an international restaurant that offers a buffet for 400 THB a person, without drinks. The food isn't anything special and as far as international food it has little to nothing; you'll mainly find salads and rice seasoned in different ways.
The second park is located in the province of Pathum Thani, about 20 kilometers from Bangkok, and is called Dream World.
Inside you'll find rides for children and adults, but also a section dedicated to ice games (temporarily closed until July 16, 2017 for renovations).
Tickets are the same as Siam City Park, and it's open every day from 10:00 a.m. to 5:00 p.m., and during weekends up to 7:00 p.m. In addition to the initial 1,000 THB, if you want to enter certain sections of the park you'll have to pay a supplement of:
180 THB for the winter section;
120 THB for water rides;
180 THB for each ride on a go-kart;
60 THB to visit the animal farm.
This park offers a lot more attractions than the other. Rides are well-maintained and there's something for all ages and tastes. There are also various refreshment stands, like local restaurants and also KFC, of which the Thais are particularly fond.
Ancient City
About 20 kilometers from the center of Bangkok, you can find what the Thais call "Thailand in Miniature", or Ancient City.
Inside this private park you'll find all of the country's most important monuments arranged in a territory representing Thailand. In the southern part (where there's the only entrance to the park) you'll find monuments from the cities close to the Malaysian border, moving on to the center where there's a representation of the royal palace in Bangkok, then moving on to the west, where there's a realistic reproduction of the floating market, lastly coming to the north with the monuments in Chiang Mai and Chiang Rai.
There are two types of monuments in the park:
Smaller copies of actual monuments, such as the royal palace of Bangkok for example. At Ancient City you can visit it, see the beautiful walls decorated by hand inside, but it's obviously one hundredth the size of the real royal palace in the capital.
Or you can find invented monuments that don't actually exist in Thailand. Some examples are the "Hall of 80 Yogis", a little road where you can find 80 statues depicting as many yoga positions.
Getting to Ancient City isn't complicated, but takes a few hours. If you decide to go by taxi, from the center of Bangkok it will take an hour, and the price is about 200-250 THB, depending on the traffic you encounter.
If instead you decide to go by SkyTrain, then you'll have to get off at the Bearing stop (the Sukhumvit light green line), and from here once a day (at 11:00 a.m.) there's a free bus that will bring you to the entrance of the park.
For the return I recommend that you go out from the parking area where there are the usual taxi drivers waiting for tourists to fleece, and stop a taxi on the main road, so that you can get them to turn on the meter and pay the fair price. If you leave the park in the early afternoon, at 3:00 p.m. you can take the free bus that will bring you back to the Bearing station.
Since the park is on private property, even Thais have to pay for an entrance ticket. The price for a foreigner with a tourist visa is 700 THB; 350 THB for Thais and foreigners with a work or student visa. If you're working or studying in Thailand you have to show your passport at the entrance so as to pay only 350.
At this point you have a few choices: see the park on foot (I don't recommend it since it is enormous and there are few shady areas), rent a bike (the best option), rent a golf cart (they're 150 THB for two people, every hour; 300 THB for four people; 450 THB for six), or if you've come by car you can go in on your own, paying a supplement.
The last option, which is also the most popular with schoolchildren is to get on a little bus that looks like a train car which follows a standard route, visiting the largest monuments. This transportation is free but is also in my opinion the least comfortable, since you can visit at your own pace but have to follow preset times.
Visiting hours are from 9:00 a.m. to 7:00 p.m., every day.
Personally I think that the bicycle is the best way to visit Ancient City. You can stop where you want and even eat inside the floating market, where on actual reproductions of typical Thai boats they'll prepare Pad Thai on the spot.
Besides the refreshment area of the floating market, you can find various stands where you can drink from a coconut or eat an ice cream.
The various monuments are well-kept, and you'll be amazed at seeing a park where there's practically no one. It can therefore be considered a relaxing place, especially when compared to the frenetic life in Bangkok.
Painting
For art lovers, the Paintbar on Sukhumvit 46, offers painting courses almost every evening.
On their website you can see their calendar of painting sessions and even what will be the subject of the painting.
Lessons last for 4 hours,and you can decide which shift to do:
The afternoon one from 2:00 p.m. to 6:00 p.m.;
Or the evening one from 6:30 p.m. to 10:30 p.m.
Besides getting the shift and day you want, you can also buy the food you want to eat during the painting lesson. Prices for a few snacks and a bottle of beer start from 499 THB. The painting course costs 799 THB a person, and obviously you can bring home the painting at the end of the lesson.
Personally I don't think the price is worth the experience, especially regarding the food. If you're really passionate about painting and want to learn some techniques, then 799 THB can be considered well-spent, otherwise I recommend that you try a different activity.
Bowling
Another interesting activity to do with friends is bowling. You can find bowling alleys in almost all shopping malls in the city, starting from the Siam Paragon to the Major Shopping Centre and Ekkamai.
The distinction of Bangkok's bowling alleys is that they're actually discos. The music is loud, and it's almost impossible to speak; and the lights are neon-colored in 80's disco style.
Nevertheless the lanes and equipment are in good shape. You can find things to eat and drink inside for not too high prices.
Once inside you'll have to fill out a form where you'll be asked the names of all players, will have to pay for the first game and rental shoes (and if you don't have them, socks too).
At the MBK center each Wednesday bowling is 50% off, so instead of 120 THB a game per person, you'll pay 60 THB. Despite there being a large sign at the entrance that clearly says that games are discounted 50%, once you get to the register they will always try to cheat you and have you pay the full price, it happened to me every Wednesday I went there.
When you tell them that the price is wrong they'll pretend that they don't understand what you are saying (a technique frequently used by the Thais), but with a little insistence you can pay the right price.
Sand bath
To conclude, one of the most distinctive activities you can try in Bangkok, and before coming to Asia something I had never heard of, are Japanese sand massages.
The most popular place to try this experience is The One Sand Bath Therapy, a Japanese spa located inside The One Residence Hotel, about 20 minutes from Suvarnabhumi airport, on Sirinakaring Road number 319.
Hours of operation are from 1:00 p.m. to 9:00 p.m., and you need to make a reservation at least 48 hours before, by calling +66851405454, or sending an email to [email protected].
It is said that this type of therapy is very good because the volcanic sand is rich in minerals and at a temperature of 55 degrees, it will improve your circulation by expelling every negative toxin from your body.
Prices start at 2,500 THB for an hour, with 15 minutes immersed in the sand and the other 45 for showering. No matter what, the time in the sand cannot surpass 20 minutes, because it could be very dangerous.
Photo Credits:

Thai Massage by Bridget Coila