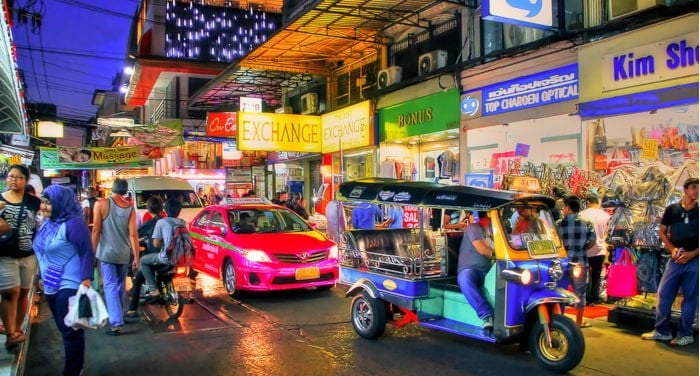 In this article I will talk about 8 of the most common scams going on in Thailand and how you can avoid them simply by being smart:
Taxi and tuk tuk drivers
The most well-known scam, especially in Bangkok, undoubtedly has to do with Thailand's notorious taxi drivers. Nobody is spared from this scam; whether you're a tourist on your first vacation in Thailand or an expat who's lived in the Kingdom of Siam for years, the battle against the taxi drivers will inevitably become part of your daily life.
As soon as you exit Suvarnabhumi Airport you'll see many taxis waiting for travelers who have just landed looking to go into the city. There are two types of taxis that you'll see – those with a regular license and those that are unauthorized.
In the case of the latter, the driver will approach you and ask where you're going in the hopes to set a fixed price that is quite high by local standards. Regular taxi drivers use the same tactic, but tell you that they don't want to use the meter because there's too much traffic, and that if you use the meter the ride will cost you more. Obviously both are scams, because a ride with the meter on will cost you a maximum of 200 THB, while they'll try to sell you one for 700 THB.
The third type of scam is where the meter has been tampered with and the price rises disproportionately quick. Unfortunately if this is your first time in Bangkok and you don't know much about the city and its rates, it will be hard to notice this scam. Just know that in general the minimum charge for a ride starts from 35 THB. Each kilometer thereafter costs 5 THB.
The tuk tuks are one of the symbols of Thailand. These colorful, three-wheeled motorbikes shoot around the city drawing amused looks from tourists. Unfortunately, even with the tuk tuks you could get scammed.
Usually the driver's plan is to offer you a free ride, or one at very little cost to bring you to gem or jewelry stores where the driver gets a percentage of what you buy.
Others will bring you to travel agencies where you'll be offered trips at a great price, that sadly don't exist.
Solutions:
The Thai government has been trying to solve the taxi driver plague for years. Every driver with a licensed cab in Bangkok has an identification number written inside the taxi. Thanks to a dedicated telephone number for complaints, passengers can report these scams. Sadly, quite often there's no real action taken by local authorities against these crimes;
A useful website to have a general idea of taxi prices in Bangkok is Taxi – Calculator. Just enter your starting and ending points and the calculator will show you a map with a route and total price;
The subject of "taking a taxi in Bangkok" could merit a guide unto itself considering the complexity of the subject, however, regardless of if you are at the airport or the middle of the city, my advice is to always take regular taxis and to never negotiate a price, but rather insist that they turn on the meter;
Always carry bills in small denominations, so avoid 1,000 THB bills for example, since many drivers will take an unauthorized tip on the claim that they don't have enough change;
Don't take any tuk tuks in touristy areas such as in front of the Siam Paragon, Central world, Soi 4 in Nana, and especially Khao San Road. Always agree on a price before getting on the tuk tuk.
One last note: Thai taxi drivers only use meters in Bangkok. In the rest of the country it's an unwritten rule that taxis never use the meter. In places like Phuket and Koh Samui, rides can cost a lot.
Precious stones
Many western tourists come to Thailand thinking they'll get a great deal on precious stones at low prices, and then be able to resell them in their home country. Sadly though, unless you're an expert on the subject, oftentimes you'll get scammed. Unsuspecting tourists are sold colored stones passed off as stones of inestimable value.
Solutions:
Unless you're an expert on precious stones I strongly discourage you from buying them in Thailand. This scam is also quite present in countries like Myanmar;
If however, your trip to Thailand is for the specific purpose of buying precious stones because you have a jewelry business in the West for example, then go with resellers with a good reputation such as the Jewel Fest Club. This is a nonprofit organization created in 1995 by the Thai government, which has the purpose of creating high standards and monitoring the quality of jewels and precious gems sold in Thailand.
Tourist places that seem to be closed
Much like the scams used by taxi and tuk tuk drivers, this ploy is also quite common in touristy areas such as outside the Temple of the Reclining Buddha or the Grand Palace.
A Thai will approach you, not in front of the main entrance but nearby. They'll then tell you that the monument you came to see is closed for a demonstration and that you should come another time. At that point they'll offer to take you on a tour of the city with them to see other tourist sites.
The scam is to get you to hire them as a guide while asking an excessive price as compensation.
Solution:
Always check the opening hours and days of operation on the various attractions' websites. Never trust a stranger who approaches you with alternative tours.
Jet skis
The jet ski scam is quite simple: you rent one, play around on it, and when you bring it back they'll tell you that you broke it and will now have to pay a hefty sum of money to repair it.
Solution:
If you really want to rent one, my advice is to never leave money, or worse, your passport, as a guarantee for renting a jet ski. As with renting a scooter, it's an excellent idea when renting a jet ski to take pictures of the marks and scratches already there before using one.
Tickets given by fake officials
Many public places in Bangkok have been declared "smoke-free zones" by the Thai Department of Public Health. More specifically, it was decided to ban the smoking of cigarettes in parks and introduce a rule of a 5 meter perimeter around condominiums, hotels, clinics, schools, shopping malls and many other public places.
The fine for violators of this rule is to pay 5,000 THB. However, in recent years there have been cases where the officials who fined tourists were not actual officials.
Solution:
Obviously the best solution is to respect the rules and not smoke in non-smoking places. But if something like this should happen to you, ask them to show you a valid form of identification.
Giving you the wrong amount of change back, and padding the bill at restaurants
Be particularly attentive when buying merchandise that they give you the proper amount of change back. This happened to me at a 7/11 store, where I gave them a 1,000 THB bill to buy a drink for 100 THB and the cashier pretended that I wasn't due any change, saying that I paid with a 100 THB bill.
Another problem that has often happened both to me (especially in the Khao San Road area) as well as friends, is the restaurant padding the bill. The check you're given is handwritten in Thai, with the addition of dishes and drinks that you never ordered, much less consumed.
Solutions:
Before leaving for Thailand familiarize yourself with local bills and coins;
If the receipt is in Thai and the number of dishes or drinks ordered doesn't add up, ask that you get an English version;
Always remember not to change money in unauthorized places, but rather use a bank or go to a Superrich.
Buses or trains that are already completely booked
Near train stations and bus stations you might be told by a stranger that the bus or train you want to take is already full. This person, passing themselves off as a crew member, will offer you other options that will obviously be much more expensive.
Solution:
I've also witnessed this scam in Vietnam; the important thing is not to fall for it and buy train or bus tickets through trustworthy apps like 12go.asia, or by going directly to the official counters at the station.
Merchandise for sale and asking for money twice
This is a trick I've seen in markets like Chatuchak in Bangkok.
You buy something at one of the many stalls inside the market and you pay for the merchandise. After a few seconds the seller starts shouting, accusing you of not paying and saying that you're trying to walk away with the goods (by the way: she's already put your purchase in a plastic bag with the store's name on it), and threatens to call the police on you.
Solution:
Do not let yourself be intimidated whatsoever and especially don't pay for it a second time. Rather, contact the tourist police that are usually present in the area.
Final considerations
Despite these scams, Thailand is a relatively safe country. But as with all foreign travel, you need to be prudent and use some good sense.
Remember that if someone approaches you and offers an incredible deal, it's almost always a scam; nothing is ever free, even in the Land of Smiles!
To conclude, in the event of an emergency, the number for the Thai tourist polices is 1155. For any other issues I recommend that you check with your country's embassy in Bangkok.
Photo Credits:

Tuk-Tuk-and-Taxi-at-the-Night-MArket-in-Pratunam-Bangkok-Thailand by Kim Seng