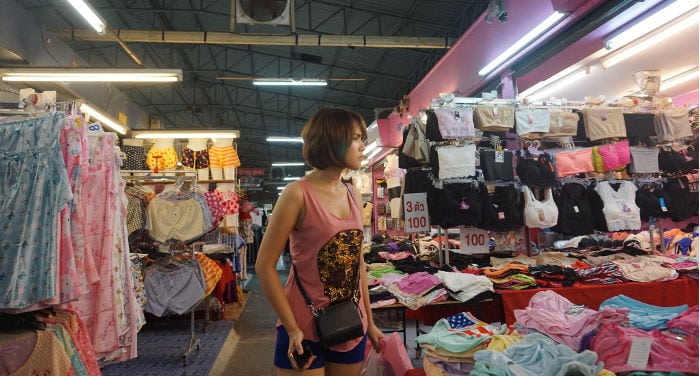 Fake Markets in Thailand – Index
In Thailand, as in Asia in general, it's very easy to find counterfeits of name brand products. The largest Thai fake markets are in Bangkok, but you can find smaller ones in other cities like Pattaya, Phuket, and Chiang Mai.
Before starting, note that importing "fake" products protected by a trademark can be considered a crime, so only do so after evaluating the pros and cons at your own risk.
The fake markets: where they are and what they sell
Fake markets in Bangkok
For a detailed explanation on the most famous shopping malls and markets in Bangkok, and how to get there, click here.
The choice of markets in the capital is quite varied, with the foremost being Chatuchak Market.
Also called the JJ Market, Chatuchak is one of the largest markets of all Southeast Asia. One of its distinctions is in its hours of operation: only Saturday and Sunday, from 6:00 a.m. to 6:00 p.m. Some of its parts, such as those dedicated to plants and flowers, are also open on Wednesday and Friday, with the same hours of operation on the weekend. Friday instead hosts an extraordinary opening of areas dedicated to bulk sales.
Inside the market there are 27 sections, each of which sells different things; from fruits and vegetables, used clothing, antiquities and masterpieces, to pets, for a total of 15,000 stands. Here you'll find the market's official web page, where you can find a map of all the sections and services available in the market such as banks, a police station, a small medical studio, and shipping companies such as DHL and the Thai postal service.
The areas for finding counterfeit products, such as clothing, shoes, bags, suitcases, jewels and watches are mainly:
5 and 6 for clothes and shoes. In this section you can find both authentic clothing and counterfeit.
From 10 to 24 for objects, suits, jewels, watches, bags, suitcases, and even home appliances, mainly from China, and often copies of major brands.
Chatuchak Market certainly wouldn't be considered the best fake market, since they also sell lots of handicrafts, such as handmade suits made by emerging designers, or paintings and wooden furniture for the home all inlaid by hand. It's also Thailand's biggest market and is certainly worth a visit.
The king of fake merchandise in Bangkok is the MBK shopping mall. 95% percent of the articles sold in this shopping mall are counterfeit, the remaining 5% are official re-sellers such as the Nikon and Canon camera stores, located on one of the last floors or the eastern part where there's the Japanese chain Tokyu.
The mall is spread over 7 floors, and is open 365 days a year, from 10:00 a.m. in the morning to 10:00 p.m.
Just as with JJ Market, at MBK too you can negotiate the price of merchandise on sale. My advice is to try to get the price down by knowing your stuff, since in recent years the Thais have become increasingly resistant to give discounts, especially to Westerners, and many vendors get offended. You'll find a very different situation in Cambodia where instead, you can discounts of up to 50%-60% percent, especially in town markets.
The first and second floors of the MBK are entirely devoted to clothing, shoes, bags, suitcases, hair accessories, watches, body products and souvenirs of all types. Everything is rigorously copied; you can find sport clothes for sale for a few hundred Baht, the same with name brand shoes for 500 THB a pair.
On the third and fourth floors hi-tech reigns. Stands where they sell gadgets for cell phones, computers, ipads, cameras, and much more, abound! You can also buy and repair smartphones and computers for rather low prices.
Remember though that the tech merchandise sold at MBK is of inferior quality, and even though merchants might try to pass it off as original merchandise, it's (almost) always fake.
Prices vary according to the type of customer they find in front of them: if they're Thai the price is low, if they're a foreigner they'll try to get as much money out of you as possible. An example are copies of PC chargers, which they sell for 3,000 THB for one. A price that's decidedly too high when compared to the original chargers.
Another paradise for fans of counterfeits is Patpong Market. This open air night market is found in the Silom district.
The merchandise for sale is mostly counterfeit (clothes, shoes, sunglasses, small bags, watches, DVD, CD), even if every so often you can find a stall that sells original products such as honey or handmade pillows.
The quality of the merchandise compared to that of MBK is lower, and much merchandise for sale breaks right after buying it. At Patpong Market what most people go for are the watches. Prices in general are low, and if you have skill at haggling you can manage to bring home quite a few deals!
The last of Bangkok's markets that I want to tell you about is Pratunam Market. This bazaar is located right in the center, near the Central World shopping mall, and is well connected by the city's public transport.
However since the Thai government decided to ban street sellers on the area's sidewalks around Pratunam, there are fewer stalls, and those that remain were all moved inside the road that leads to the famous Baiyoke hotel.
Even though there are also stands that sell small bags, souvenirs, suitcases, home appliances, DVDs and body products, the majority sell counterfeit clothing and shoes (usually of poor quality) in great quantities. Since the rule in Pratunam is that the more you buy the greater the discount, Pratunam is a market particularly suited for those that are looking for merchandise in large quantities, such as shop owners and re-sellers.
Fake markets in Pattaya
In Pattaya the two main markets for finding replicas of name brands are the Mike Shopping Mall, and Night bazaar.
The first is part of the Thai group The Mike Group of Thailand. It's located on the main road that goes along the coast of the city, and is open daily from 11:00 a.m. to 11:00 p.m.
Inside it's 5 floors, you can find souvenirs, body products, clothing, shoes, jewels, and even perfume, all rigorously copied: they're fake or cheaper versions of the big brands.
The prices are more or less the same as at MBK in Bangkok, as is the merchandise for sale. The rule of counterfeiting is to not exaggerate when lowering the price; you can usually manage to get a 20% discount when buying more than one product.
The night bazaar instead is a large covered market located on Pattaya Second Road. It's open every day and despite being called a night market it is also open during the day, with its hours of operation between 8:00 a.m. and 11:00 p.m.
Besides food, the night market vendors sell clothes, shoes, bags, suitcases, technology, jewels, sunglasses, body products and all types of souvenirs.
Fake markets in Chiang Mai
In the same style of market as Pattaya, there's also one in Chiang Mai. The Chiang Mai night market is a covered market located outside the walls of city, at the intersection between Chang Khlan Road and Loi Khro Road (but you can also find stalls located along the road that goes along the market).
Hours of operation are between 6:00 p.m. to 11:00 p.m., every day.
Unlike Pattaya, in this market you can find lots of local products such as handmade clothes made with Thai silk. It obviously doesn't lack a section reserved for counterfeits, such as shoes, clothes, DVDs, CDs, and more or less everything you can find in the other markets.
Prices are negotiable, and are generally lower than places like MBK. Nevertheless, the discounts you can get (depending on what you buy and how much it costs), are between 10%-15%; more if the vendor is in a good mood and if you can speak a few words in Thai (something that's always appreciated by the locals!).
Another place where you can buy counterfeit merchandise, is the city of Patong, on the island of Phuket.
Unlike the other Thai localities cited, Patong (and Phuket in general) doesn't have an actual fake market. Nevertheless, on floor -1 of the Jungceylon shopping center, you can find a few counterfeit articles, but don't expect a large selection. As compensation, the streets of the city are filled with lots of street vendors who approach tourists to sell them fake sunglasses.
In Phuket Town too there's lots for fans of fake things. During the weekend there's also the night market, organized on the main road in town (which is closed to the public for the occasion). The majority of articles for sale however are vintage or local creations.
Frequently asked questions
What days are Chatuchak market open in Bangkok?
The weekend market is open on Saturdays and Sundays from 9pm – 6pm. It's also open on Sundays from 6pm – 12am. The plant sections are also open on Wednesdays to Thursdays, from 7am – 6pm.
Is Chatuchak open during Songkran?
Yes, the market is open regardless of holidays.
How do I get to Chatuchak Market?
To reach Chatuchak Market, you can take the BTS (Skytrain) to Mo Chit Station and walk to exit number 1. Just follow the crowd of foreigners and you'll reach the market pretty fast.
What is the best time to go Chatuchak?
The best time to go to Chatuchak is in the morning (it opens at 9am) as it tends to be less crowded.
Where can I buy clothes in Bangkok?
There are both malls and local markets where you can buy clothes in Bangkok. The following malls should be of interest: Platinum Fashion Mall, PanTip Plaza, Centralworld and Terminal 21. If you want to go to local markets, you should have a look at: Chatuchak weekend market, Pratunam market, Talad Rot Fai Srinakarin night market and the MBK market.
How much does a T-shirt cost in Bangkok?
T-shirts cost around 200-400 THB, depending on the store and location.
How do I get from BTS to MBK in Bangkok?
Just take the BTS to the National Stadium, follow the signs and you'll reach MBK within 10 minutes of walking.
Can you bargain at MBK?
It's not as common compared to Chinese markets, for example, but it can be worth giving it a try.
Can I pay with US dollars in Bangkok markets?
No, you cannot pay with US dollars like in Cambodia. Instead, you should withdraw the local currency which is Thai Baht (THB).
What items are cheap to buy in Thailand?
You can find plenty of cheap things in Thailand like replica clothes, fruit, silk, tea, coffee, Thai snacks, electronics and more. When it comes to clothing and accessories, tourists are very keen to buy handbags, shoes, watches, T-shirts, tailor made shirts, suits and dresses and more.
Where should I stay in Bangkok for shopping?
Some of the best places to stay if you go to Bangkok for shopping are: Sukhumvit, Siam, Silom, Thonburi, Chinatown and Kao San.
Is Phuket good for shopping?
Bangkok is a much better option than Phuket if you look for shopping, but you'll still be able to find local markets that sell merchandise such as handbags and T-shirts in Phuket.
Is Koh Samui good for shopping?
Not really. But you'll be able to find clothes and other merchandise in places like Central Festival, Fisherman's Village Walking Street, Lamai Night Plaza and more.
Final advice
Avoid buying replica sneakers (especially at the Pratunam market), since they usually fall apart in a few days. If you should use them when it rains, since the majority are covered in material but filled with used paper inside, they'll be completely wrecked in a few hours.
Also avoid buying name brand counterfeits of body products, particularly face cream, which often contain substances that are harmful to the skin. This mix combining the constant heat and humidity of Thailand could cause an allergic reaction if not worse.
Even though in many places it is possible to buy ivory products presented as absolutely legal, know that they're not, and if they find it on you, you can get into serious trouble. This warning is also present at all the country's airports.
A last consideration has to do with statues of Buddha, and depictions in general. If you've already been to Thailand, or Southeast Asia, you'll have noticed that it's written practically everywhere that using the image of Buddha as a decoration (as a design on clothing or tattoo) is something very offensive to Buddhists, besides being illegal according to Thai law.
For this reason the Buddha statues that you can export from Thailand must be of small dimensions. In large markets like JJ Market in Bangkok for example, many companies offer shipping services for Buddha statues (which considering their size) can't be taken on a plane.
Obviously the shipping companies won't tell you that it's something illegal, so as to get your money, if though your package should get stopped at customs, you can face a very high fine along with the confiscation of your item.
Only in a few exceptional cases can you export antique items or Buddha figures. For these situations, specific documentation is required, which you can check on the official site of the Department of Thai Fine Arts.
Photo Credits:

Night Market, Udon Thani, Thailand by Insights Unspoken