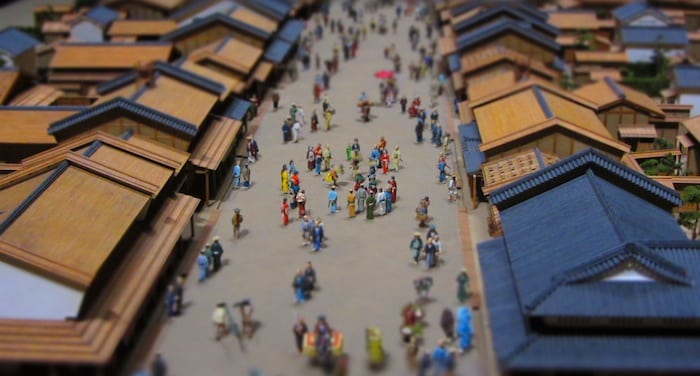 Museum Edo-Tokyo, detail of a model – Photo by Matteo Bosi
Pearl of Japan, a unique and absolutely heterogeneous city, Tokyo is a very different experience compared to most places in Asia that you will, or already have, had the opportunity to visit. In reality, it is all of Japan, a fascinating culture than has maintained much of its tradition through the commotion of history to arrive in our times as an exceptional and unique modernity.
Usually one arrives in Tokyo and stays here for too short a time to pay merit to the whole metropolis; the city, moreover, is good for visits of all lengths, interests and needs: its neighborhoods offer everyone a response to their tourist request, whether it be with family, or alone but a fan of manga, sports and bicycle lovers, those fascinated by skyscrapers and the majesty of metropolises.
Here is why, surely, Tokyo will not leave you disappointed.
When to go to Tokyo
Japanese weather offers warm summers and mild half seasons. So the Spring and autumn are equally excellent times to explore Tokyo. Don't forget however that this is a rainy zone, where the possibility of running into a downpour increases from the Spring to the peak of autumn. Personally, I visited Tokyo in October and many of my photos have gray skies.
For some areas it's sadly a true loss, but the city doesn't become unworkable as is often the case in Southeast Asia; so just come prepared for water without forgetting your umbrella here or there. Moreover don't forget that Tokyo is extraordinarily serviced by public transport, so even on rainy days you can opt to visit a little more "dry".
If you're interested in learning how to visit other countries in Southeast Asia, here you'll find information on visiting Burma (Myanmar).
A particular mention, without a doubt, is the local springtime. Through the years, tradition involving the cherry blossoms (Hanami) has become the seal of this city before Japan itself. The places where you can find these marvelous trees in bloom (and in Japan there are many different species if you're a fan!) are truly numerous: from a garden with a single secular tree that draws attention to the banks of the moat Chidorigafuchi of the Imperial Palce, where over two hundred cherry trees stretch over the water. Not to be forgotten is unmissable Ueno Park, where every year the Festival of Blooms takes place, or rather its paths are assaulted by locals and rivers of tourists.
A word of warning; if you're looking to plan your trip around the blooming season, be aware that Japan is heavily visited during this time and bookings are made far in advance. Take into account as well a huge increase in prices. This year, the start of the blooming season in Tokyo is predicted for March 26, with the peak beauty (and turnout) between the 2nd and 10th of April.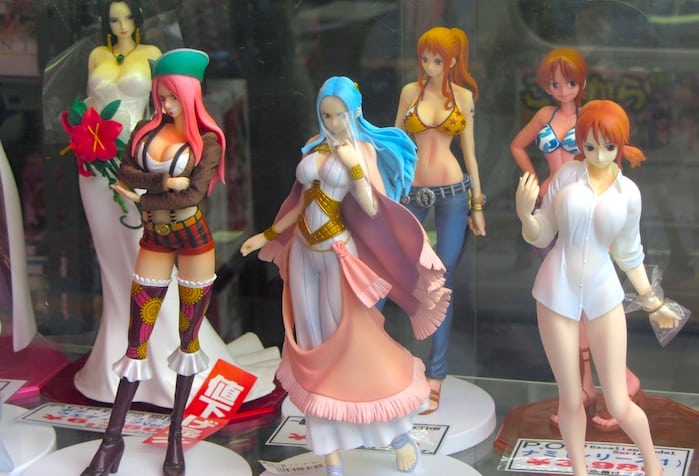 A manga store in Akiba – Photo by Matteo Bosi
Another festivity that interests Japan and that easily makes prices gush is the so-called Golden Week, which this year falls around the end of April, beginning of May. It is a national holiday of several days. Even Septempber is a critical moment; sometimes for a decision tied to the national calendar, it easily changes into a Silver Week: there are two holidays that fall in the second half of September (in 2016 they are 19 and 22 September) and can be merged by a bridge. In that case the suggestion mentioned above applies.
There are other festivals, but these two are the ones that have the greatest effect on prices and availability for the tourist Gaijin (foreigner).
How to get there
Tokyo is well served by intercontinental flights. The airlines with the best offers are Aeroflot and Air China from europe, but other companies offer direct flights at reasonable prices.
From China there are direct flights from virtually all major cities; Shanghai offers the best rates with super low cost Juneyao Airlines.
Arriving at the airport in Tokyo will give you an essential imprinting on the reality you will encounter just outside. The airport is immense, perfectly organized and functional, with marked pathways to the point that even waiting for your bags is regimented.
But above all, you'll notice how you have always missed the "baggage turner" at the baggage carousel: the guy that works to make sure the handle of each bag is correctly turned toward the passenger that waits for it, to lower waiting time and clumsy maneuvering.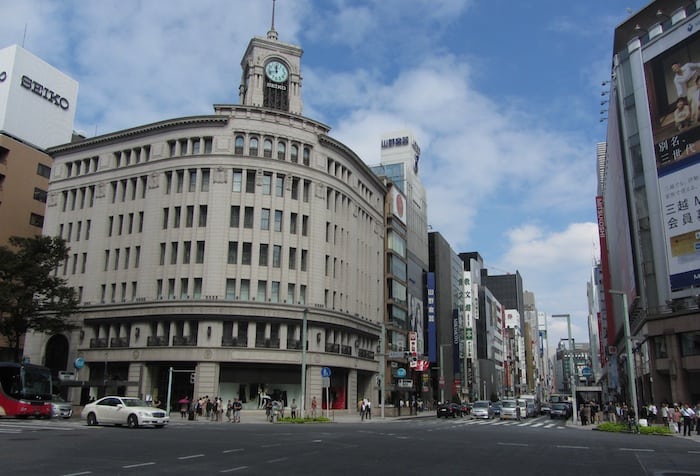 The Ginza Quarter- Photo by Matteo Bosi
International flights mostly land at Narita International Airport (Narita Kūkō, NRT) located 60 km outside the city. The airport is well served and connected to the center and from each terminal you'll find a station for transportation: I recommend that you arrive at the airport already prepared on the position of your hotel.
In fact choosing a method above another to reach the center is not only a matter of cost or time (at times the difference is insignificant), but rather the need to change transport or even find yourself inside the most crowded Japanese metro system at rush hour. You'll understand at that point the harsh reality for sardines.
The most practical ways for reaching Tokyo are:
The line Jr Narita Express (NEX): two each hour, an hour travel time, connected to Tokyo Station, 3000 Yen. There are discounts with the A/R tickets or the Japan Rail Pass.
The line Keisei Skyliner Airport Express: three each hour, 40 minutes travel time, connects to Ueno and Nippori, about 2500 Yen.
A taxi is not recommended because traffic can make the trip much longer than the trains and above all the price can get astronomical. You can save taking the slower lines of the JR (JR Sobu Line Rapid Service) and Keisei (Keisei Limited Express), however less frequent, at half the cost. There are also different types of buses (even the so-called limousine bus): travel times are longer, but the limousine bus stops in front of the major hotels. The prices for these are on par with the trains.
The means you'll use to move around the neighborhoods are surely the metro and the train. With train I mean the lines marked JR, not those marked Tokyo Metro. I recommend taking a look at the Tokyo Metro site to keep up to date on prices and calculate the possibility of buying a day pass or multi-day pass valid for the metro; while for a rail pass you'll have to go to the Japan Rail Pass site. Keep this second option in mind especially if you intend to travel elsewhere, even outside of Tokyo.
The pass is not so discounted even for the city center, which is why another solution to consider is using a bicycle to explore part of the city. Especially on the weekend, there are areas, such as the circuit around the Imperial Palace, that are closed to traffic and lend themselves perfectly to the two routes. I did it following the tips from the Tokyo Great Cycling Tour.
Visa and money
Relax: to enter Japan as a tourist and for a period of up to 90 days, no visa is required. There's just a registering procedure upon arrival with the stamp in your passport. Obviously, your passport must be valid.
As far as the Yen goes, this is the only accepted currency. You can change money anywhere, even at departure, or withdrawal there. All major circuits are accepted (VISA, Master Card, etc), including the Chinese Union Pay. In small restaurants don't count on being able to use a credit card, but in all other cases, including souvenir stores, I never had a problem.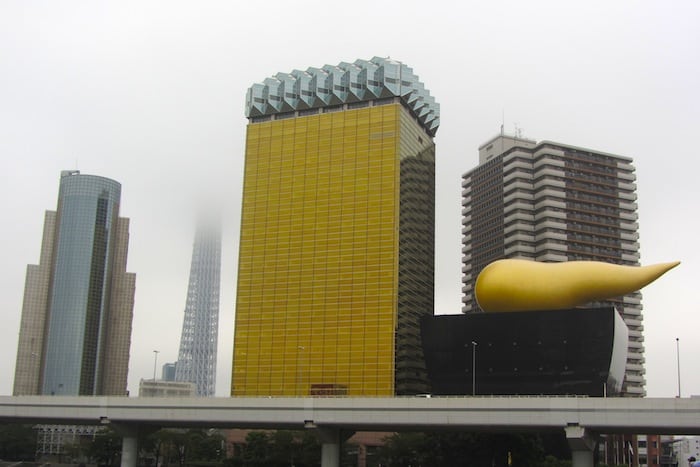 Asahi Beer Tower and Asahi Super Dry Hall – Photo by Matteo Bosi
What to see in Tokyo
You'll notice that your visit to Tokyo will inevitably proceed according to neighborhoods, each of which is distinguished by its own particulars. So even for this guide, I preferred to dedicate a concise summary of those neighborhood pf particular interest to tourists.
Akihabara Neighborhood
It is connected by the Yamanote and Sobu lines. Here you'll find everything a nerd has ever dreamed of seeing and/or buying, and in this nighborhood you'll also find confused exaggerations where the reality mixes with fantasy, but above all manga. It is one of the neighborhoods where you can have your first experiences of Cosplay (especially on the weekend).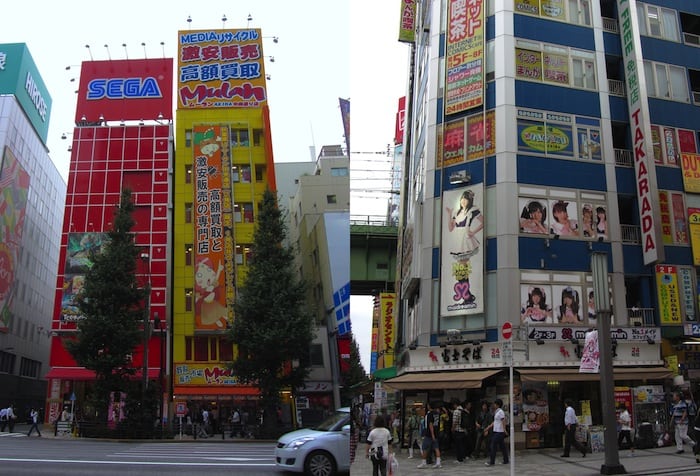 Maid café and arcades in Akiba – Photo by Matteo Bosi
What you do in Akihabara (or as it is more informally known Akiba) is lose yourself among the electronic centers and specialized manga stores. If you're interested, here is the popular Maid Café, where very young waiters serve and interact with clients imitating characters from comic strips, at times on the border of provocation. Not all of the Maid Cafés are of this type, however. For those types of needs, you can head to the numerous sexy shops in the neighborhood…
If you're looking to buy something, I recommend that you avoid the large malls and look among the smaller shops for better deals.
Asakusa Neighborhood
It is connected by the Ginza and Asakusa lines. Asakusa is also defined as the neighborhood of temples, where you can visit a historic Tokyo (ancient Edo), completely different from what was just described about Akiba.
The two best-known attractions are the Senso-ji Temple and Kaminarimon entry gate with its large red lantern, that are the symbol of Asakusa. The neighborhood is crossed by the Sumida River which faces the building of Asahi beer: nothing extraordinary, but you'll surely ask yourself what is that golden mustache that towers above (Asahi Beer Tower and Asahi Super Dry Hall). In reality, it is the Tokyo Sky Tree rising even higher; on cloudy days, the top is lost in the clouds.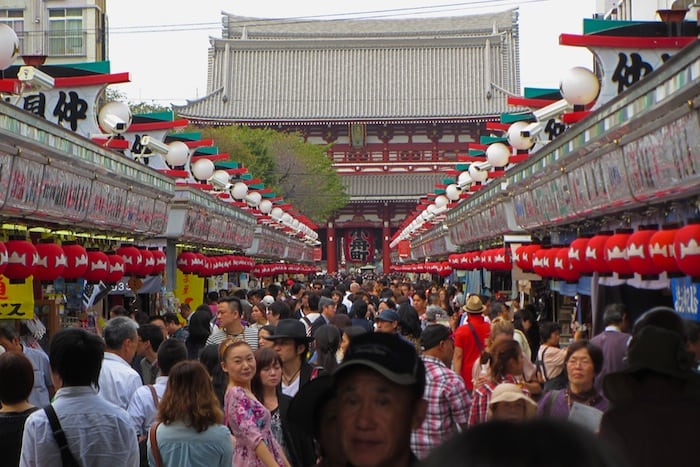 Asakusa – Photo by Matteo Bosi
In Asakusa you can stop for a purchase and for this the best place is Nakamise, around Kaminarimon gate. Even in New Nakamise you'll find interesting souvenirs.
Ginza Neighborhood
It is connected by many lines, such as Ginza, Hibiya and Marunouchi, and the Yamanote line. Ginza is the luxury neighborhood par excellence, famous for it "signed" buildings and for the gold-plated purchases you can make here. For fans, here youl'l find the enormous Sony Store, plus a resupplied series of photography stores (Nikon, Canon and Laica, with exhibition halls). In Ginza it is also headquarters of the Kabuki-za theater where even a tourist can attend shows of Kabuki operas.
Harajuku Neihgborhood
It is serviced by the Yamanote line, and the Chiyoda and Fukutoshin lines. Harajuku is a very crowded neighborhood where can also have a Cosplay experience; the busiest street is for sure the Takeshita dori, where you'll find lots of original stylish stores with decent prices. It is one of my favorite places in Tokyo for the quantity of snacks for sale and for the varied humanity that walks the streets: the true Japanese youth, that parade divided or with most originally held kawaii, for which I would never gamble! A little further on there's another large street, much wider than Takeshita, for luxury purchases: Omotesando. In general I don't recommend making these kind of purchases in Japan since everything is moderately more expensive than in Europe or US, but the road is cute.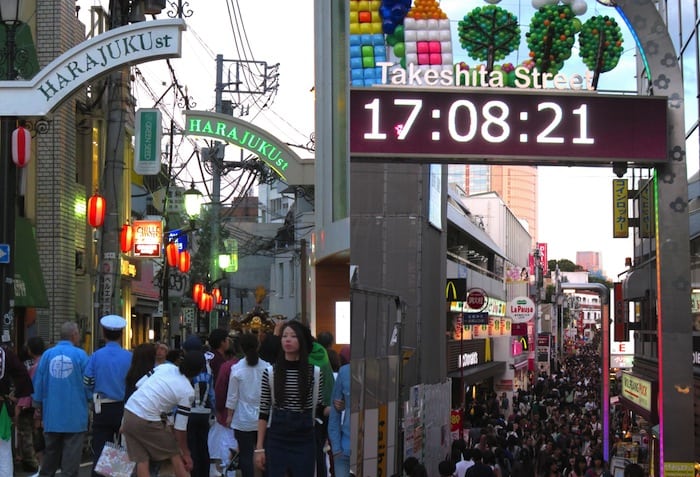 Harajuku and the Takeshita dori – Photo by Matteo Bosi
Ikebukuro Neighborhood
It is connected by the Yamanote, Saikyo, Shinjuku and Shibuya lines; and by metro with
Fukutoshin, Yurakucho and Marunouchi: that's not surprising, Ikebukuro station is one of the largest and most congested in Tokyo. This neighborhood isn't one of my favorites, rather its a little drunken, from here you can appreciate the true metropolis; it will an obligatory stop if you're interested in architecture since here you'll find a famous creation by Frank Lloyd Wright, the Jiyu Gakuen Myonichikan. I remain more interested in corners of hidden green, csuch as the Rikugien Gardens.
Marunouchi Neighborhood
It is comfortably connected by JR and metro through Tokyo Station. It is in this neighborhood that you'll find construction in European style that imitates Amsterdam station and, as you'll note, distinguishes itself for its originality.
The Imperial Palace from outside- Photo by Matteo Bosi
In Marunouchi you'll also find the Imperial Palace, home of the Japanese royal family; rising above the ruins of Edo Castle and going back to the period of the Meiji Restoration in which the family moved from Kyoto to Tokyo. It is not freely visited, only twice a year (December 23 and January 2), with the exception of the Oriental Gardens (Kōkyo Higashi Gyoen) which are accessible. The neighborhood was the first modern center of the city, and even today you can admire the architecture of its history, among which the Mitsubishi Ichigokan in European style and the more modern Marunouchi Building. There are charming little places on the open that offer refreshment on hot days.
Roppongi District
It is connected by the Hibiya line. This is the area for nightlife especially for strangers: it's full of people until sunrise, and there you'll find discos, pubs, taverns of all sorts in western style and music for all tastes. Forget the Hard Rock Café head to Bauhaus, a hisoric place in Roppongi by night that only true rock stars can appreciate. To lower costs, music groups of all ages that play here aalternate with the bar service. So don't be surprised if the guy that brought the 0.4, three minutes later grabs a bass on stage and jumps like a lunatic playing AC/DC.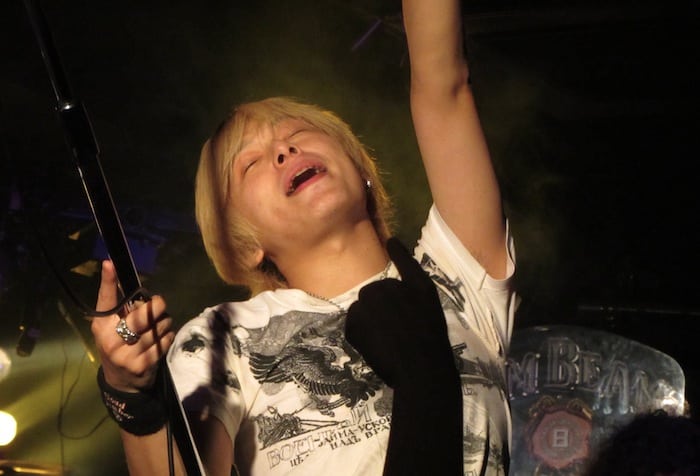 A singer performs at the Bauhaus of Roppongi – Photo by Matteo Bosi
Beware of muggings in Roppongi: as rare as they may be, due to the rivers of alcohol that flow in this area, it is easy to fall victim to scams in the bars. Don't follow the PR that promise you historic taverns, fabled women and rivers of alcohol: they are the Cat and Wolf and that is the Land of Toys that change everyone into donkeys!
Before passing the night in pubs and discos, you can allow yourself a panoramic view from the Mori Tower or dinner and a movie somewhere else in the Roppongi Hills.
Ryogoku Neighborhood
It is connects to the Sobu Line. Ryogoku is the sumo neighborhood, where not only do they hold matches in the enormous Kokugikan Sumo Stadium, but the same wrestlers train in local residences. It isn't rare to see them out on the streets and if you know how to make it known you can peer into their refuges and see them at work on their huge meals. You will most certainly not confuse them with the local population…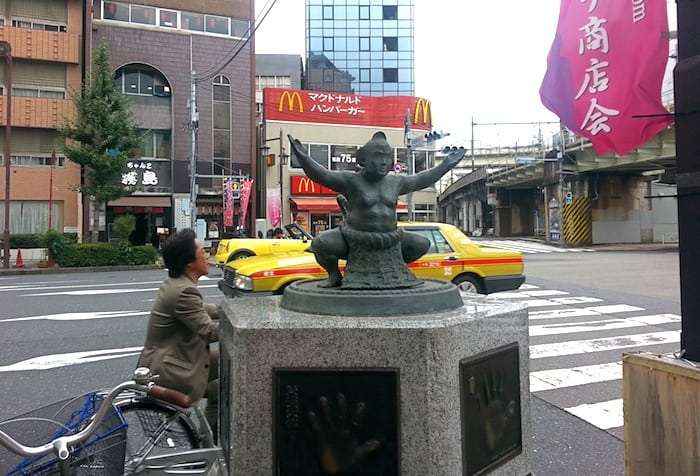 The statue at the discipline of the Sumo of Ryogoku – Photo by Matteo Bosi
Shibuya Neighborhood
It is connected to the Yamanote and Ginza lines but not just that. It is obviously one of the most famous neighborhoods in Tokyo, because it's loved by the youth, watched over by the statue of Hachiko and used as an image (in its famous intersection) of the frenetic life in a metropolis. It is another of those places where there isn't really "something" to see, but need to "be" there at least once in your life to breathe what typical things there are in these streets (and in Tokyo!). Here I found my favorite sushi restaurant, Midori, and it's here that I understood that tuna sashimi can melt in your mouth.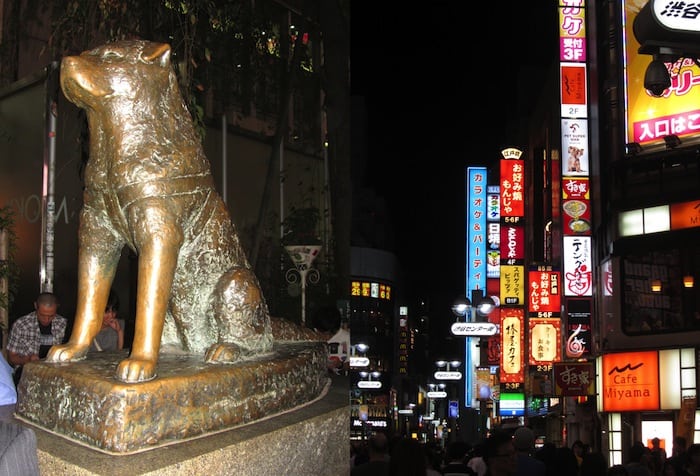 The Shibuya Neighborhood and statue of Hachiko – Photo by Matteo Bosi
Shinjuku District
It is connected by the Yamanote and Chuo lines, but also Marunouchi, Shinjuku, Oedo and Fukutoshin. Se Ikebukuro is a large station, Shinjuku is decidedly larger. In a non-alphabetical list Shinjuku would probably appear at the top being the the neighborhood that best represents Tokyo.
In this area are the towers of the Tokyo Metropolitan Government Building, over 200 mt. tall Golden Gai and the place where night shopping reanimates, but here you'll also find the largest gardens in Tokyo, the Shinjuku Gyoen (paid entrance, open until 16.30).
Next to these, in Shinjuku you'll also find the most famous gay districtin Tokyo, the Shinjuku Ni-chome (Nicho for friends), and also the red light district officially under the auspices of the Yakuza: look, for this reason Kabuki-cho isn't exactly the most peaceful place in Tokyo nor the most recommended. But you can't deny it's appeal!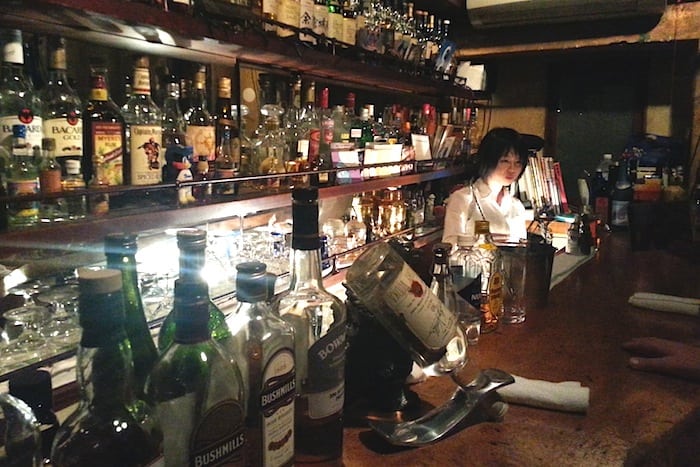 A tiny bar in Tokyo – Photo by Matteo Bosi
Returning for a moment to the Golden Gai: it's a special place to discover Japanese style bars. You'll immediately realize that the space, in this block and in this city, has a special meaning. And even when it comes to going out with friends, you can discover the tradition of their microscopic pubs where at the counter there are only 5-6 stools and if you'd like, stretching out your arm you can serve yourself. This is not a place for claustrophobics and above all not open to gaijins. They're rather informal environments that some aren't comfortable allowing foreigners in these confines, so they won't give you access.
Shiodome Neighborhood
It's conveniently connected to the metro, Oedo line, Asakusa and Mita. I'm not a fan of this neighborhood because it's another one of those "metropolitan" sections. Tall skyscrapers, that lend themselves to elevated points of view over the city or to overwhelming bursts on sunny days. Here you can find a copy of the Eiffel Tower, or the Tokyo Tower, or the Nippon TV Tower or the Dentsu Building. The Tokyo Tower has by now been replaced by the Sky Tree, one of the tallest constructions in the world (a prize under continuous change, especially in this side of the world…).
The green pearl of the area are the Hama Rikyu gardens, hidden among the skyscrapers, while the spiritual center is the Zojoji temple, renowned for its centuries old gate.
Tsukiji Neighborhood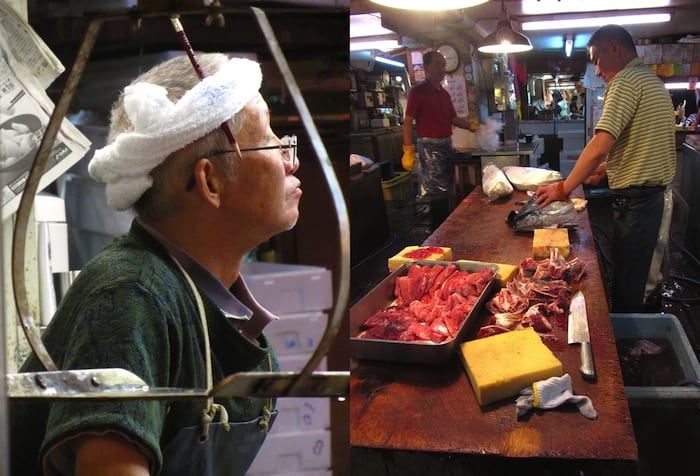 The fish market of Tsukiji – Photo by Matteo Bosi
It is connected by the Oedo and Hibiya lines. Tsukiji is the most famous and enormous fish market, where each morning at sunrise they hold auctions for tuna. Even without waking up at sunrise and leaving tuna business to those who best understand, the market is a characteristic place to wander around: keep in mind that it is a market, although still moderately clean because it's in Japan, there's water everywhere and a strong permeating smell.
But it is however a curious place to lose yourself before heading off to one of the many small sushi restaurants that surround the area and are under assault all morning for breakfast/brunch/lunch (and that I personally found much more interesting than the bargaining of fish…). These small (tiny!) restaurants,fill up quickly and have long lines at the entrance.
If you have the time to wait, it's not a bad idea to slip in to one of these lines. But since I had no desire to wait, I peeked at the face of the sushi master inside and I didn't fail. In peak lines, considering the nearness of the market and the way full of clients, here you'll eat the best sushi in Tokyo a little bit everywhere.
Ueno Ditrict
It is serviced by the Yamanote and Ginza lines. You'll find yourself in this station if you have plans to travel on the Shinkansen, the Japanese high speed train, essential for running the route to Kyoto. Ueno is known for its namesake park that also hosts a zoo, and obviously an incalculable number of cherry trees… museums, of which I will say more below.
You will also run across Ameyoko market, once the city's black market and arrival point of many imported American (thus the Ame-); go during the day but without much pretense.
These are the neighborhoods must frequented by tourists. I had the good fortune to spend time (almost by chance, I admit) in the Yanesen areas (Yanaka, Nezu e Sendagi), a trio of interesting neighborhoods because during the war they were little affected by the bombings and offer intact glimpses of the past.
Moreover, next to "terra ferma", there is the Tokyo of the water, we can say: Odaiba, where the fairgrounds and many other commercial centers are and at night offers a very attractive walk; but especially the Izu and Ogasawara archipelagos, that are sites off the beaten path that nevertheless offer crystal waters, untouched trails and an unexpected temperate climate.
To see all there is of Tokyo a week would likely not be sufficient. Especially because while walking with your nose in the air it's possible to be drawn in by the offer of museums, parks and temples which in Tokyo is enormous and creates dependence.
Other tips: from kawaii to izakaya
As was already discussed in the description of the neighborhoods, the places for shopping are numerous and the offerings extremely varied, so I refer you again to the list above. To briefly summarize: I recommend that you not give in to a luxury shopping spree of imported brands because they are dramatically expensive. On the contrary, for local electronics it's important to do a bit of research, especially if you're a fan. The Sony buildings in Ginza often show the latest devices, but for purchases Akiba is your district. It's also true if the manga universe interests you, including arcades and pachinko.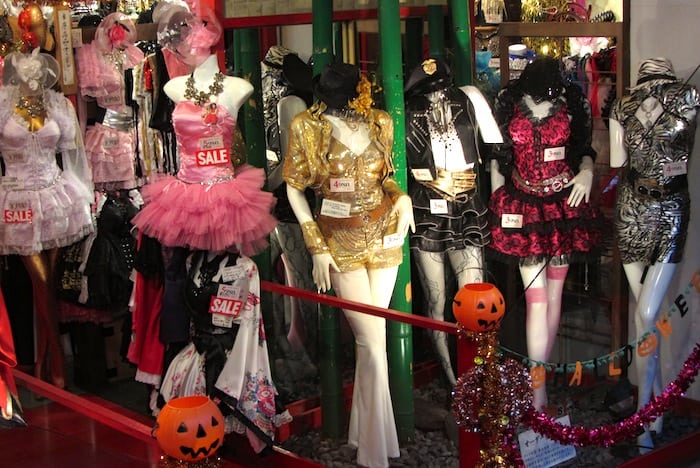 A clothing shop in Harajuku – Photo by Matteo Bosi
The homeland of "movement" kawaii is certainly Harajuku, but here I also saw lots of bicycle shops, since Tokyo one of the largest cycle-friendly cities I've ever come across. Here fixed gear models reign made to your taste.
To appreciate Tokyo by night, I recommend a short trip in each of the districts that offer nightlife because each has its own appeal. Shibuya is a great choice for nightlife, but not as much as Roppongi; and obviously I can't leave out Ginza and Shinjuku with its Golden Gai.
Remember not to limit yourself to just sushi because Japanese specialties abound. If you want to go for a more commercial evening, live it up at the location that inspired Tarantino for "Kill Bill": the place is called Gonpachi Nishiazabu and besides the atmosphere, it's a very particular place. Remember to reserve ahead of time! Another tip, is to get into the small streets during rush hour and open any sliding door where you saw Japanese with ties enter: most likely you will have the possibility to taste a delicious plate of soba, udon or tempura.
Moreover, there's the izakaya experience: they're pubs where people go after work that serve food and snacks but in a more informal atmosphere. The combination of sake + edamame was one of the cocktails I loved the most when night fell on Tokyo.
For museum lovers, Tokyo will make your head spin! There are too many museums to cover in this guide, so I'll limit myself to citing the principal facts; however, consider that there are offerings so varied that whatever your interest (photography, science, clothing…), Tokyo has it!
Just to give an idea, just inside Ueno Park there are five of importance, plus the Ueno Zoo (The National Museum, National Museum of Western Art, the Tokyo Metropolitan Art Museum, the National Museum of Science)! The National Museum is of primary importance, just as The Edo-Tokyo Museum which will also appeal to children for its folklore reconstructions. For personal passion, I can't leave out the Ghibli Museumwhich exhibits the best of the studio production of Japanese animation (NB: closed until July!), which also competes with the Toei Animation Gallery, but without the same result (even this is closed for restoration!). To get in to the Ghibli Museum you'll need to book well in advance.
The historic Japanese companies have their own exhibition galleries, like Sony, Nikon, Canon, but also Mitsubishi (inside the Ichigokan). If you don't want to hop from one part to another and you're interested in modern and contemporary art in Roppongi, extremely close to one another, there are three noteworthy galleries: the Mori Museum, the Center of National Art and the Museum of Suntori Art.
Another tip for those who love live music and film is the little known section of Shimokitazawa. It has survived modernization and is therefore an interesting walk even from a architectural point of view: but the best are the taverns where they play, the secondhand stores, the theaters and the hipster movement that's all Shimokita. It's a treat.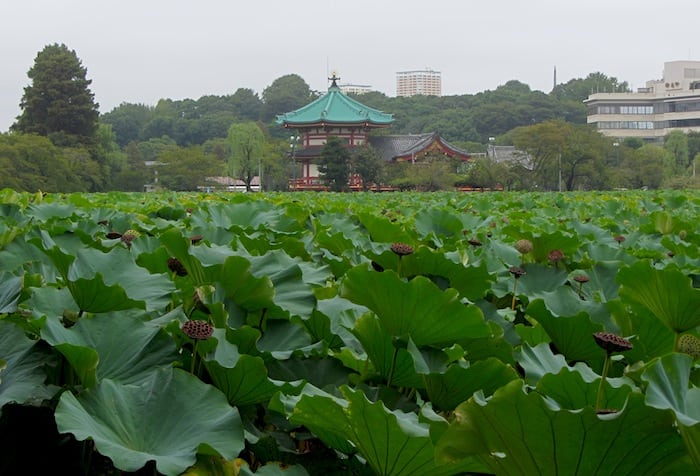 A glimpse of a lotus in Ueno Park -Photo by Matteo Bosi
Finally, when it comes to parks and gardens: honestly, every green corner has something to admire because it's the Japanese green culture that makes it unique and perfect. Nevertheless, if you had to choose, the Rikugien Gardens in Ikebukuro are my favorite. If you're looking for cherry blossoms, then start at Ueno Park, with the Shinjuku Gardens and the Chidorigafuchi side of the moat that surrounds the Imperial Palace. IF you're interested in a a hidden magical corner, the gardens of Hama Rikyu are special for their positioning and care. The colors, clearly, change with the seasons.
All areas of Tokyo are surrounded by mountains that are a special appointment for trekking enthusiasts, not to mention places that at times hide disturbing stories that are hidden and impenetrable. This is the case with the Aokigahara Forest, also called the Suicide Forest for the terrible practice for which it is frequently portrayed in theaters.
Where to stay
Staying in Tokyo is pretty costly. Even the hostels are above average prices. Don't try to compare any place in Asia with the cost of Japan and Tokyo in particular because you'll be disappointed. It's more like a trip…to Switzerland. Or New York.
In choosing your lodging you have to consider two factors: the type and the neighborhood, because both have a large effect on the price.
These are the types of lodging you can find:
Japanese style, or futons unrolled over tatami; said simply, you sleep on the ground. You walk barefoot and often there aren't any tables with chairs, but again you sit in direct contact with the floor. The experience is extremely cultural and traditional, but often doesn't work well for western spinal columns for several nights in a row. It's in this section that the you'll find the marvelous Ryokan and Minshuku which though fully in the center of Tokyo are a little hard to find: they are typical Japanese lodgings where you are asked to follow house rules; often including meals. In the city it is possible to have a similar experience even by renting an entire house.
Western style: here are the beds as we know them. There are hotels for all budgets, though there really isn't a true "budget" category. Going down in price you also go down in square meters of space: my personal experience in a Tokyo hostel included a bathroom of the same dimensions as in a plane. One person at a time, shower and evacuation at the same time: not permitted.
Original style, or what you can only find here. In this category belong the famous capsule hotels, not recommended for the many thousands that suffer from claustrophobia. Even the manga cafés offer lodging, but may be difficult for a gaijin to get in because they're almost never bilingual.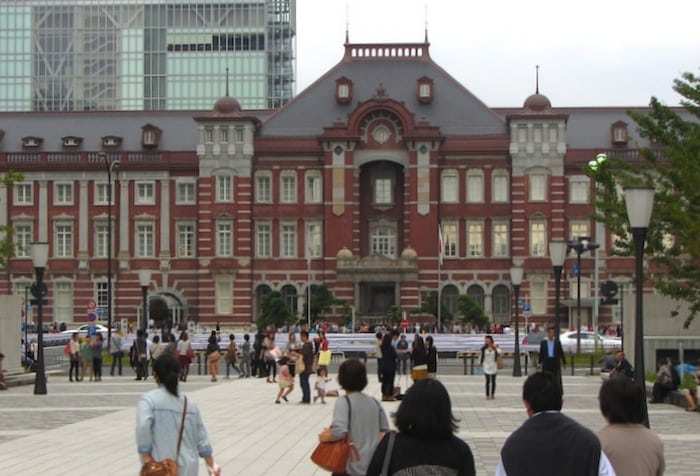 Tokyo Station in European style – Photo by Matteo Bosi
As far as the neighborhoods in which to stay, Ikebukuro, Ueno and Asakusa are the places where you can find the best rates; here you'll also find lodging in traditional Japanese style. Shibuya and Shinjuku are perfectly served, therefore optimal for visiting the city, but the cost is moderately a bit higher. Let me warn you of one detail: if the hotel reservation says "check-in 15.00", don't try to arrive at 14 hoping for understanding from the receptionist. There are no exceptions here. Not checking in or checking out. This law goes for all laws written or understood in Japan.
Click here for the best deal on staying in Tokyo.
Cultural gap
Here's a little handbook of reminders for the social rules you don't want to forget. Because in effect, the Japanese are quite fiscal on this (even if you won't be inflicted with any direct condemnation for behavior outside the rules…).
First of all, be discreet: on the street, in public places, in restaurants, in hotels. Loud voices and direct contact are generally not approved. Even for blowing your nose it is good to use discretion, and affection between fiancees is best left to areas and hours that are more libertine; or closed rooms. Moreover, in Japan a certain courtesy is required: in other words on foot paths or other means of transport you don't need to push, leave space for those who have the right of way, step to the side on escalators to let those in a rush pass and respect waiting areas on transport platforms.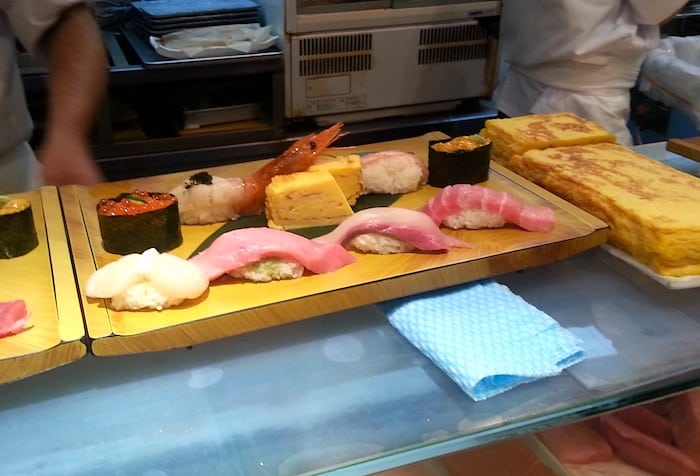 Sushi – Photo by Matteo Bosi
At the table the same rules apply as in the rest of Asia for chopsticks, with the addition that there is usually a pair of chopsticks for use with common dishes. A sushi master pointed out that the way I was biting into my sashimi was completely wrong: basically sushi and sashimi shouldn't be chewed. Sushi can be taken by hand and sashimi shouldn't be dipped into soy sauce because it implies that the fish isn't good; the soy sauce isn't filled with wasabi for the same reason. The nigiri enjoy the right of being dunked in the sauce on both sides but just for brief time. If you're not the greatest at using chopsticks you won't be derided, don't worry.
I also recommend the use of public restrooms which in Japan are well cared for. Turkish toilets have a lot of use (!!!!).
Attention if you're a smoker: this category I daresay has been ghettoized in Japan, to the great joy of those without vices. On the street it is absolutely forbidden to smoke if not in confined well-marked areas that you will soon understand to be next to garbage cans. In no other place can you freely smoke if not explicitly indicated. And never throw a cigarette but on the ground! In clubs, it depends, but whatever the sign says, consider it martial law!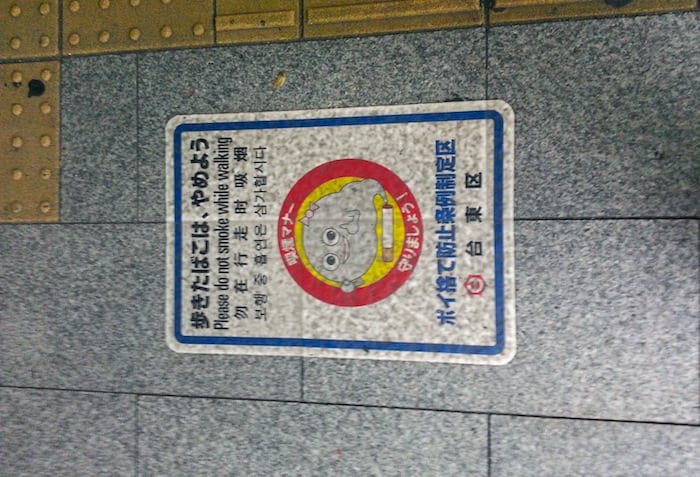 Smoking is prohibited on the street – Photo by Matteo Bosi
These are the most important details; I left out the usual rules relating to temples and other more specific manners that you can learn by imitation… or simply because they're not required of a gaijin!
Now you're ready to dive into the Tokyo that appeals the most to you! But don't forget that losing yourself is the best way do discover its true nature. Bon voyage!