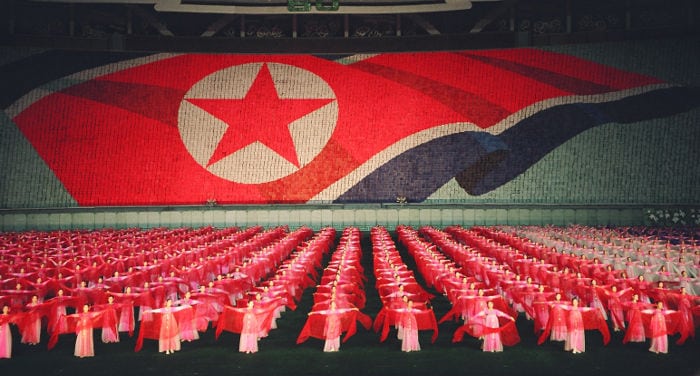 This guide contains almost all the information you need to prepare your trip to North Korea. Below, you'll find all of the subjects which we cover in this guide. You can click on them to skip directly to the sections you're interested in.
Can I travel to North Korea?
Yes, traveling to North Korea is possible, regardless of your nationality (unless you're South Korean). However, just like with Tibet, unless you hold a Chinese passport, you will need to contract a tour agency to visit North Korea.
Keep in mind that on some occasions, there may be further restrictions for visitors from certain countries (normally Americans, Israelis and Japanese people).
Why travel to North Korea?
In my opinion, there are various reasons to travel to North Korea. To start, visiting one of the most inaccessible and unknown countries in the world is tempting at the least. In addition, for those of you who, like me, are interested in China, North Korea offers a unique opportunity to get an idea of what China was like before it opened up economically. Apart from all this, the Arirand Festival is without a doubt an impressive spectacle and is a reason to go on its own.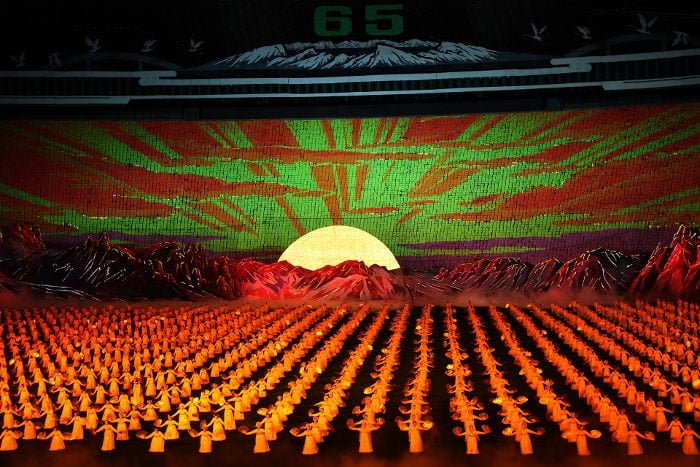 Arirang Festival

How do I get a visa for North Korea?
As I have already mentioned, to travel to North Korea, you have to contract a organized trip with an agency first.
The procedure for obtaining the visa is the following:
1. Reserve a trip with an authorized agency
2. The agency will contact the North Korean authorities and will tell you when your application is approved (not more than 2 months from your date of departure)
3. Go to the North Korean embassy or diplomatic mission closest to your place of residence, where they will print the visa for you on the same day (you can also send in your passport via mail).
Keep in mind that if in addition to North Korea you're also going to visit Beijing, you can also get your visa in the Chinese capital, where, in fact, the majority of the agencies are located.
Visa requirements:
Recent passport-sized photo on a white background
Photocopy of the page of your passport with your personal information
Completed application form (the tour agency will give it to you)
Letter of invitation (provided by the tour agency)
Document from your employer or school confirming your position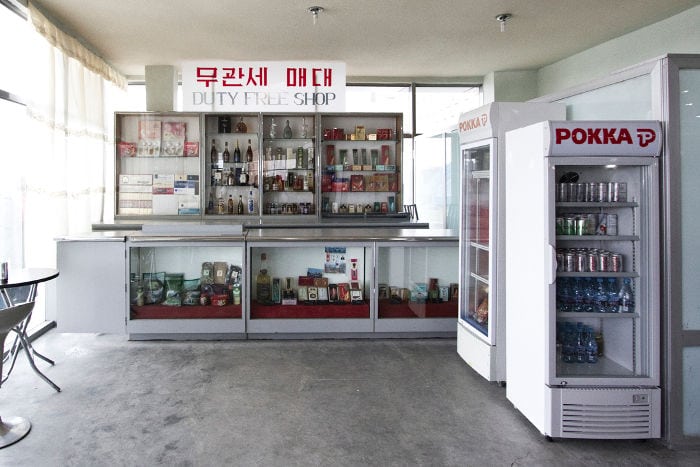 How to get to North Korea
The majority of trips to North Korea start in Beijing (where many people obtain their visas). Because of this, you're going to have to get a Chinese visa valid for two entries or a 72 hour transit visa (in the case that you have a flight to North Korea with a layover in Beijing). This is the reason why many people also opt to visit China as a part of their trip.
There are two way to enter North Korea, by train and by plane:
By train
The only way to enter North Korea by train is by crossing the Chinese border. There are two train routes:
The train from Moscow (once a week): This train follows the Trans-Siberian route until arriving at Harbin, China, where it turns towards Shenyang and Datong and then crosses the border at Shinuiju, finally arriving in Pyongyang.
The train from Beijing (four times week): This train also arrives in Shinuju, passing through Shenyang and Datong.
Even though in the majority of cases, the tour agency will make the train booking for you, just like with most trains in China, you'll have to book your tickets a few days in advance.
Take note that tourists with an American passport can't enter North Korea via this means of transportation.
By plane
For the time being, there are only two airlines that fly to North Korea: Air Koryo and China Airlines, and all international flights land in Pyongyang. Currently, the most frequent routes (with multiple flights per week) are those form Beijing, Shengyang (China) and Vladivostok (Russia). Because the number of western tourists is growing each year, it's possible that Air Koryo may open up routes from places such as Amsterdam, Geneva, Madrid, Sidney and San Francisco, among others, though these are definitely going to be charter flights and not regular ones.
Even though Air Koryo is considered the world's worst airline, it's international planes aren't too old (less than 10 years old) and in its history, it has only had one accident where people died (in 1983). Some people think that its rating is more due to the fact that it doesn't pay fees to Skytrax (the most popular ratings agency) and not so much because of objective criteria. So, it should be safe enough.
Vaccines and medicine
I suggest that you update your diphtheria / pertussis / tetanus, polio, typhoid fever, Hepatitis A and Hepatitis B vaccines. Here you will find a detailed guide on the subject.
In any case, you should ask your doctor, who, being familiar with your medical records, can tell you what is best in your case.
I also recommend that you bring along a few types of medicine such as aspirin, antibiotics, anti-inflammatory drugs and anti-diarrhea pills.
Travel insurance for North Korea
Ask the travel agency if the tour includes insurance. If it doesn't, I recommend that you buy travel insurance before arriving in North Korea.
In North Korea, there is a hospital for foreigners with standards which are a little better than in the rest of the country. Nonetheless, I imagine that if you get sick or have an accident, you're not going to want to spend more time in a North Korean hospital than what is completely necessary. The cost of treatment and emergency repatriation can be, at a minimum, expensive. In addition, in China (where you will find the "closest decent hospital"), medical treatment can be very expensive.
Travel guide
Given that you can't travel freely, there are practically no travel guides for North Korea. The only one that I have found is from Bradt Travel Guides.
Internet
Places with internet access are quite limited. Connecting to the internet is possible in some hotels or via 3G, but as a tourist, it's hard to get internet access unless you request it in advance from your tour operator.
Telephones
International calls may be made from hotels (though they are a little expensive). International roaming doesn't exist in North Korea, so a foreign SIM is not going to work.
If you can't live without your phone, you can get a prepaid SIM card in the airport and in some hotels. These SIMs only work for making and receiving international calls, as the rest of North Korea is on a different network.
Money, ATMs and credit cards
The official currency of North Korea is the Won. As of today, 1,000 Won is equivalent to 6.14 Euros or 7.63 dollars. You can consult the current exchange rate by clicking here.
Even though you can exchange Won, in the majority of stores (for tourists), they will require you to pay in foreign currencies, whether they be euros, dollars, Chinese yuan or Japanese yen. As you can imagine, it will be hard for you to get into local stores.
Given that the majority of the trip costs (transportation, lodging and food) are going to be paid by the agency before your arrival in North Korea, you don't need to bring along a large amount of money (unless you want to go to the casino, of course). Your only costs will be drinks, snacks, karaoke and maybe some souvenirs.
Keep in mind that stores won't have much change in foreign currencies, so, it's a good idea to bring along a lot of change. Also, keep in mind that foreign credit cards don't work in the practically non-existent North Korean ATMs, so it's a good idea to bring enough money.
What to bring
Apart from medicine, a small flash light for the frequent blackouts, a universal plug adaptor and some gifts such as tobacco and alcohol for the guide, there's nothing in particular that I recommend you bring to North Korea.
You can find here a list of things to take for traveling around Asia (and some advice on how to pack your things in your bag).
When to travel to North Korea
North Korea has a continental climate which can be very cold in the winter (going down to -30) and hot in the summer. During the summer, the end of the spring and the beginning of autumn, it can also rain a lot. Because of this, October and April are perhaps the best months to visit North Korea in terms of climate.
Nonetheless, it's a good idea to visit North Korea during the spectacular Arirang Festival which takes place six days a week for two months (between July and October).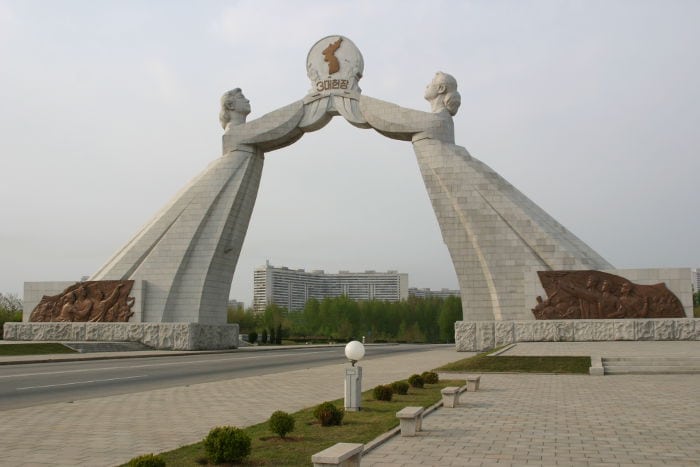 Frequently asked questions and common sense
Because of the confusing information on North Korea which we hear in the west, below I wanted to list things which the majority of people have doubts about:
When you visit North Korea, you will be escorted at all times by a government official who will be in charge of controlling your good behavior and making sure that you don't leave the designated tourism zones.
In general, reporters are banned from entering North Korea even though in some cases, restrictions may be relaxed somewhat. If this is your case, talk with your travel agency as soon as possible to see if you will be able to get the visa or not. Keep in mind that if you enter while trying to hide your profession, there may be serious consequences and it may even cause the agency which has helped you get the visa to be closed.
Having previously visited South Korea will not affect your application for the North Korean visa.
You can take photos. However, the government official may ask you to delete photos which from his point of view give a bad image of the country. So, if you want to avoid problems, you can always ask the guide if a photo is OK or not.
Video cameras are allowed, though you should be aware of what you're filming.
Even though communication may be a problem if you don't speak Korean, you are allowed to interact with North Korean citizens.
In general terms, North Korea is probably one of the safest countries for tourists.
Like in many other countries, you're not allowed to take pictures of military personnel.
It's possible that your tour may include propaganda from the government which may seem unlikely or even funny. However, it may be considered rude if you don't take it seriously.
Even though this is common sense, avoid talking about politics or sensitive issues (such as the living standards in North Korea or Chinese economic reform) as this can cause problems for you and your guide.
As opposed to what used to happen some years ago, you will not have to leave behind your telephone when you enter North Korea.
Items banned in North Korea include: anti-government material (like, for example, books by ex-convicts in this country), religious materials and pornography.
Have you gone to North Korea? What would you recommend to people visiting the country?
[Photo Credits (Creative Commons License): www.flickr.com/photos/left-smith/ (first photo), www.flickr.com/photos/roman-harak/(Festival), www.flickr.com/photos/gabrielbritto/ (duty free), www.flickr.com/photos/matthijsgall/(monument) ]