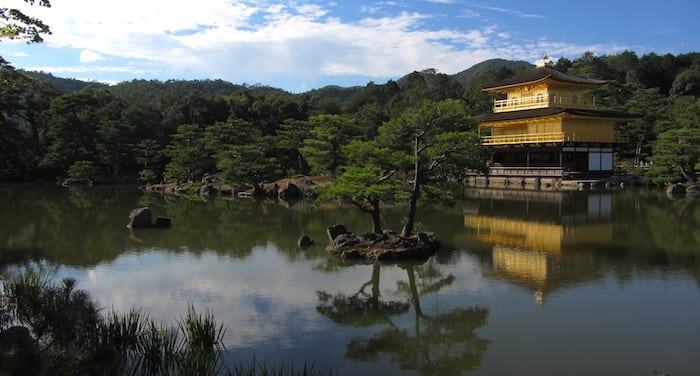 The Kinkaku-ji Temple in Kyoto on a sunny day – Photo by Matteo Bosi
If you've heard it called the "Switzerland of Asia" it's not a wrong way of putting it, if a little simplistic: Japan is a country with one of the most interesting histories and atmosphere in all Asia, permeated by contrasts and strong conflicts.
I'm not exaggerating in saying that everyone should plan a trip of no less than 15 days in this fascinating and different culture at least once in their lifetime. This is not a a trip to take lightly: for the distance, the cultural difference, the rigidity of the rules and the strange shy and reverent detachment which to a Westerner could seem as an excessive coldness combined with courtesy. In short, it is an Asian country to understand and discover.
This guide contains all necessary information for a tour of the Land of the Rising Sun, and will also serve to clarify your ideas if you're indecisive, frightened at the idea of this adventure or simply enthusiastic and can't wait to leave!
Here's an index to the subjects we'll cover; click on the section you're most interested in:
Geography (just a little to give you an idea)
When talking about Japan, you're talking about an archipelago whose 6000 islands are very different from each other, each with their own social offerings, climate and landscape. There are four main ones: Honshu, Hokkaido, Kyushu and Shikoku.
Honshu is the most famous island since it hosts the capital Tokyo, but also many other tourist destinations: Kyoto, Yokohama, Osaka and Hiroshima are a few. It's a relatively long island so the climatic difference is rather pronounced especially in the winter and summer.
Without a doubt the coldest area is Hokkaido, the northernmost one with its chief city of Sapporo which has hosted the Winter Olympics in the past and in 2017 will be the site of the Asian Winter Games. Hokkaido is also the wildest of the four.
Kyushu is the island of Fukuoka, the most famous prefecture, considered the cradle of Japanese culture. Lastly, Shikoku is the smallest and so close to the other two islands that, looking at a map of Japan, you wouldn't recognize it. Moreover all the major islands are connected to each other by tunnel.
To the south of Kyushu is the Ryukyu Archipelagowhere Okinawa is at the farthest extreme, closer to Taiwan than to Tokyo. There are also countless islands and islets that aren't big tourist destinations.
Note that Japan is a land of "active" seismic activity. For this reason it is on one hand well-designed and safe, and on the other obviously carries a level of risk. If you're afraid and even the smallest tremor puts you at risk of a stroke, unfortunately you should really think about whether you're able to take on this type of experience.
In any case, Japan offers a daily update on weather and earthquake conditions, complete with instructions on what to do.
Check the Japan Meteorological Agency site; there's even a smartphone app designed for tourists that gives information in the event of an emergency. See the section "Useful addresses" at the end of this article.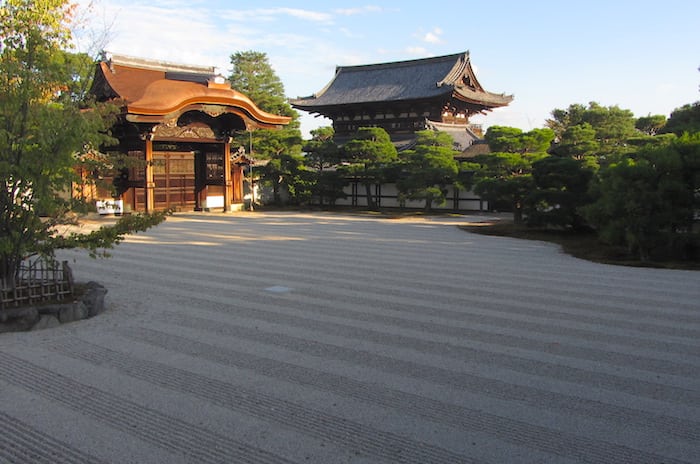 To-ji Temple, Kyoto – Photo by Rita Andreetti
When to visit Japan
After the geography lesson, you can see when you should visit Japan: the weather varies greatly throughout the length of the islands going from extreme cold to tropical climates. If this is your first time, presumably you'll follow an itinerary similar to those mentioned in the "classic stops" section of this article, so your destinations will mainly be concentrated on the island of Honshu.
Tokyo and Kyoto don't have much of a difference in weather and the best time to go is the in the shoulder season, even if it isn't rare to encounter rain. Summers are humid and the majority of the islands get rain all summer long to then await typhoons in September.
The area around Okinawa from May to August is exposed to downpours. At any rate, even with weather conditions that are a little "anti-tourist", the services and transportation are so well-organized that even with minimal preparation you can enjoy Japan fully. If your vacation doesn't include the beach I wouldn't exclude visiting in the winter: it's less crowded with dry weather.
Something else you should keep in mind are the local festivals because the Japanese calendar goes by "concentrations": two weeks are considered high season, in particular Golden Week.
Unless you have to, avoid crowding up the country further during this time, since everyone is looking for a place to spend the vacation. Golden Week falls fully during the period of the cherry blossoms (hanami): the blossoming generally goes on from April to May depending on the area. Golden Week straddles the two months.
The most famous place for the blossoms is the capital and Kyoto with its Philosopher's Walk. Osaka too has some recommended places. But generally wherever you go there are parks and places to view the best of the flower blossoms.
Every four years, the way it falls on the calendar, there's a Silver Week toward September: as well as a river of people in the tourist areas. Among other things, if the Japanese go to see the cherries in the Spring, they love the changing colors of the trees in the Autumn. Each season has its natural attractions.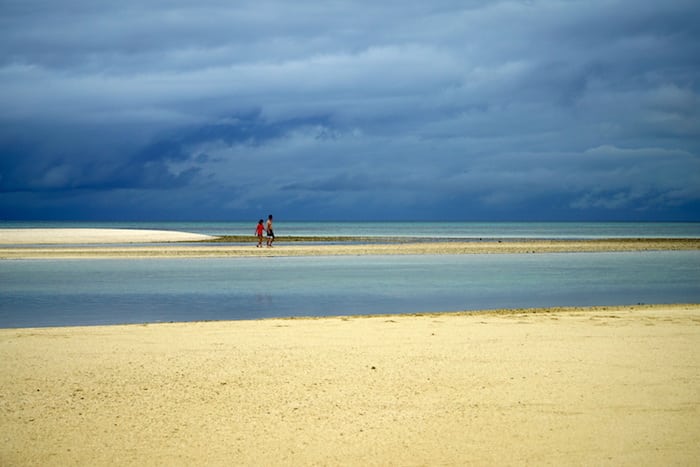 Ishigaki, in Okinawa Prefecture, Ryukyu Islands at the beginning of the rainy season- Photo by Matteo Bosi
How to get a visa
For a European or American in Japan, there's not much much to worry about visas, so long as you have a valid passport in good condition (good for at least the next 6 months).
Visas are granted on arrival and last for 90 days. If instead you intend to stay more than three months or carry on some kind of work activity, here's where you have to request your visa in advance and present your passport, application form, passport photo and certificate of eligibility.
Trip insurance and health care
Japanese health care is organized differently than what we are used to. You'll find hospitals everywhere, but especially small clinics where you can receive adequate care.
My advice is to take out a policy to cover health costs that can be quite expensive; it's not obligatory like in the United States, but it's unfortunately necessary if you find yourself facing the conspicuously high hospitalization costs.
Health services are efficient and widespread, without the problem of a lack of availability found elsewhere in Asia (or hygiene, clearly).
If you're interested in taking out an insurance policy but don't know where to start, follow this link for further information.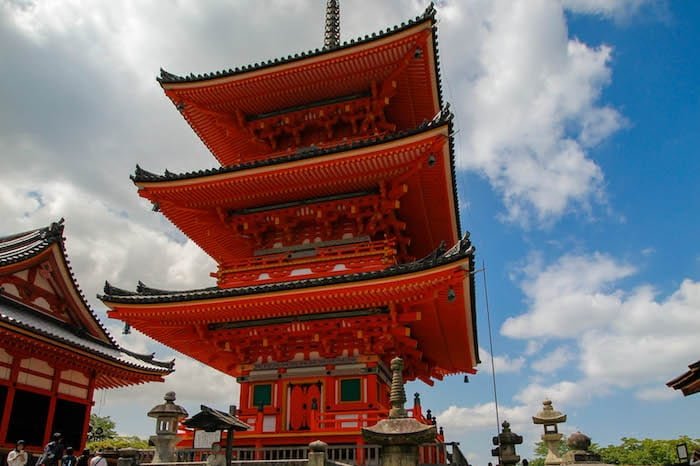 Kiyomizu Dera Temple, Kyoto – Photo by Mirco Ruggeri
Useful sites
Safety Tips
It's called "Safety Tips" and keeps you up to date on any eventual weather alerts: it's an App designed for tourists in Japan. Download it here if you have an iPhone or on Google Play if you have an Android phone.
Japanese Tourism Agency
The Japanese Tourism Agency provides useful information for a departing tourist, such as the obvious weather alerts, current promotions, high season details, available services, tax free, destination tips, etc.
Japan National Tourism Organization
The Japan National Tourism Organization has published online a very useful guide divided according to city (even the smallest) and topic: it's in English but a very important site to consult for those looking to visit. This is the link. This same site is the most trustworthy source of information about costs, transportation and discounts.
Japan Rail Pass
The Japan Rail Pass is a ticket to get around using the railways and in some areas the buses, and includes the biggest islands. The JR Pass includes: JR trains, the Tokyo Monorail from Haneda airport, the JR Ferry for Miyajima, the JR buses.
It's a very convenient system if you intend to move around a lot, but something you might think twice about if you don't think you'll use the train much, or plan to use a bicycle, bus and metro (for which you'll need a different type of pass); or even still if you plan on staying in a city for a long time.
This is perfectly geared for the traveler with limited time. The passes have a length of 7, 14 and 21 days and start after the first use. Be aware that each area has its "own" Pass: check the site and seek specific information for the area you're interested in. Moreover, forget about first class, it will already seem as if you're in a 5 star hotel while traveling in second!
The Grutto Pass
The Grutto Pass is the entrance discount for museum lovers: they're for sale at the majority of the museums and at the official Tourism Office in Tokyo for 2.000 Yen and is valid for two months after its first use.
For further discounts, you can get yourself the "Welcome Card" of the area you want to visit. All major centers are involved. For example, for Tokyo, showing the map distributed by the tourist office, you are eligible for discounts at the places listed on the map itself.
Lastly, the airlines ANA and JAL offer domestic flights at really good prices. The requirement is that you're a tourist arriving on an international flight to Japan. Purchase must be in advance. Japan Airlines (JAL) offers two discounted rates Visit Japan Fare and Welcome to Japan Fare (check the site for pricing and details).
ANA offers two similar deals, the Visit Japan Fare and the Experience Japan Fare, which also should be checked in advance on the site.
Tour or independent travel?
If you need to consider the "ease" of traveling in Japan, you can sum it up by saying that for a tourist that has a basic knowledge of English (and medium "hand gesture" skills), and can handle the long flights necessary to get there, Japan holds no unpleasant surprises nor is it an impossible goal.
It's most definitely the most accessible Asia for those who don't like adventure. Clearly you'll need to be flexible when it comes to food, although you can survive eating yakitori, shabu shabu and yakiniku every night by having meat boiled our way on your plate.
As a well-served destination, it's a trip that is also suitable for those who have trouble getting around on foot, with special attention for those with different abilities. Strollers and children are welcome and the entire country is very safe.
Obviously many spots are full of temples, so if you're not interested in the spiritual side of the Japanese culture, you can ignore a good portion of the tours; but, personally, I consider them more than interesting – an excellent decongestant from the frenzy of the metropolises. Nature lovers will also find something up their alley, as will fans of museums and culture.
So, to conclude, independent travel is also possible for less expert travelers.
If though you're interested taking an organized tour, click here to learn more.
What makes Japan a difficult destination is the cost: in every way, not just because of the distance, the archipelago is expensive. Eating is expensive unless you're wise enough to follow the directions I'll dispense later in the article; if though you like sushi and want to binge, there are slices of sublime tuna that can cost you the equivalent of a week's pay!
When it comes to lodging, you'll be impressed by the price per square meter: space, in such a small and crowded country, costs a lot! Moreover, from hostels to luxury hotels, the extreme cleanliness and quality of service will cost you. At least compared to the rest of Asia.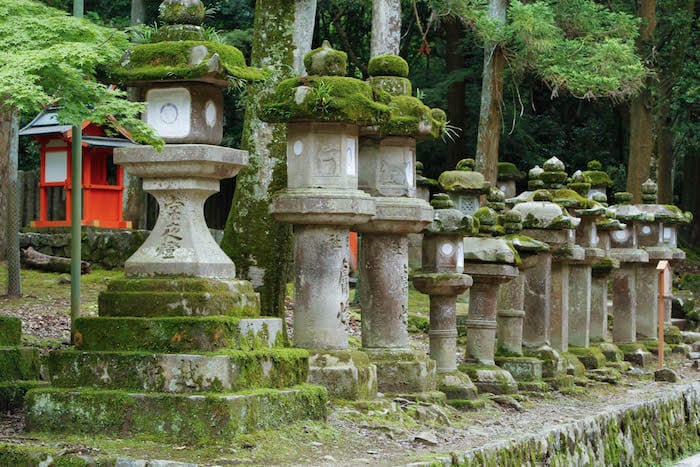 Nara Park, Nara – Photo by Mirco Ruggeri
Where to stay in Japan
A vacation in Japan is such a cultural experience that even the bed you choose to rest in after an intense day can be an adventure. There's an extraordinary variety of lodging, and with this I don't just mean economically, but especially regarding the style of room.
Generally there are three types of rooms: Japanese style, Western style and… unique!
With the first type there's ryokan and minshuku, where the latter are run by families and are widespread in smaller destinations: both are typical Japanese lodging, where you sleep on tatami with futons.
They might offer meals (the minshuku likely just breakfast), and require the respect of Japanese etiquette. So walk barefoot, respect silence, and take care of your futon. If among your stops you also include an onsen (thermal station), then you might stay in a ryokan.
Some ryokan are super chic traditional residences where you're served all meals in Japanese style (forget about brioche and cappuccino in the morning!) and the service is helpful! They are however rather basic rooms.
If your spine isn't interested in the authentic Japanese experience or your knees aren't up for the morning efforts, you can find lodging in Western style. Just one clarification: space is generally limited everywhere; especially in the large cities.
Hotel rooms, whichever they are, reflect the high cost of space in the large cities; you rarely see large halls or double rooms with balconies; all is reduced to minimal terms without giving up efficiency and comfort. It's not uncommon to find one square meter bathrooms where the sink faucet goes directly into the water drain!
Hotels often provide some basics (Toothbrush and paste, various soaps), even those of the lowest level.
As far as "unique hotels" go, there are three main categories: capsule hotels, manga cafès (or kissa cafè) and Buddhist temples (or shokubu).
Capsule hotels are available for tourists in the sense that they are easily booked on Agoda, where you'll find the best offers on lodging in Japan.
They are conceptually designed as hostels, with common restrooms and bedrooms like bunk beds. The difference is that each bed is closed in its own capsule, in fact, with a glass door that allows greater privacy than a hostel. It's not suited for those who suffer from claustrophobia and those taller than a meter and eighty.
Manga cafés (or manga kissa) are first of all comic libraries or internet cafès, where you mainly go to read and surf; but they can transform into temporary bedding for the night. They don't have any of the comforts of a hotel, they are Spartan rooms and you'll be on a couch.
But if you're a tourist that likes to experiment, then I recommend it. Be careful though, you can't book in advance! You go in and tell them how long you plan to stay. Any variation, even if small, costs as an added price. They are definitely not a place for families. Note that there are also manga kissas designed as "red light" products.
The last – extraordinary – opportunity offered by Japan is staying in a Buddhist temple (or shokubu). The best place to do this is Monte Koya, Koyasan (where you can book this site on the internet).
Obviously, if you stay in a shokubu you must be at least a little interested in the rhythms of the monks and vegetarian food, but not necessarily a faithful practitioner.
Click here to discover the best
offers on lodging in Japan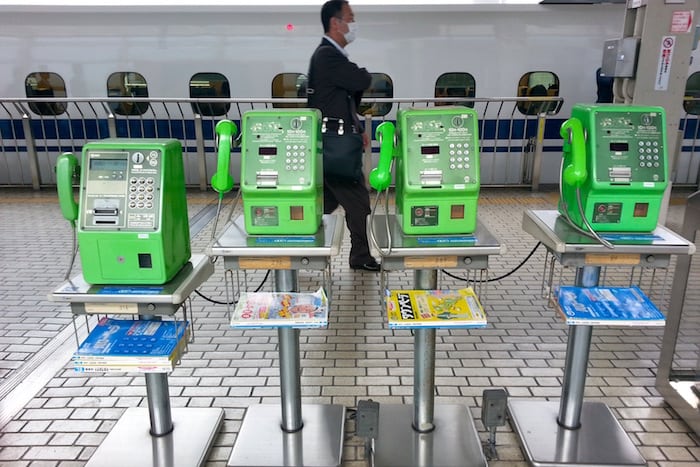 Public Telephones – Photo by Rita Andreetti
Internet and telephone
The wi-fi network in Japan is quite extensive. Lots of local places offer service, as do many public places, and speed isn't a problem. In mid-range hotels and above the connection is included, while it's a little tougher to find if you stay in a hostel, riokan or a minshuku.
Before leaving, then, I recommend that you download one of the three applications that provide wi-fi service in this territory.
Which is better? The differences are subtle, it's more of a question of coverage. Personally, I would go with the first one because it seems to have a bigger network; but there's nothing to keep you from downloading all three.
If that weren't enough, or you're planning on hitting destinations that are off the beaten path, you might consider the prepaid Sim card option, or for even more, a rental router. Japan Wireless offers both the rental router and the sim card; you can compare prices with the companies eConnect and B-mobile.
The majority of Western operators offer a roaming service in Japan, but beware that the cost is never less than a USD per minute, unless there's a special offer.
If you're not tied to the use of technology or prefer to be free of your cell phone during your travels, for getting oriented in Japan you can always trust one of the old paper maps, which I would never scorn: they're still widely distributed by the tourism offices.
In addition, you can find public telephones everywhere, whether you're passionate for manga or only saw Kiss me Licia as a kid, you'll recognize them: cube-shaped objects in glowing pea green. They're called international though its preferable to use prepaid cards that you can get at a convenient store, like 7/Eleven. You'll quickly learn which are the convenient stores because you'll find a little of everything, and you'll certainly use one at least once!
Money and credit cards
The money used in Japan is the Yen. Stores accept credit cards on international circuits (American Express, VISA, Master Card, Diners Club, JCB and Union Pay) and even the Chinese Zhifu Bao. It's less possible that they'll be accepted in restaurants off the main roads, ryokan and minshuku.
So, even in a super technological country like Japan, it is essential to not rely solely on credit cards to pay, also because for small sums they aren't welcome.
Always keep cash with you (Japan is a safe country, so just keep an eye on your belongings and you won't have any unpleasant surprises). If you plan on leaving the big cities, all the better to have cash in case you find yourself in places that don't accept credit cards at all, such as on the Ryukyu Islands.
Changing money is done at banks or at counters, such as in airports, even minor ones.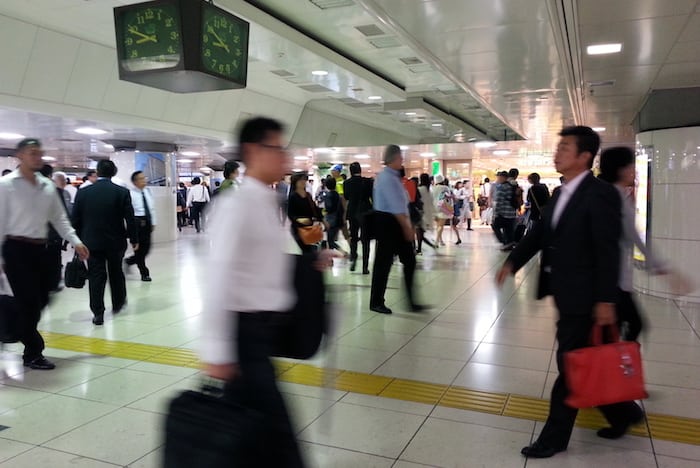 Shinkansen Station
Transportation
Air
Usually from Europe or the United States you'll fly into the airports of Tokyo (Narita International Airport or Haneda Airport) or Osaka's (Kansai International Airport). International flights also go into Nagoya's (Central Japan International Airport), which is the country's third hub.
Smaller airports also have international connections but usually only in Asia: Hong Kong, Shanghai, Beijing, Bangkok, Taipei and Seoul are among the most popular destinations.
Narita airport is ably connected to Tokyo and is also the most used; I'll direct you to our guide on Tokyo for further details.
Kansai airport (Osaka) is your destination if you plan on your first (or only) stop being Osaka, Kyoto, Nara or Kobe since it's closer. Obviously you can also reach these destinations from Tokyo, but it's a little more complicated and costly.
The JR line connects all the cities listed above, but you can also choose limousine buses that are more expensive than the train (about 4,000 Yen more), but have the advantage of not making intermediate stops. The airport site provides a very detailed map on various connections to this link
Don't be afraid because Japanese transportation maps are all thick with writing. You'll need a little patience at first glance, but little by little you'll get into the groove and you'll see that everything is clearly described. You must however be well aware of the names of the places you are looking for.
You can use Nagoya airport, for example, if you're interested in mountains, as it's well connected to Nagano Prefecture. Check your exact destination and see if it works: the airport site provides a very useful route calculator.
Internal connections, such as to the Ryukyu Islands, or towards Hokkaido, are best made from Tokyo and Osaka.
Trains and Shinkansen
Taking the train in Japan is a pleasure, and a typical experience when talking about the Shinkansen, or high speed train. Moreover, it's often the quickest way of reaching a given destination.
As already mentioned, you'll need to know the name of the destination because reading the timetables is often… difficult.
Don't hesitate to ask in your hotel before going out and then ask passersby at the station: the Japanese are a people who are particularly willing to help and they won't turn down a request for assistance. The general recommendation is to arrive well ahead of your departure time because trains leave on the second.
I now need to clarify one detail: the railways in Japan are private, so you'll see lots of names that not only indicate the route but also the type of train you need to take. The most extensive and well-known are the JR, but there are a whole lot more, even for the same route. This is why it's not enough to speak of a "train" but also indicate the line.
An exception is the Shinkansen, the high speed train, which is only operated by JR and, moreover, has its own railway station. The most popular Shinkansen route is the Tokaido run (Tokyo – Nagoya – Kyoto – Osaka), but the network crosses all the main islands along the length and connects Hokkaido and Kyushu.
I recommend that you travel in second class, which will already make you feel pampered compared to European standards. You can reserve a seat, which is highly recommended if you travel around the Japanese high season or peak hours. If you have a Japan Rail Pass, reserving a seat is free, and if you don't have one you'll pay according to the type of train.
Returning to less speedy trains, there are four types: Local, Rapid, Express and Limited Express. On the tracks, to access the cars you need to follow the number printed on the ground, get in line without pushing and calmly wait for other passengers to get off.
Shouting on trains is frowned upon, as is the use of cell phones even if they are tolerated on silent mode.
All tickets can be bought at the ticket counters as well as the automatic machines where you can also find instructions in English. Children under 5 years old travel for free with an adult while those up to 11 pay half price.
Now we come to a sore subject, namely understanding the timetables. The first time I tried my hand at a Japanese timetable I thought I could do it on my own. Fortunately, there are internet sites that will help you avoid such an afterthought, and one in particular, Hyperdia.
Don't leave without first taking a long hard look at how it works: you can search all ways of reaching a destination, including night buses, and it will also list prices and trip length.
If you have the JR Pass, remember to uncheck the ones that aren't included, such as Airplane, NOZOMI/MIZUHO/HAYABUSA, Liner, both Sleeper Trains and the Private Railways. Actually, the Hayabusa Shinkansen line is included depending on your destination.
Hyperdia is also available for smartphones, click here for Android and here for iPhone. If you don't like Hyperdia, there's another less flexible but up to date site called Jorudan.
Buses and the like
If your destinations are only large cities, you probably won't use the bus much since the metro is much more convenient. Though in Kyoto, for example, bicycles and buses are the most popular forms of transport.
What you need to know about city buses is that they're usually included in the combination tickets that you'll find locally in the cities, of which I will speak more in the "Metro" section. Long distance buses and the limousine bus for transfers to the airport on the other hand are not always included; most prefer the train though this doesn't mean that the buses are any less efficient.
Rather, the offerings are quite competitive. If instead you intend on going to the beach on the Ryukyu Islands, the bus will be your means of transport unless you rent a car.
Some basic rules for using the bus: respect the line and wait until passengers have gotten off before trying to get on (this might take a few minutes). Tear off your ticket as soon as you get on, there you'll find the number marked: when you get off, on the monitor next to the driver your corresponding ticket number and rate will be calculated proportionate to the number of stops.
If you pay in cash (coins!) you need to place them in the container next to the driver; you can also make change as there's a machine on each bus. If you're using an IC card, just pass the card in front of the reader when getting on or off. You can signal your stop using the call button.
When it comes to using buses for longer distances, at times it is the less expensive option than Express trains. There are many companies that run night services and offer tourist-friendly options.
If you plan on moving around a lot and want an alternative to the expensive Shinkasen, buses are your best option: this link will let you calculate the route, cost and times.
On the Kousokubus site you can make bookings on the lines run by JR; while Willer Express, which has extensive coverage, offers great rates with its Japan Bus Pass, to the point that it's half the price of the JR Pass. This is definitely the budget option if you're inclined to submit to longer travel times.
You'll notice that on buses and trains there are "Women only" cars for the same price that are generally used by women traveling along to avoid running into the gropers on the subway. Rarely does a tourist run into this type of situation, but if you want peace of mind, the seats are available.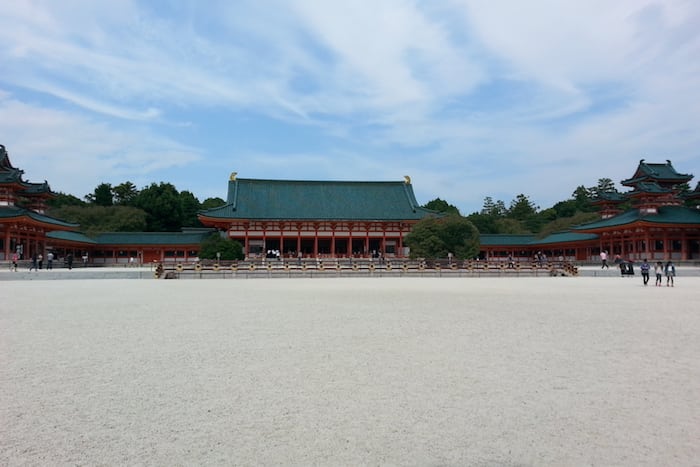 The Royal Palace of Kyoto – Photo by Matteo Bosi
Metro
This is the preferred way of getting around the large metropolis of Tokyo. You'll use it in other places as well, but the map of the Tokyo subway will become the Klimt you'll always want to keep in your pocket. The Tokyo subway lines are run by Tokyo Metro Line, Toei and JR (on the JR Yamamote line, covered by the JR Pass).
To access the metro I recommend that you get the multi-day pass, if you intend on getting around solely by this means: they're fast, practical and convenient. Remember that in peak hours the orderly Tokyo subway becomes an orderly little hell.
The most practical system for using the metro over long periods are the IC cards: they're prepaid cards that work for all forms of transport and recently have been made compatible in all cities (while before almost every city had its own). For example, in Tokyo you'll find Suica and Pasmo, in Osaka Icoca and Pitapa.
If you're only staying in Tokyo for a few days it might not be worth it, since there will be a 500 Yen activation deposit required; you might want to consider multiple tickets. But if you fall in love with Japan and plan on coming back, your IC card is good for ten years and you can recharge it on your next trip.
Be aware that the IC cards are not valid on the Shinkansen nor for connection services with the airports, but you can pay for them in various shopping venues. And above all, the IC cards are not discounted combination tickets!
Now, if you're only planning on staying in Tokyo on your trip, for example, and don't want to think about changing lines continually, then your best option is not the IC card but the Tokyo Combination Ticket: a combination ticket that includes JR, Tokyo Metro, Toei Metro, Toden and Tobus, inside the subway borders (where you'll find the majority of tourist sites). If the metro is enough, you can consider the Tokyo Metro day pass or the combination pass with Toei.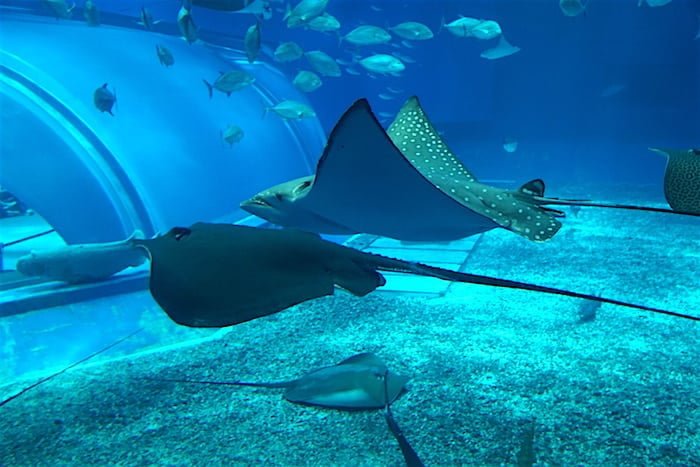 Churaumi Aquarium, Okinawa – Photo by Matteo Bosi
Taxi
Taxis in Japan are almost always the most expensive option. At times they're also the least practical option, when the traffic during rush hours is enough to make your plans go up in smoke. Obviously this is an issue for the big cities, while in the smaller ones and villages taxis are the best option for saving time and money.
In Tokyo taxis become the best option at night when public transport stops (note that taxis raise their rates at night by at least 20%).
Japanese taxis boast a host of white gloved drivers who drive moderately and don't speak a lick of English and need an address written in Japanese. It's not always like that, but act as if it were; in fact, getting to a destination can also be terribly complicated for the one bringing you there, so a piece of paper, or business card, or a precise indication on a map are indispensable.
The most important thing to remember is that the doors open from the inside: the passengers don't control the doors, the driver does.
Bicycles and electric bicycles
Bicycles have undoubtedly conquered Kyoto, but other itineraries lend themselves as well, such as the countryside of Asuka or the scenery of Hokkaido. Renting bikes is easily done onsite and your hotel will know to contact the nearest rental agent.
There are growing numbers of cycling lanes, especially in destinations that feature tourism on two wheels, so you won't have any problems. Even in Tokyo many choose to use bikes; actually, I had a pleasant experience by choosing to visit a part of it on two wheels under the guide of Tokyo Great Cycling Tour. The important thing is to respect the rules and not park in a risky way.
When it comes to long distance cycle-tourism, I recommend you consult two resources to get an idea of itineraries: the web site Cycling in the Kansai and Japan Cycling Navigator, run as a forum or community of fans.
Rental car
This section applies if you plan a stop on the Ryukyu Islands or go off the beaten paths on Honshu and you want to explore the wild and natural side of Japan. Forget renting a car if you're going to stay on the normal routes!
If you have difficulties or special circumstances, don't worry because Japan, with its public transportation systems, has great regard for those in these situations.
First of all, driving is on the left. To drive in Japan you'll need an international license that you'll need to request from the Motor Vehicle Department ahead of time. Normally you'll be provided with a GPS at the rental agency, but you'll need to be flexible and ready to work such a device with maps available only in Japanese.
If these details seem insurmountable then you might want to refrain. For rental cars, you might find the English site Tocoo useful.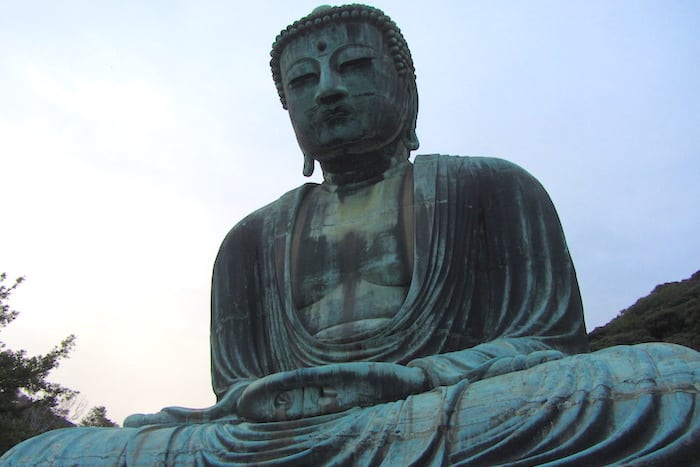 The Great Buddha of Kotoku-in, Kamakura – Photo by Rita Andreetti
What to see: The classic stops
I'm of the opinion that the first time you visit Japan you should begin with Tokyo-Kyoto as a base, and then choose other stops according to your preferences. These offer two points of view on the "Japanese-ness" that is near and far at the same time.
From there it is practical to arrange day trips to explore other areas of this world. You should also decide if you're looking for historic Japan, modern Japan, nature or even the tranquility of an Onsen.
In any case the classic stops, which obviously depend on the amount of time that you have, are the following:
Tokyo: is the capital, the metropolitan city with the most extensive perimeter in the world, a marvelous example of chaotic organization where you could stay for weeks without getting bored and always finding something interesting to do and see. I send you to the SDC guide on this city and I invite you to comment if you have some unresolved curiosity!
Nikko: two hours from Tokyo, is the seat of the Toshogu sanctuary which draws rivers of tourists.
Kamakura: very close to Tokyo, is another possible day trip from the capital; and a very peaceful place, full of temples, where you can breathe in the spiritual calm of the Japanese culture.
Monte Fuji: a world famous landscape and one of the most enchanting natural places, not far from the capital, for a doable trekking experience.
The ones listed above are just a few of the possible stops between Kanto and Kansai, with convenient connections using the Shinkansen. You won't find wild nature or Onsen in these places.
You could explore Monte Fuji with a day trip from Tokyo, or stay overnight at the top; or even a stop at the foothills of the mountains such as Hakone Park, known for its Onsen.
If Monte Fuji seems too popular for you, around Tokyo you'll also find Mount Takao for moderate trekking.
If you have a way of getting farther south and have the time, Hiroshima is worth the trip even for what it represents for Japan's past, and from there you can reach splendid Miyajima Island.
You can get to Chugoku Prefecture, passing by charming Himeji Castle.
Interesting mountains can be found in the central region of Nagano, while for beaches I recommend Okinawa and its prefecture.
The baths
The Onsen are a gem of vacationing in Japan: these are thermal baths organized in private buildings, often associated with a Ryokan. They can be found almost everywhere among the islands in view of the area's geological origins. Some are more memorable than others, but expect refined places with iron-clad rules of use where you go more to make noise with friends than to reach Nirvana.
The basic detail to keep in mind is that you enter the waters of the Japanese baths naked and clean (after a shower) and men and women use separate baths. There are a few differences between Western thermal baths open to the public.
There are also public thermal baths in Japan, but if you want the full experience, stay in a Ryokan where you'll be spoiled by real Japanese. The beneficial waters of Japan contain different minerals depending on the area and are suggested for various illnesses and conditions.
They are truly numerous: Kusatsu and Hakone are among the most quoted, but you won't want to miss the secret thermal waters of Mount Nyuto.
The mountains
Have you ever thought about Japan as a place for skiing? Perhaps not, because you'll say that with the costs of getting there it would be foolishly costly for a week on the slopes! Undoubtedly this is not a place for good prices, and just one week on the slopes isn't likely enough to make you cross two continents. In any case, Japan, as is the case with all other things, combines excellent service with spectacular environment, so that even the winter mountains are precious. And the costs are going down.
The best site to consult on the subject is the Snow Japan website. The Nagano region is the best served, but Niigata is also well-developed.
Obviously a ski vacation (or snowboard) can be associated with a relaxing thermal bath: there are ryokan all over the place and resorts often offer treatments.
Museums
As a big fan, I can't help but dedicate a few lines about the extremely rich offerings of Japan's splendidly endowed museums. You'll find museums on every subject, because in effect all sources of national pride are covered by museum exhibits: from Doraemon to ramen, to sake and the history of the imperial past, without forgetting the Shinkansen or the Museum of Science. Often cities have their "own" museum where testaments of their splendid past are gathered, especially if for a time the city was a state capital.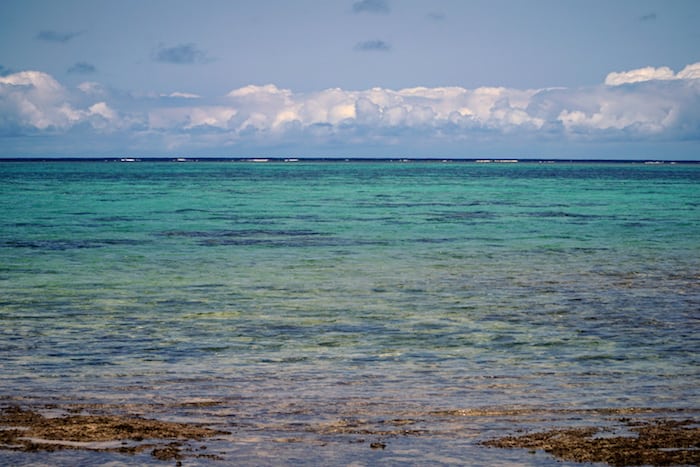 A glimpse of the sea on the island of Okinawa, Ryukyu – Photo by Matteo Bosi
Guide to cultural issues
Good manners
Traveling in Japan involves respecting their cultural peculiarities that includes a series of little rules of behavior. Some might seem exaggerated, others incoherent (such as making no noise when eating, except for sipping broth or sucking up spaghetti!); generally, being a good tourist is enough. But to make sure you aren't forgetting anything and don't cause offense, here's what you shouldn't forget.
Wherever there's a tatami, shoes are not allowed. At a restaurant, in a ryokan bedroom, at a friend's house: you need to, before entering, take off your shoes or leave your slippers because one usually walks around barefoot.
Japan is a very clean country, so you should physically follow this conduct on the street, in public baths and local places: you don't throw trash on the ground, much less cigarette butts; bathrooms are used with care, especially the Turkish ones which require specific directions since they have…mud flaps! Toilet paper is thrown in the water as in the West (while in the rest of Asia it's thrown in a basket). In the toilet you'll find radio controlled, super-technological, mega chiropractic seats: they warm you, clean you, dry you, accompanying your natural noises with a little music. Perhaps you'll try one someday to understand but once you're comfortable with it, it will be a ride on a tilt-a-whirl.
If you're a smoker, you can only smoke in indicated zones not just in clubs, but especially on the street. You'll quickly learn to identify them. Obviously it is strictly prohibited on all means of public transport and in public places.
On public transport you have to respect the lines and give priority seating to those who need it. Never push, no, no, no. Even for getting on trains, the mobile steps must be used by stepping to the side and letting faster ones pass; elevators are also used only when there's a true need and allowing others to get off first. Don't use cell phones loudly, nor bother other passengers (but in reality, just about everywhere you need to stay "vocally" moderate). If you keep in mind that despite being a truly crowded country in its cities, the level of stress is much lower than elsewhere because people don't get worked up, but respect each other during peak hours as much as in the middle of the night. Or they lose it before leaving, who knows.
Compared to what we're used to, the Japanese are less tolerant of blowing your nose and displays of affection between couples in public places. On the other hand, as I said, there's no problem with noises made while slurping broth or sucking up spaghetti.
At the table: chopsticks are never left stuck in rice and plates are refreshed at the end of the meal. In general, while we bring food from our plates to our mouths, the Japanese tend to bring the bowl to their mouth for all foods that could "crumble" or are difficult to pick up. In addition, drinking broth from the bowl isn't a crime. Oh yeah, the wet towel that you'll find on the table is to be used to clean your hands before the meal (let there be no doubt!).
Sushi is eaten with chopsticks or by hand (yes you understood right, if the chopsticks are too much for you, you can use your opposable thumbs): just don't risk biting them! With sushi and sashimi you take one mouthful. I recommend that you pour the soy sauce into the designated little dish, not directly onto the fish; you should also avoid dropping rice into the sauce because you took too long to dip… Make knowledgeable use of wasabi, and both sauces that make contact with the fish! If you don't like something, leave it to the side, don't worry, but try not to be too picky and above all, don't take apart the sushi and onigiri and the like unless you want to argue with the Master behind the counter.
I don't recommend restaurants with traditional seating unless you're ready to stay on your knees and with your legs crossed if you're a male, and on your knees or side if you're a female. The majority of restaurants have "Western" tables, so don't ruin your evening just to play at being Japanese…
You'll soon find yourself bowing here and there without even realizing what you're doing. The Japanese use a bow as a sign of greeting, of thanks, of asking pardon… and even an indifferent gaijin (foreigner) will soon be infected by the gesture at the risk of being a little clumsy and incapable of doing it right. Don't try to shake someone's hand unless they offer it to you, but rather go on with your clumsy bow. If you find yourself in a situation where you have to ask forgiveness, accentuate and slow the bow always with your arms to your side and you won't go wrong.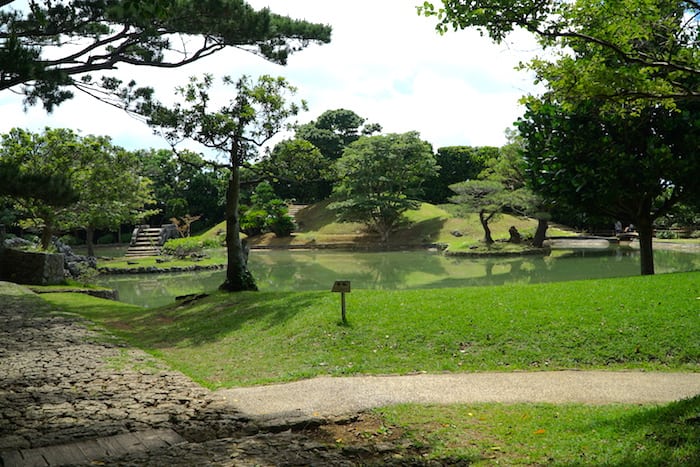 Japanese garden – Photo by Matteo Bosi
Gardens and ikebana
Gardens in the Japanese style are a real work of art which is expressed by composing the environment of the garden as if it were a miniature of nature, reconciling the elements (the water, sand, construction, trees, etc) and favoring the function for which the garden was created (meditative, recreational, or something else).
You can visit these splendid gardens in every corner of Japan. They are famous and well tended in the large cities, especially Kyoto. I recommend that you don't leave without stopping in at least two of these green corners; choose well, stay awhile, watch, sniff and listen.
The art of arranging gardens goes together with another local tradition called ikebana, or the art of arranging flowers, also conceived holistically by giving value not only to the flower, but also all their components.
The final form has a meaning tied to nature. There are ikebana courses in the big cities, even in English (in Tokyo they're in the Sogetsu and Ohara schools)!
Kimono and yukata
The kimono is a traditional Japanese garment; it is so well known throughout the world that just hearing the word is enough to bring an image of one to your mind. If this is your first trip to Japan, I'm sure you won't be able to resist checking out the marvelous men and women that walk down the street wearing the traditional dress.
Fortunately, it's still worn for special occasions. Tourists can rent kimonos (this amenity is having increasing success) and tour around as real Japanese, and obviously buy them as well. The best place for all this is Kyoto, but isn't the only one; you'll find the same option in Tokyo, Nara, and Kamakura, for example.
The informal version of the garment is the yukata , and it's possible that if you stay in a ryokan and use an onsen, you'll be offered to wear one of these after your bath.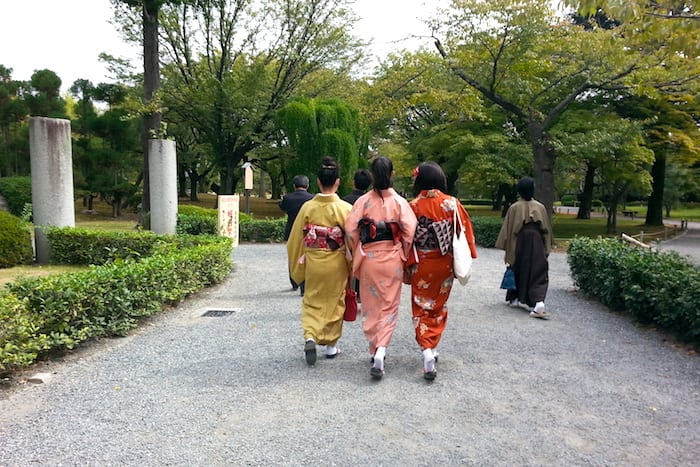 Man walking in a kimono in Kyoto – Photo by Rita Andreetti
Geisha
Women with incredible artistic gifts who study for years to become them: are called Geishas and are a Japanese tradition that sadly seems to be disappearing. Seeing a Geisha show is a difficult opportunity for a traveling tourist since these are performed during extremely expensive dinners where those at the table are entertained with their dances and games. Nevertheless as of late you can find open appointments even for tourists: find out at your hotel since not all agencies have these services.
The most famous area where Geishas work is Gion in Kyoto. Walking down the street you might run in to one of them, but in my opinion "Geisha-watching", or worse following Geishas secretly, is not very respectful. If you're really passionate and want to be sure to fully appreciate the art, then go to the festival that is held in Gion every April, the Miyako Odori.
Sumo
The first time I was in Japan I found it exhilarating to see how passionately they follow sumo, the national sport, which to my layman's eyes at the time seemed something grotesque. In reality, you'll see that there's an obsequious respect for those who practice this ancient sport activity, which nurtures ambition for the status of a professional wrestler: not by chance, Tokyo boasts a small monument to sumo wrestlers.
On TV there are programs that not only report on competitions, but also small wrestlers in elementary school as they grow. It is actually a truly difficult sport.
Professional athletes live in buildings that are like communities where they exercise their minds and bodies…and eating. If in Tokyo you'd like to take a peek at the residences of these enormous figures, you'll have to go to the Ryoguko quarter, where there's also an impressive sumo stadium, Kokugikan, which on competition days are full of fans.
If you're able to go see a match, don't hold back: it's an extremely rich people watching experience! For tickets, inquire directly at Kokugikan in advance, or at your hotel, where they can give you a hand buying them (but watch that they don't cheat you!). If that's too much for your ears, in certain gyms you can watch their training for free.
Convenience stores
In Japan, when you forget to buy something, even in the middle of the night, you can always find an open convenience store.
Department stores, or convenience stores, are small stores that have a little of everything and in which you can always manage to put together a respectable meal or find a product you ran out of, even while in the shower. So look for Lawson, 7/Eleven or Family Mart, even though it's most likely that they'll be the ones to find you! In convenience stores there's an internet connection, they sell tickets, charge cell phones… just like I said, a little of everything'.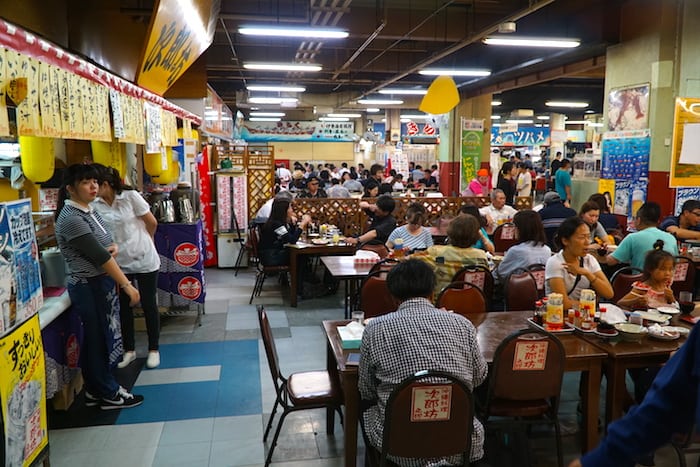 Small restaurants with soba and udon on sale- Photo Matteo Bosi
Food
The majority of us associate Japan with sushi. It's true, certainly, but there are so many variables that what we indistinctly call sushi, hides its variety. In addition, there are other delicacies that are worth knowing their existence: to be able to taste them, to vary our diet once there, and because many flavors are similar to what we're used to, in situations of taste bud nostalgia or screaming children you can always go back to one of these dishes! Obviously, in Japan you can also find many Western style restaurants.
Here's what you can expect in Japanese cuisine:
The most famoussushi is a composition of raw fish and flavored rice. There are also other versions with boiled or flame broiled fish, so you can find something for all palates. It is eaten by dipping it quickly into soy sauce mixed with wasabi. Regarding wasabi, be careful of this horseradish paste: if you're not used to it or use too much, you risk having a few minutes of hallucinations due to the spiciness. Fortunately it goes away quickly. You can escape into the pickled ginger to alleviate some of the discomfort. When the raw fish is all by itself it is called sashimi. If instead it is wrapped in seaweed, it is called norimaki or temaki or nigiri. If it's cooked on a grill then it's yakizakana.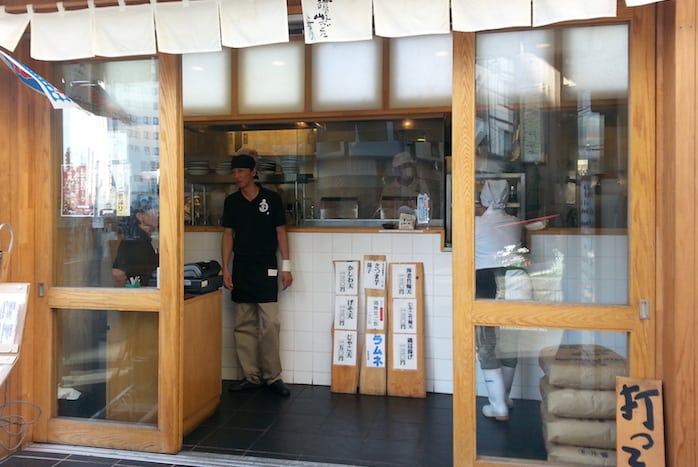 Entrance to a restaurant in Tokyo – Photo by Rita Andreetti
We come now to noodles: there are lots of Japanese noodles just like the Chinese. Native to Japan are the soba, made of flour grain. They're a quick midday meal, where workers often eat in small restaurants that could seem a little anonymous; or even standing at the counter. Personally, I tasted the best by slipping into crowded places where people don't stay long and without an inkling of what was written on the menu hanging from the ceiling. The best thing to do in these cases, is to use your good old finger to point at someone else's dish, which should be done with care, without turning your head too obviously at the next table over… Like the soba, the udon are also noodles, but larger than the others and mainly made of grain. Both can be found in broth or dry (or salted), hot or cold with sauce on the side. They're often combined with tempura. The middle road between the two are the ramen, which are originally from China, but Japan has adopted them as their own, cooking them in their own way and enriching them with local ingredients (they're excellent in miso soup!). These are all economic options; if you mess up an order one time because, I don't know, you find a raw egg that you weren't planning on inside, don't give up! There are truly thousands of types and even between regions there are differences (those I ate in Okinawa, for example, didn't thrill me), so it's just a matter of finding what tastes best to you.
I'll go against the grain in saying that my favorite dish is miso soup! A tasty broth that uses miso pasta, also derived from soy, that's invigorating in the winter and summer.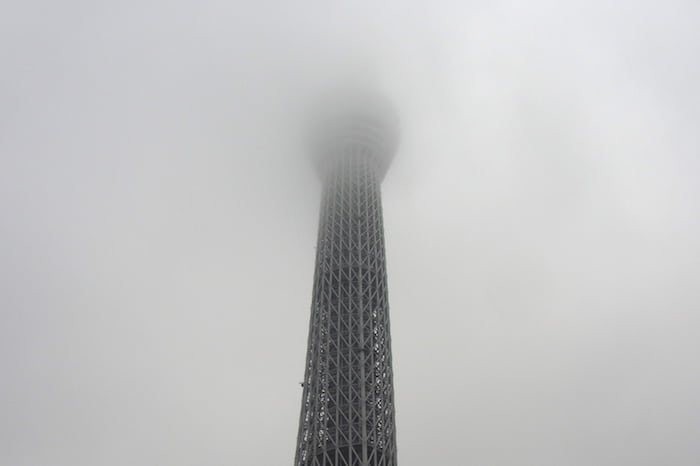 The Tokyo Skytree in the fog – Photo by Matteo Bosi
Nightlife
Nightlife in Japan offers a vast and curious array of possibilities. Naturally, Tokyo serves as the largest destination when it comes to lively entertainment, but other large cities like Osaka (Dotonbori street in Nanba is very popular) and Yokohama are no less. Even in Kyoto I enjoyed myself a lot, but I was most drawn to the izakaya style. Let me explain better.
Of course you can choose a classic night out, the same that you can have at home in the clubs you know, especially in Tokyo where the options are enormous. For rockers, you have to make a stop at the Bauhaus in Roppongi! In the same neighborhood there's the Hard Rock Café (much less rock than the first…). Nevertheless, every neighborhood in the capital has its own nightlife, you just have to discover it.
If however you're looking for a more local way to spend the evening, your options are:
Izakaya: usually, right after work, the Japanese go to this type of pub which from afar remind me of Spanish caña y tapas. Here you drink beer, sake, prune wine and other local beverages, accompanied by something simple to eat. Edamame, or soy beans are the rage, but there's also more elaborate plates like grilled fish or noodles. You can stay there late chatting and smoking.
Golden Gai: located in Shinjuku, Tokyo, is a district full of little diners that admit a few customers at a time. Usually but not solely, they prefer regulars and foreigners are tolerated. Although Shinjuku is the most typical area, you can find bars of similar ridiculous dimensions just about everywhere in Japan: if you reach out your arm you can serve yourself and usually the barista will be involved in your conversation.
Karaoke: like in China, also in Japan, private versions of karaoke are a common pastime. You rent a hall equipped with a machine by the hour, pay for food and drinks separately, and choose and sing songs until you're hoarse.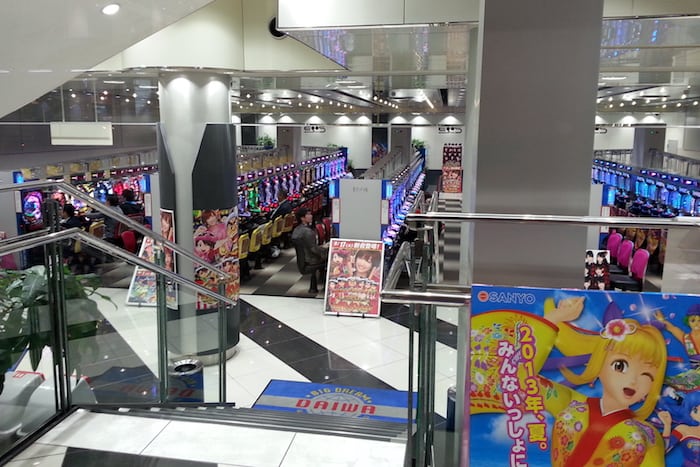 A glimpse of a Pachinko hall from the entrance – Photo by Rita Andreetti
Pachinko: for fans of gambling, this is a strictly Japanese version. It's found in pachinko halls, similar to our casinos, where you sit in front of your own machine during the match: seen from outside, these enormous casinos are a little disconcerting, with players silently closed in themselves. Nothing keeps you from enjoying the calm and placid buzz (because it's a relatively slow game) of local gambling!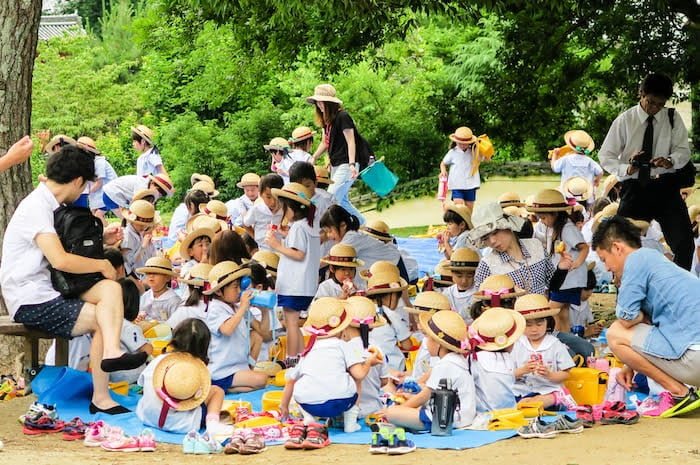 Scholars on a trip – Photo by Mirco Ruggeri
Advice for families with children
Some advice for those traveling with little ones, very little ones or not so little ones. First of all, Japan is an ideal place to go on vacation with the family. It offers lots of opportunities and conveniences. And above all, it's a safe place.
To the point that you'll be amazed at seeing many children less than ten years old that going around by themselves, coming back from school or during the day. It's a peculiarity of the Japanese culture that empowers young ones right away and in a certain sense, trusts in the community for eventual help or support in case of need.
Generally speaking, kids under 6 years old enter for free; kids between 7 and 11 years old pay half price; kids 12 and up pay full price.
It's a little difficult, but not impossible to find multiple hotel rooms in hotels, given the space limitations. Restaurants are usually equipped with high chairs and also offer children's menus.
In Japan, conveniences for pregnant women and those with newborns are widespread: from dedicated seating on public transportation to reserved bathrooms and nursing rooms in, I would guess, all public buildings. I have never seen a country so prepared for and accommodating towards maternity.
In addition, there are many theme parks to entertain the family while taking a dive into the universe, such as the animation of Studio Ghibli (Ghibli Museum, Mitaka), or among the manga (such as, the One Piece Tower inside the Tokyo Tower), or the history of the Japanese Empire (Edo Wonderland, Nikko).
I also have to list Disneyland Tokyo and the marvelous aquariums that are the respective prides of Okinawa and Osaka. The special thing about these museums and parks is the fact that they're interactive, family sized and therefore enjoyable for all ages.
OK, now you know all you need to know for planning your adventure in the Land of the Rising Sun.
Treasure the cultural differences that you'll encounter! Bon voyage!