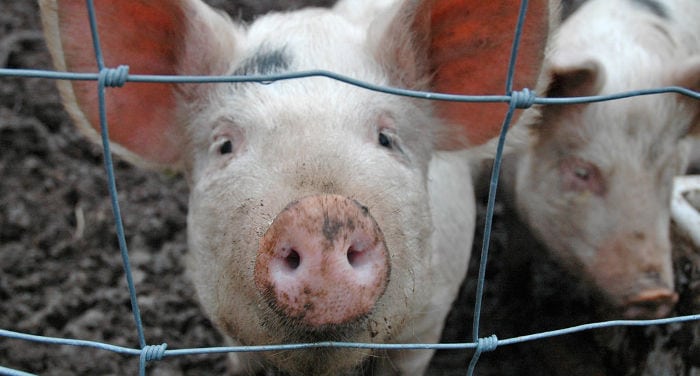 "…it all started when the pig began to eat itself."
An economic metaphor of modern China.
I was traveling in the remote mountains of Yunnan. That time by horse with a motor of flesh, bone and also sweat. I was together with a local guide and a family of modern nodmads.
This was in the Spring of 2007. In Lijiang I met Pana and Haydeh who with their two children wanted to take a trip to get them ready to go to Mongolia on horseback that very summer. Having experience traveling in Mongolia with horses I've bought, I offered to accompany them. It seemed to me as a great idea considering all those friends who transform having kids in to an excuse not to travel anymore. Yes, you can travel with a family and without a lot of money.
Certainly with two young kids the trip wouldn't be the quickest. The newborn, named Nugaj like a Mongolian prince, screamed out his warrior roots and there were frequent breaks to nurse him and placate his discomfort. The other kid – a four year-old – became impatient: his horse was under the watchful control of the guide who got nervous because he couldn't go as quickly as he had planned: it wasn't good business for him especially with people who didn't even speak Mandarin.
He was only there to get paid for the job and wanted to finish as soon as possible. So before leaving, another farmer joined the group so that, as the guard explained to us, he would help bring back the horses: all at his own expense.
We left from Baoshan, a distinctive little town perched on a cliff, which would become famous a few years later as the setting for a Chinese-written film and set off toward Lake Lugu, famous for being one of the few places in China governed by a matriarchy.
We opted for those gravel roads of red earth that connect the isolated villages of this remote area so as to not frighten the horses with the racket of new cities of cement and neon. This choice brought us to cross a river in a rudimentary boat like those created by Leonardo da Vinci in Imbersago sull'Adda and to rest at farmhouses: the best lodging for all types of animals, men included.
One night, in one of these, the farmer showed up with three houses dishes, one of which was a soup. The wife made them from a black and lumpy earthen kitchen where noisy blue flames arose. One plate was a base of smoked pig lard and pickled vegetables and another was pork and peppers from the garden. The plates were seasoned with plenty of hot peppers according to local custom. The house wasn't rich but had a few extra beds in a half-crumbling wing of the house.
After eating, the family warmed themselves around a metal brazier. Just a few rounds of cigarettes and tea around a cozy fire were enough to send me looking for the toilet:
"cesuo' zai nali?", one of the few words I managed to memorize thanks to a surprising similarity to Italian. The connections between Italians and Chinese start in the kitchen and end up in the toilet.
It was one of those Chinese latrines made of axles that had lighting. I was roused from my contemplation of the immense starry sky by a grunting noise coming from between my legs. I looked down to see the snout of a pig right under my ass:
"This pig is waiting with his tongue out to eat my crap, ergo I ate the crap of these Chinese farmers."
My joy at the discovery was transformed into an unexpected disgust to then back to joy when I realized that everything is in balance, seeing as they'll be eating my crap as well.
But then look: the shi(f)t of conscience: the pig is eating itself! I eat the pig, I crap, I give it back to the pig and then I eat it again. So I am eating my own shit and the pig is eating itself."
A perpetual flow of energy. That's how it works in China: food scraps are gathered and given to the pig, even leftover pork. The pigs eat themselves. As if there was only one hypothetical male who continues eating himself to recycle himself and continue existing. This pig just passes his flesh to us and we give it back to him. I wonder if this food is only virtual.
In China this eternal revolution of things to return to what they were seems evident. Cities are demolished to be reconstructed. Temples:now all in cement. Here one preserves by destroying, and this makes the society less static than in Italy for example, where things are conserved for reasons of culture.
[Photo Credits (Creative Commons License): www.flickr.com/photos/michaelloudon/]