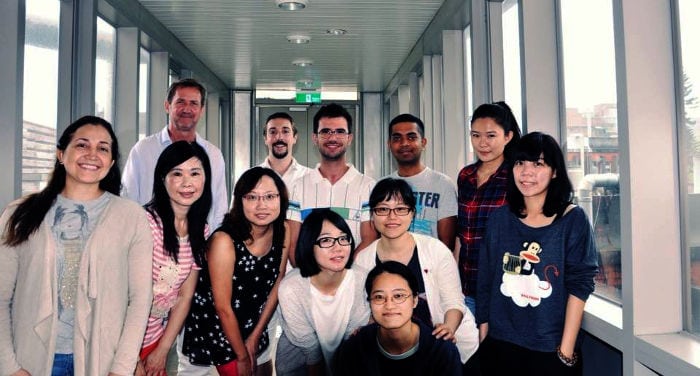 I met Isabel in Barcelona when both of us were doing our PhD, and out of the curious nature of destiny, a few years later I moved to the capital of the People's Republic of China and afterwards she went to the capital of the Republic of China.
This adorable Colombian, from the city of Pereira, has been working for the past 8 months as a post-doctoral researcher at the Academia Sinica in Taipei, Taiwan.
The other day, while we were sharing impressions on Facebook of our experiences in the two Chinas, I thought that I could do an interview with her. This is the result of our discussion. Enjoy!
Impressions of a Colombian in Taipei
Hi Isabel. First of all, thank you for accepting to do this interview. Tell me a little about your story. How is it that you ended up doing post-doctoral studies in Taiwan?
Thank you very much for inviting me to tell my experience in Taiwan. In reality, it all started one day when I was in my old laboratory looking at what post-doctoral offers there were, and I found one in Taiwan at the Academia Sinica. It sparked my curiosity, so I decided to take a look at the resume of the Principal Investigator (who is in fact German) and it looked really good to me. Nonetheless, I didn't send my resume straightaway because I was a little afraid of what faced me, so I spoke with a Chinese colleague and he told me that a girl from our institute did an exchange at the Academia Sinica. I spoke with her about the life in Taiwan and the research group, decided to send in my resume and here I am!
The other day while we were talking, you told me that Taipei reminds you of Bogota. What do you mean by this?
Well, I mean that the architecture in Taipei reminds me a lot of that in Bogota, as well as the climate a bit, the food and also the attitude of the people walking hurriedly (typical in capital cities). Also, other things remind me of my country in general… the traffic, the bus drivers who drive like crazy people, motorcycles drivers who don't respect anything and move into any space even if it costs them their life, the pedestrian crossings which drivers don't respect and you which have to be careful of because they may hit you.
Hmmm… what you're saying reminds me of Beijing as well. Typical question: what is your favorite Taiwanese dish?
Ohhhh… Pineapple prawns… I love them!!!
You told me that you intended to learn some Chinese. It is possible to survive in Taipei without speaking Chinese?
I think that in the beginning you can survive without speaking Chinese, but not because people in general speak English but rather because in the beginning, the people who are close to you try to help you or you're not so demanding as to want to go to special places to eat and things like that. But I think that after a while, you start to get tired of not being able to buy what you really want, or not being able to negotiate your things, or simply understand a conversation on the street, and you start to feel alone, isolated and foreign… That's when you consider learning Chinese.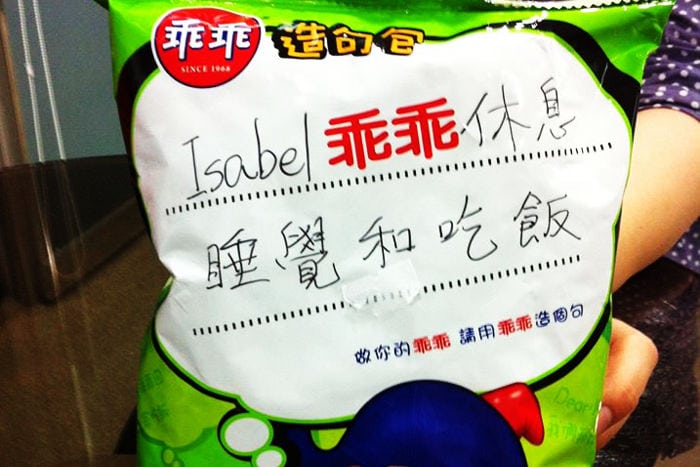 Isabel guai guai xuixi shuijiao he chifan, the translation goes something like this: Isabel, be a good girl, rest, sleep and eat.
Do research in Taiwan
What are the first differences that come to your mind between doing research in Colombia, Spain and Taiwan?
There are many differences. For example, in Colombia, investment in technology is practically none and science is just starting to develop. In Spain, scientific and technological levels are good. I think I was fortunate to have done my thesis in Barcelona and in a good research group, as I had all the resources I needed to carry out my work, and in this regard, I can't complain. In Taiwan, I also have all the resources I need available to carry out my research, but I think that the fundamental difference from Spain is that here I have more state of the art technology available to me.
Doing research in mainland China is a real challenge, as in many places the English level is extremely low, the number of foreigners is almost non-existent and Chinese students are very shy. The result is that many of us feel lonely at first in a foreign environment. How is this aspect in Taiwan?
Just the same, even though I can tell you that during the first 6 months, I felt a little better, or had more contact with people at least, but now after 8 months of being here, I think it's normal for people to put you aside somewhat and that you have to face the fact that you are alone in a country where not only the language is very distant from you but also the culture, and in the end, I think that these are normal temporary crises which happen to all of us who decide to live these types of experiences. I think that to solve this it is very important to speak Chinese not only to relate with people in your workplace but also with other types of people and to find other friends to broaden your social circle.
Here in China, students in general have little creativity and little capacity to respond to the problems which come up constantly when doing research. This is due to the fact that bosses manage too many students and don't have time for them, which makes laboratories extremely inefficient. To give you an example, I remember that a student in my laboratory spent 6 months doing the same experiment without changing absolutely anything at all, thinking that he was doing something wrong and because of that, it wasn't working. In the end, someone realized that the notes which were given to him were incorrect. What are Taiwanese students like?
I think that they are very similar in this respect. However, some may stand out more than others, but it's true that in general, they don't often question why an experiment doesn't work for them. Also, I think that they are educated to see things from one point of view and this is their main problem. They are not critical of things or don't relate a situation to a particular problem. It has caught my attention quite a bit that things that for me may be simple and obvious are not like that for them, which doesn't mean that they aren't intelligent or good at their job, but rather that what is happening is that they think that there is only one way of doing things.
Chinese people are famous for their never-ending work days, and in my experience, many students prefer to be in the office rather than go back to their small rooms at the university, as they have internet and a pleasant temperature, whether they are working or not. Does the same thing occur in Taiwan?
I don't think so, at least, that's not what I see happening around me. In my laboratory, for example, the research assistants only work until 6pm, completing a 9 hour work day. I found this strange when I started to work here because I thought that the work day was longer in Taiwan. One of my Japanese friends even told me that they also worked long days, but here things are a little different, or at least in my laboratory and neighboring laboratories, as it's strange to see someone after 8pm or on the weekend at the Center.
In China, opportunities for researchers are enormous if you know how to take advantage of them. What is the situation in Taiwan like? Do you think that the opportunities are better than in Europe or the United States?
From what I can see, I think that obtaining a permanent position in Taiwan is difficult, competition is tough and even though they may be obtained, it is generally after many years of trying and with a good resume. In addition, another thing which catches my attention is that salaries are very low and in Taipei for example, the cost of renting an apartment is very high and can amount to half of the salary. Because of this, in my opinion it is better to work in Europe or the United States when taking into account the quality of life point of view.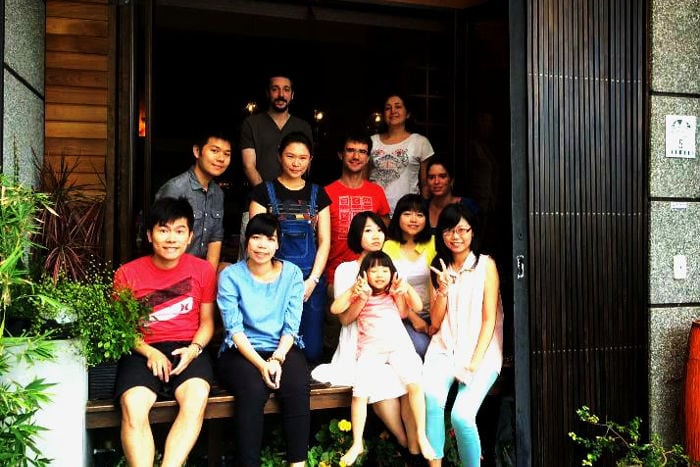 Speaking of Taiwanese people
Everyone tells me that Taiwanese people are like a Chinese version of Japanese people. Do you have the same impression?
Hahaha… Yes, its very peculiar, as I have Chinese friends and Japanese friends and Taiwanese people are an exotic mix of both cultures. I think that they try to be more Japanese than Chinese but keep a lot of Chinese culture.
In Hong Kong, they call mainland Chinese "lobsters" because they say that they arrive in hordes and make off with everything. In Taiwan, they are not well-liked either. As far as you know, do they have any derogatory name in Taiwan?
I haven't heard any derogatory name which they use against Chinese people, but what I do know is that they are not well-liked by Taiwanese people for the role which Chinese people played in their history.
Working around the world
Isabel, in how many different countries have you worked? How have these experiences benefited you?
I have worked in Colombia, Spain, the United States and Taiwan. I think that each country is different scientifically and technologically speaking and culturally even more so. With regards to what I have learned in each country, for example, in Spain, on a scientific level, I learned everything I know about molecular biology; in the United States, state of the art technologies and how to be more aggressive on a scientific level and in Taiwan, I am still learning interesting things from my new subject matter and different techniques.
On a personal level, I think that in general, living outside of Colombia helped me understand my Colombian culture more. From Spain, I took Serrano ham with me… I love it and miss it so much!! I also have to say that despite certain differences, we are Latinos and we have many cultural things in common (behavior wise). In the United States, I learned that I really love my job and that I enjoy science, which for me isn't a competition like for them but simply my passion. On the other hand, despite the coldness of people in everyday life, when I was there, I felt somewhat at home because the lifestyle in Colombia is very influenced by North American culture, which made it like being in a familiar environment.
In Taiwan, what I have seen is that we have a similar cuisine but our way of seeing life and our behavior is completely different. Also, I still get mad when they give me candy made of beans. How can they made sweets with them? I don't understand it. It's one of the main dishes in my region but we prepare beans with salt and not sugar!! Oops… I can't handle this subject… hahaha. Nor did I know that Hello Kitty has a beer and that here people don't go out to dance but to sing (KTV). Even so, I still have much exploring of Taiwanese culture to do and who knows, maybe I'll end up in love with this country, just like in Spain.
When you come, I invite you to eat one of their favorite foods… "stinky tofu," which is something that all tourists have to try! Take care and thank you so much!!!
I can't handle that; four years in China and that is the only thing which I'm still not able to eat. Thank you very much for answering my questions, Isabel. I hope to see you very soon in Taipei.