Pattaya is one of the most famous touristic spots in Thailand and is worldwide known for its beaches and nightlife. Pattaya have plenty of accommodation to offer, but is quite normal to end up in a expensive and low quality hotel or too noisy. Unless you're not planing to sleep during your stay, you should be careful when you choose a hotel. Here you'll find a selection of some of the best hotels in the city for all kinds of budgets.
If your looking for general tips on booking hotels in Thailand click here to read our guide.
Reviews of Luxury (5 star) hotels in Pattaya
U Pattaya Hotel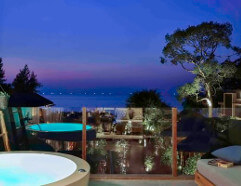 With enormous sea views, U Pattaya Hotel is one of the top hotels located on the beach with 44 guestrooms. The rooms come in the categories of Garden Villa, Pool Villa, Pool Access Villa and Beachfront Pool Villa, beautifully decked up in earthy tones using bamboo and rustic wood for a calm ambiance. All the rooms offer free Wi-Fi access and modern amenities. The rooms are spacious and for those who want complete privacy and serenity, Ocean Front Pool Villa is the one to go for. The hotel's private beach is equipped with sun beds and loungers for a relaxed soaking up of Sun. The hotel offers U Choose Program that allows the guests to choose amenities like music, tea, soap, and pillows before arriving. It houses a beachfront restaurant, terrace bar, and offers services like spa, bicycle rental, free car parking, 24 hour security and front desk. It's English speaking and highly courteous staff keeps the guests happy with their exceptional customer service. It is 14.67 km away from the Utapao International Airport and attractions like Cartoon Network Amazone and Nong Nooch Tropical Botanical Garden are within 40 minute walk away.
AVANI Pattaya Resort & Spa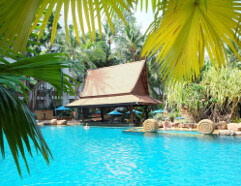 A beautiful resort with a lot to do around, the AVANI Pattaya Resort & Spa is only a 3 minute walk away from the Pattaya beach. It is located amid all the hustle-bustle still offering a quite oasis with beautiful sea views. Attractions like Ripley's Believe it or Not, Louis Tussauds Waxworks, Royal Garden Plaza, Easy Kart Pattaya are within 8 minute walk away. The resort houses clean and spacious 298 guestrooms with modern amenities. All the rooms offer free Wi-Fi with fully equipped ensuite bathrooms. The resort is not just ideal for couples but also families as it offers child-friendly facilities like babysitting services, children's pool, children's club, supervised childcare activities, free cribs and free children's club. To keep adults happy, it features two outdoor tennis courts, full-service spa, and outdoor pool. Enjoy multi-cuisine food at its three restaurants to stirrup taste buds. An added advantage of staying at this resort is that the staff is very friendly and speaks 9 languages including English, German, Swedish, Malay, Norwegian, Spanish, Danish, Turkish, Chinese and Vietnamese.
Siam @ Siam Design Hotel Pattaya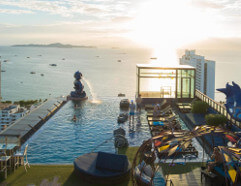 Siam @ Siam Design Hotel Pattaya is in North Pattaya with 268 guestrooms, located 31.24 km away from the Utapao International Airport. It is a good value for money hotel, providing free Wi-Fi access in rooms and public areas, car rental, free on-site car parking, 24 hour room service, express check-in/check-out with English and Chinese speaking staff. The hotel is strategically located close to all the must-see attractions of North Pattaya with Central Center Pattaya only a few steps away. Art in Paradise, Next Fashion Tailor, Central Festival Center Big C Pattaya are within 3 minute walk from the hotel. The high point of staying at the hotel is the roof top pools that offer great sea views while ensuring guests have the best time in the clean pool. The breakfast spread has a lot of variety to cater to different tastes and preferences.
Dusit Thani Hotel Pattaya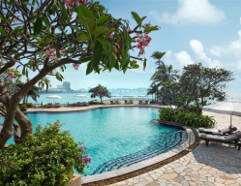 Dusit Thani is a popular hotel in Pattaya located only a minute's walk away from the beach making it easier for guests to enjoy beautiful views of the quiet beach and the sea. It features 2 swimming pools, free Wi-Fi access and free parking facility. Also, this hotel boasts 3 restaurants where guests can enjoy a wide range of lip-smacking cuisine. The famous Elephant Village is nearly 6.4 kilometers from this hotel while the Floating Market is 9.7 kilometers away. Travelers can reach the Bangkok city within 1.5 hour drive from this hotel. The English-speaking staff arranges a wide range of recreation facilities for their guests to make their stay interesting. It also has a spa where guests can enjoy massages. Approach the tour desk of the hotel to arrange sightseeing trips.
Reviews of mid-range hotels in Pattaya
SN Plus Hotel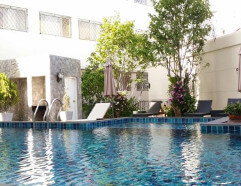 Located almost 5 minute-drive away from the beach, SN Plus Hotel offers comfortable accommodation to travelers. This stylish hotel offers air conditioned rooms with modern facilities. It is hardly 100 meters away from the renowned Pattaya Driving Range and 800 meters away from Art in Paradise. The well known Central Festival Pattaya is only a short drive away from this property. In addition to its well-appointed rooms, this hotel also features a front desk, fitness center and an on-site restaurant. Guests can enjoy free access of Wi-Fi throughout the hotel. They also provide ample space for free parking. The staff of the hotel is courteous and capable of speaking English to make the stay even more convenient for the guests.
Westbury Residence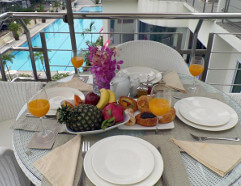 Westbury Residence is a conveniently located hotel in Pattaya on Pratumnak Hill. It is about 1.20 hours drive away from Suvarnabhumi International Airport and 10 minute drive away from Central Pattaya. The well known Pattaya Bay and Jomtiem Beach are only walking distance from this property. Both the Pattaya Water Park & Tower and city center are only 0.5 kilometer from this hotel. The hotel boasts an excellent outdoor swimming pool and provides free Wi-Fi access throughout it. The sea-facing balconies and terraces are truly a great feature of this hotel. The friendly English-speaking staff organizes thrilling sightseeing trips and arranges vehicles to explore the city. There are many fine restaurants near this hotel where guests can enjoy Thai and International cuisine at reasonable rates.
Cucumber Inn Suites and Restaurant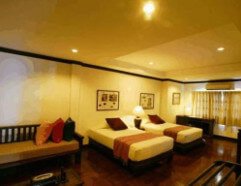 Located 29.57 km from the Utapao International Airport, the Cucumber Inn Suites and Restaurant is on the South Pattaya road with Pattaya Beach only 10 minute walk away. The Pattaya Walking Street is located at a distance of 1 km from the hotel. The hotel features well-equipped spacious and clean modern rooms with well-fitted ensuite bathrooms. All the rooms and public areas offer free Wi-Fi access for 24/7 connectivity with friends and family back home. The hotel's restaurant offers Thai and International cuisine and an outdoor seating option in tropical garden for guests to enjoy their meals amid trees and orchids. The hotel is a good mid-budget hotel offering spacious and comfy rooms, basic amenities, and easy access to close by tourist's spots, restaurants, and markets. The staff at the hotel is courteous and speaks fluent English to converse effectively with non-Thai guests.
D Xpress Apartment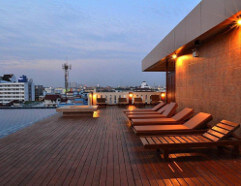 Enjoy home-like environment with the D Xpress Apartment, featuring 50 clean and spacious apartments with well equipped kitchens and bathrooms. All the apartments come prepared with modern kitchen with cookware, utensils, microwave, and full sized refrigerator. Guests here enjoy free Wi-Fi in rooms and public areas, an outdoor pool, rooftop terrace, and free parking. It is a convenient and value-for money option for guests with kids as the apartments provide convenience to cook own food and the children's pool further add to the comfy experience. Luggage storage, tour and ticket assistance, daily housekeeping are some of the other convenience services offered. It is only 20 minutes away on foot from Pattaya City Center and about 35 km from the Utapao International Airport.
Reviews of budget hotels in Pattaya
Nonze Hostel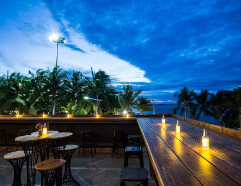 A budget accommodation, two minute walk away from Tussaud's Waxworks, Royal Garden Plaza, and Ripley's Believe it or Not, the Nonze Hostel enjoys a convenient location. The hostel is ideal for solo travelers and groups. It features 104 guestrooms with free Wi-Fi, comfy and clean beds, and modern décor. The hostel's capsule suites make it easier for groups to stay together in a distinctive way. The staff here not only speaks English but also Chinese to converse easily with people from western and other Asian countries. The hostel scores high points on cleanliness, comfort, location, and value for money. Some of the convenience services offered here are ticket and tours service, currency exchange, express check-in/check-out, luggage storage, gift shop, cash withdrawal, and bicycle rental. It is 3.43 km away from the bus terminal while 30.19 km from the Utapao International Airport.
Admire House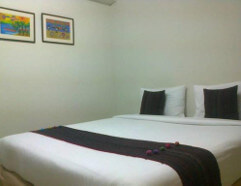 Situated 29 km from the Utapao International Airport, the Admire House is a budget Inn with basic facilities. The house features brightly colored rooms with comfy beds and clean linen. All rooms offer free Wi-Fi, coffee, powerful Air conditioning, and TV. The house may not be located on the beach but offers easy access to it within a 10 minute walk. The owners of the house are very polite and ensure all the needs of their guests are fulfilled, which only adds to their overall stay experience. The house gives easy approachability to restaurants, bar, and lively nightlife. The home scores high on location, cleanliness, service, and room comfort.
Metro Apartments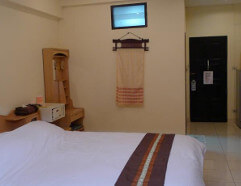 Located next to the vivacious area of Pattaya, Metro Apartments offers value-for-money accommodation right in the city center. Because of the location, it provides easy access to bars, restaurants, ATMs, and conveniences stores. It features spacious and clean rooms with balconies spread over three floors with modern amenities for a comfy stay. The place has a bar area with two pool tables and a computer to keep the guests entertained and connected to the world. The staff is warm, friendly and prompt in helping the guests with their inquiries and needs. Some of the cons of staying at the hotel are no Wi-Fi even in the public area and it may get noisier at night when the nights get lively, which may interrupt guest's sleep. It is 29.81 km away from the Utapao International Airport and about 3 km from the bus terminal.
T5 Suites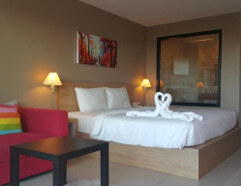 T5 Suites is a strategically located hotel in Phra Tamnak Hill providing guests with easy access to beaches, attractions, bars, and restaurants. It is a clean value-for-money hotel that provides good facilities and services to travellers. From free child care services to tour/ticket assistance, to concierge services, the guests will truly be delighted. In addition, all its 36 guestrooms come equipped with free Wi-Fi, comfy beds, and modern amenities. The food at the restaurant is delicious, priced reasonably. The English speaking and polite staff further add to the experience and the owners that are mostly around ensure their guests have the best time at the hotel. The hotel is about 30 km from the Utapao International Airport and 4.92 km from Pattaya Railway Station.
Hotel Photos on Agoda.com