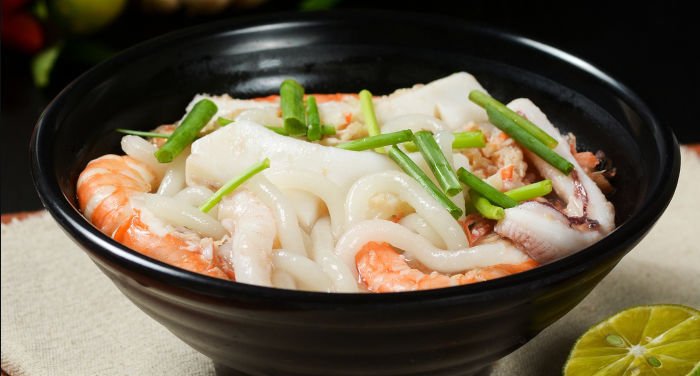 Online Vietnamese Cooking Courses – Index
Vietnamese food gets increasingly popular and it's well-known for its fresh vegetables and distinctive flavors. Common seasonings include mint, lemongrass, ginger, coriander, cinnamon, chili, Thai basil leaves, and lime.
All the way from the North to the South, you'll find tasty dishes like Pho (noodle soup), Com tam (broken rice), Banh mi (Vietnamese baguette), and Bun Cha. Along with the increase in the popularity of Vietnamese food, we also see an increased demand for online cooking courses.
Therefore, we have written this article where we list some of the most popular online Vietnamese cooking classes and YouTube channels where you can learn how to make Vietnamese food.
Vietnamese Cooking Made Simple (Udemy)
Vietnamese Cooking Made Simply is a cost-friendly course taught by Kim Tuyen Huynh, a girl who was born and raised in Ho Chi Minh City.
She's been cooking from a young age and learned numerous Vietnamese dishes. Besides, she also worked in the Vietnamese food industry for more than 10 years and where she expanded and refined her skills. Her specialties are soups and noodle dishes.
In the course you'll learn how to cook the following:
Vietnamese Pho, one of the most popular dishes in Vietnam
Bun Thit Nuong, another highly popular dish among Vietnamese
Vietnamese Spring Rolls, do I have to say more?
Special Vietnamese dipping sauce
You'll also learn fundamental ingredients in Vietnamese cuisine and cooking.
The course includes the following:
1.5 of recorded videos
4 resources you can download
Lifetime access
Certificate of Completion
And the course content is as follows:
Introduction to Vietnamese Cooking (1 lecture)
How to Make Pho Like a Vietnamese Native (6 lectures)
How to Cook Bun Thit Nuong Like a Vietnamese Native (6 lectures)
How to Make Spring Rolls Like a Vietnamese Native (6 lectures)
Course Summary (1 lecture)
The course is suitable for anyone who has a kitchen, loves cooking, and wants to learn how to cook Vietnamese food.
Summary
Website: Click here
Price: USD 9.99
Veecoco
Veecoco is one of the most popular websites to learn cooking vegan food online. They don't only teach people how to cook Vietnamese but also Thai food, and more.
Oni from Rose Kitchen Hanoi, rated as the number one cooking school in Hanoi, holds the course and she shares her secrets about Vietnamese cooking with you. Rose Kitchen is located in a posh villa in central Hanoi and only chefs with deep knowledge about Vietnamese cooking can join.
Veecoco has 270 courses in total and two different memberships:
12-Month Membership: This option costs USD 250 (reduced by USD 50 from USD 300). It includes the following:
Private Facebook Group
Coursebook
More than 270 videos
13 courses
New courses released continuously
Course certificate
Single Course: Single courses cost USD 197 each and you'll get lifetime access to the course. It includes the following:
Recipes, cooking tips & more
Private Facebook group
Complete coursebook
Course Certificate
In addition to learning how to cook Vietnamese food, you can attend courses where you learn how to cook Thai food, Italian food, Japanese food, and more.
Summary
Website: Click here
Price: USD 197 – 250
Vietnamese Classics: Pho, Noodles & Beyond
This course can be found on myblueprint.com and it's managed by a Vietnamese woman named Andrea Nguyen. She is a leading voice on Asian cuisine in the US. She is working both as a consultant, cooking teacher, and writer, she wrote three popular books: Asian Tofu, Asian Dumplings, and the James Beard- and IACP-nominated Into the Vietnamese Kitchen.
The course has received many positive reviews and you'll learn how to cook several well-known Vietnamese dishes, some examples are:
Goi Cuon (Rice Paper Rolls)
Shortcut Chicken Pho
Pho Bo, Part 1 and 2 (Traditional Beef Pho)
Bun Thit Nuong (Grilled Pork Rice Noodle Bowl)
Pho Strategies
The course suits intermediate learners and has 9 episodes that last for 4 hours and 20 minutes in total. As such, it is a suitable course if you are a beginner or want to expand your Vietnamese cooking skills, without spending too much time.
Unique Cuisine (Youtube channel)
Unique Cuisine is a US-based YouTube channel that has grown to become one of the most popular Vietnamese cooking channels online. They joined YouTube in 2015 and had more 41,000 subscribers and 3.1 million views as of May 2020.
The videos are well-made and often recorded outside, showing how they harvest the vegetables. They also have interesting videos from food markets around Vietnam. Some videos uploaded by the channel include:
For more information, I recommend you to visit her channel and find the particular dishes you want to learn how to make.
Helen's Recipes (Youtube channel)
Helen uploaded her first video five years ago where she taught people how to make fish sauce. With more than 260 videos and 300,000 subscribers, Helen's Recipes have undoubtedly become one of the most popular online channels for Vietnamese cooking.
Many of the videos have received hundreds of thousands of views and are easy to follow. She cooks the food in a simple way and the dishes are easy to learn. Examples of videos that can be found on the website are:
I recommend you to have a look at this YouTube channel if you're serious about learning Vietnamese food.
Van's Kitchen (Youtube channel)
Van's Kitchen is one of the most popular YouTube channels where viewers can learn how to cook Vietnamese food. The channel is managed by an American-Vietnamese girl named Van, she also has a website where you can find her recipes.
She joined YouTube in 2013 and has more than 91,000 subscribers, 167 videos, and 16 million views. Van is passionate about cooking and she provides plenty of useful content and advice.
Some examples of popular videos she has launched are:
For more information, you can visit her YouTube channel directly to see the latest videos published.
Photo Credits: Photo by Phuong Hoang Thuy on Pixabay