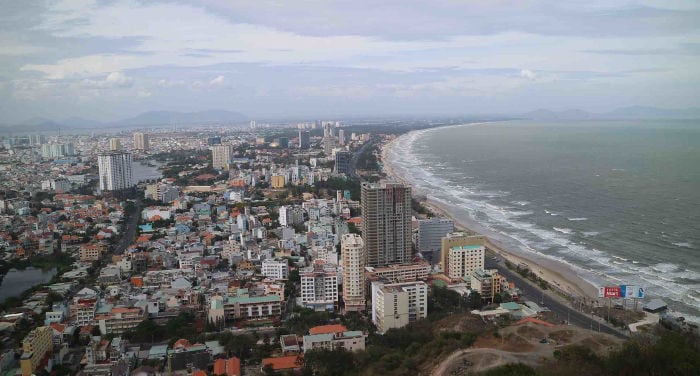 About 125 kilometers South of Saigon is the seaside town of Vung Tau, at the tip of a peninsula separated from the mainland by the Co May River. It is very popular with locals at weekends and holidays, being so close to Saigon.
Getting to Vung Tau from Saigon
There are buses from Tan Son Nath airport, and mini vans that leave every 15 minutes from Mien Dong bus station.
The journey takes around 2 hours, and the minivan will drop you at any hotel or Guesthouse in Vung Tau. It is a good idea to get the phone number or business card of the driver so that when you want to go back to Saigon, you can ask the receptionist of the hotel where you stay to call the driver. The minivan will then pick you up at your hotel, at the time of your choice.
There is also a boat that leaves from Bach Dang Pier, located in Saigon's District 1. Note that the boat is a bit more expensive (around 200,000 VND).
Where to stay in Vung Tau
There are hotels and lots of guesthouses in Vung Tau. They are very low priced, you can get a room with a fan for as little as 50,000 VND. Weekends and holidays will be a bit more expensive, with pricing starting at around 200,000 VND.
Click here to check out the best hotels in Vung Tau.
When to go in Vung Tau
You can visit Vung Tau all year. The dry season is from November to March when the weather is cooler. In April it gets quite hot and the rainy season is from May until October.
Getting around Vung Tau
Walking is easy in Vung Tau, there is not much traffic and easy access to everywhere. Vung Tau is a small place, there are taxis but they are more expensive than in Saigon and men on motorbikes will ask foreigners if they want to go somewhere, but they will not hassle you like in some other countries.
When walking between the roads, there are many trees, flowers, and small parks, it is very enjoyable to walk around there.
What to do in Vung Tau
There are two hills in the city, where you can walk or drive up. One of the hills has a lighthouse on top, where you will get a nice view of the city and beaches. At the top, there is a statue of Jesus similar to the one in Rio De Janeiro.
The statue is surrounded by gardens and is place is peaceful, but you must remember to dress respectably if you want to go inside the statue. A t-shirt is fine, but you shall avoid shorts. I found out by experience and bought a t-shirt very close to the statue, in the souvenir shop, for 100,000 VND.
Inside the statue, there are steps going up inside the arms, where you will have a great view. You cannot take any bags inside the statue as it is a very narrow space going up the steps. Keep your valuables in your pocket and you can take a camera up. You can leave your bags outside the statue, the security man will stay nearby.
Also, in Vung Tau there are nice beaches, although at weekends it gets quite busy as many Saigonese come here. From the harbor, you can see lots of fishing boats coming in in the early morning, and at night it is all lit up.
Shopping in Vung Tau
There are plenty of shops in Vung Tau, as the city has Vietnam's biggest offshore oilfields. You can go to the Vung Tau market for buying fruits, vegetables, and local handicrafts.
For fashion and sportswear, you can go to the Imperial Plaza, while for household goods you can go to the newly opened Cooper Martin.
Nightlife in Vung Tau
Vung Tau offers a fairly quiet nightlife, however, there are lots of small bars along the seafront, where you can play pool, chat with the girls, sit in cafes and restaurants.
Eating out in Vung Tau
There are plenty of good restaurants and a lot of fresh seafood. However, check the prices as some can be expensive. All restaurants have lots of fresh vegetables and there are many inexpensive vegetarian restaurants.
Banhart Knot is a favorite among locals. There you will find crispy cakes made with shrimp and onion, Chao Hao (an oyster porridge), and Lau Ca Duoi Saw fish hot pot.
If you want foreign food, here you will find Indian, Mexican, pizza, and burger restaurants.
Photo Credits: Photos by Andy Harvey