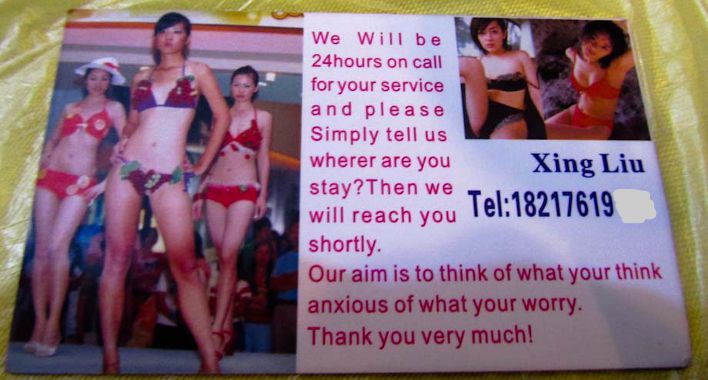 Un ejemplo de la tarjeta de visita que se puede conseguir caminando por Nanjing Road, Shanghai.
En Shanghai hay tantas prostitutas que me dio curiosidad y hice algo de investigación sobre la prostitución en China. Una de las mejores fuentes de información sobre el tema es Red Lights: The Lives of Sex Workers in Postsocialist China.
Según la policía local, en China hay siete categorías de las prostitutas:
Señorita o segunda esposa (二奶, èrnăi): Ellas recibe un salario mensual a cambio de favores sexuales regulares. Incluso si ellas no suelen ofrecer romance o vida familiar, a veces viven con el cliente y tal vez deseen casarse con él.
Chica «paquete» (包婆, bāopó ): Similar a las segundas esposas pero sólo funcionan por un tiempo limitado, como en viajes de negocios. Estos dos niveles superiores corresponden a las antiguas concubinas Aunque la segunda mujer y Chica «paquete» en gran medida se mantiene en secreto y no en el hogar. Sólo los hombres ricos y de los políticos de altas esferas del partido se lo pueden permitir, por lo tanto estas chicas están vinculadas a la corrupción.
Acompañantes (陪女, péinǚ): Se pueden encontrar en todas partes en china: restaurantes, karaoke – las famosas xiăojie del KTV- bares y clubes. Por lo que he podido observar, suelen quedarse en un rincón jugando con su teléfono móvil y beber cócteles hasta que un cliente llegue. Muchas de estas chicas son empleadas para bailar, cantar, beber con los clientes que pagan por una mesa o que, en el caso de los karaokes, por una habitación. Algunos de ellos con el tiempo se acabarán yendo con los clientes.
Chicas Ding dong (叮咚小姐, dīngdōng xiăojie): Alquilan una habitación en un hotel y se dedican a llamar a otras habitaciones. Su oferta de servicios, por lo general un «masaje». Me despertaron varias veces mientras estuve en un hotel. Personalmente, me gustaría añadir a esta categoría también a las chicas que buscan los clientes en QQ (el MSN chino) o en la web en general.
Peluqueras y masajistas (发廊妹, fàlángmèi): Salones de belleza y salones de masaje son el lugar para ir si se desea conseguir un barato «final feliz» (generalmente por la masturbación o el sexo oral), especialmente son los más aburridos llenos de chicas semidesnudas iluminadas por luces de color rosa que puedes encontrar cerca a una estación de tren o metro.

Los fàlángmèi son a menudo los inmigrantes del campo y realizan el trabajo bajo un contrato de la propietaria (lăobănniáng) o un proxeneta (pítiáo) que les proporcionan alojamiento, ropa y alimentos, así como un contrato mensual de teléfono móvil. No hacen mucho más dinero que un trabajador común, a menos que reciban propinas de los clientes.
Chica de calle (街女, jiēnǚ): Teniendo en cuenta el nombre, no creo que necesiten que mucha más explicación. Por lo general, buscan a los clientes en vestíbulos de hoteles, bares y discotecas de nivel inferior. Pueden ofrecer servicios sexuales limitadas (shàngbànchăng, primera mitad) o los servicios completos (media xiàbànchăng, segunda mitad). Las prostitutas raramente están protegidas por lăobănniáng o trabajan solas. Ellas son también los más vulnerables a las redadas policiales.
Chicas subclase (下工棚, xiàgōngpéng): Ellas viven en las zonas urbanas periféricas, por lo general en sitios de construcción. Llenan un vacío social y sexual, ya que los trabajadores migrantes por lo general han dejado a sus esposas en casa, se les paga con comida.
Algunos datos sobre la prostitución en China
Una encuesta reveló que las prostitutas eran más dignas de confianza que los funcionarios del gobierno. La prostitución ocupó el tercer lugar en la lista de profesiones detrás de los agricultores y religiosos. [Fuente: Insight China magazine, 2009]
En general, los chinos son bastante ignorantes acerca de los peligros del SIDA. Las prostitutas en China regularmente tienen relaciones sexuales con hombres sin usar condones. Cincuenta por ciento de los chinos piensan que el SIDA se transmite por los besos. [Fuente: asiahealthcareblog.com]
Si opta por seguir el tratamiento para su enfermedad de transmisión sexual, mientras que reside en China. Es de esperar que las pruebas con resultados positivos se vayan a informar al Ministerio de Salud. Esto puede complicar las cosas si se pretende ser dueño de un negocio en china, o si te gusta entrar y salir del país con frecuencia.[Fuente: asiahealthcareblog.com]
Incluso si usted no habla mandarín, los chinos se darán cuenta cuando uno vuelve a casa con una prostituta y van a hablar de ello. Una mujer estadounidense que había vivido en Beijing durante veinte años con su marido, un día descubrió que su marido tenía cinco novias repartidas en China, varios niños, y al menos una mujer china. ¿Cómo? Bueno, ella escuchó a sus vecinos chinos hablar de un hombre blanco que vivía en el barrio y que fue visto con distintas mujeres chinas, uno de los cuales tenía un hijo mitad chino. [Fuente: asiahealthcareblog.com]
Un restaurante japonés en Kunming, provincia de Yunnan utiliza para servir sushi los cuerpos de jóvenes escasamente vestidas. Enfrían su cuerpo en un cámara refrigerada antes de estirarse sobre una mesa para sostener la comida que se sirve de ellas.[Fuente: factsanddetails.com]
Los extranjeros pillados con prostitutas suelen ser multados y puestos en libertad. [Fuente: factsanddetails.com]
Existe una gran demanda para robar la virginidad de una chica joven. El precio ha subido desde 2005, cuando las prostitutas vestidas de colegialas se pusieron de moda en el comercio sexual chino. [Fuente: Stephanie Wang, Asia Times, 2009]
Photo Credits: Photos by Sapore di Cina