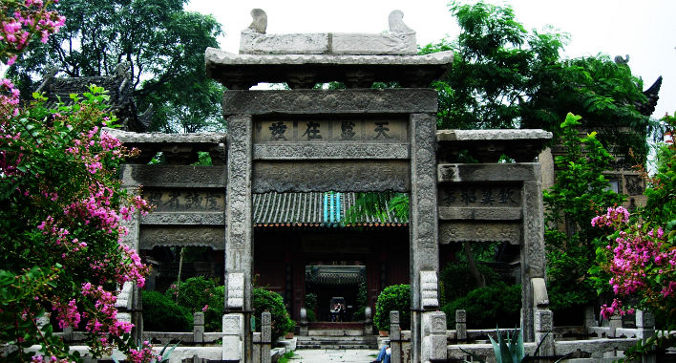 This article is a reflection on the spectacular transformation that Chinese cities have undergone over the past few years as a result of the economic boom and the willingness to be "recognized" as a modern country after decades of isolation (a clear example of this is represented by the Beijing's Olympics of 2008 and Shanghai's World Expo of 2010).
Five years later
My story begins as an old joke: a Spanish, a French, an Italian and a Portuguese guy arrive at Xi'an airport. For my three friends is the first time in town. As for myself, five years have passed since my last visit in Xi'an, five years of economic madness.
We get on a cab and give the address of our hotel, which is very close to the old city's south gate, to the taxidriver.
As expected, as we approach the city huge concrete blocks start to appear: in a near future they'll become colossal residential hives, so characteristic of the new Chinese cities. The concrete blocks quickly become skyscrapers fed by monstrous urban highways. I start to worry.
I dig into my memory but I can't remember any building with more than four floors outside the ancient walls. All I remember are miles and miles of low buildings and dirty streets far away from any kind of modernity.
We arrive at the hotel, a twenty floor retro '80s style building. It looks like the hotel had its moment of glory twenty years ago. I become more a more confused, I'm pretty sure that five years ago this hotel wasn't here.
Exploring Xi'an
The drum tower
We leave the hotel and head to the downtown, we cross the southern gate and arrive to a big avenue that ends on the bell tower (钟楼, Zhonglou). Finally something I known.
Hey, wait!
I look at both sides and I can't recognize anything. The small shops and the "luxury" McDonald's have become colossal shopping malls, fast food restaurants and clubs for the new rich.
I begin to question my ability to guide the expedition, but I try to hide my feelings by leading my friends to eat some street food inside the Muslim neighbourhood.
To get there, we must first find the Drum Tower (鼓楼, Gulou) that, as in every ancient Chinese city, should be behind the bell tower.
After we go past the bell tower I look ahead and my head start to burn again.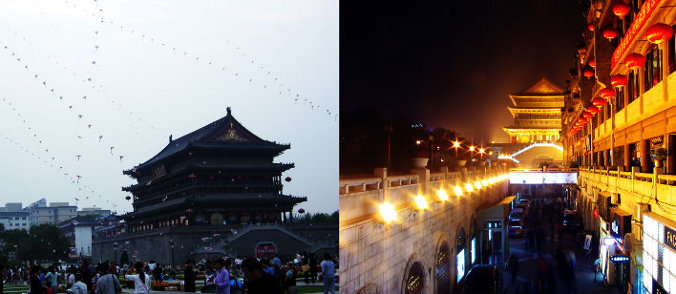 The drum tower in 2005 (left) and in 2010 (right)
Where the fuck am I?
If this is Xi'an where was I five years ago?
In front of me there isn't anymore the beautiful square with hundreds of kites flying. Instead, there is huge gallery full of shops that surround the tower.
Xi'an cuisin
Completely disoriented, I start to fear that something terrible may have happened to my beloved Muslim quarter.
But my fear goes away when the sterile avenues turn into narrow alleys. Thousands of different flavors coming from the street food stalls saturate my nostrils. I can't resist it anymore and force my friends to sit down to eat. As soon as I taste the food I finally have the feeling that I'm back to Xi'an. How can anyone forget its delicious food?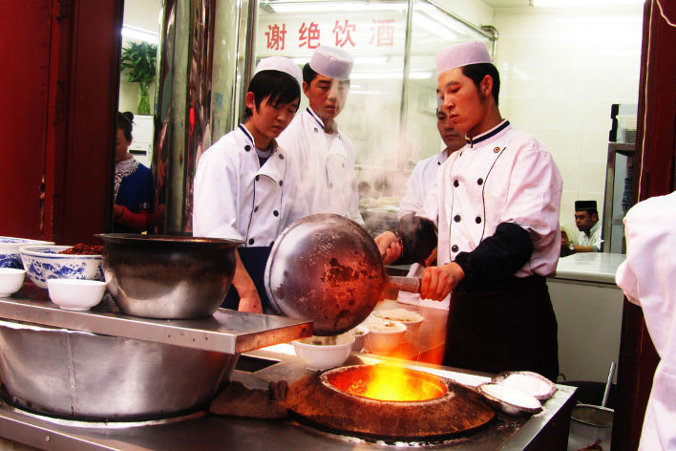 Back to the hotel
We go back to our hotel relatively early. Once in the room, I start to check all the room's closets and drawers looking for a toothbrush (in most of Chinese hotels you can find toothbrush and toothpaste). Instead I find a basket full of condoms that come in different shapes and colors. Why am I so retarded to rely on my Chinese friends to book a hotel for us? Who knows what kind of place they've booked?
The answer comes with the first phone call…
"Wei," I answer the phone.
"Anmo? Anmo?" (A girl asks me if I want a massage). Without answering I hang up and I think:
"Damn dingdong girls, I hope after this call they'll give up."
 
I can't be more wrong. At least ten more calls will follow the first one. A question comes tomy mind:
"Why the hell every time I try to travel around China with my friends I end up in a brothel?"
P.s. Click here if you need an hotel in Xi'an.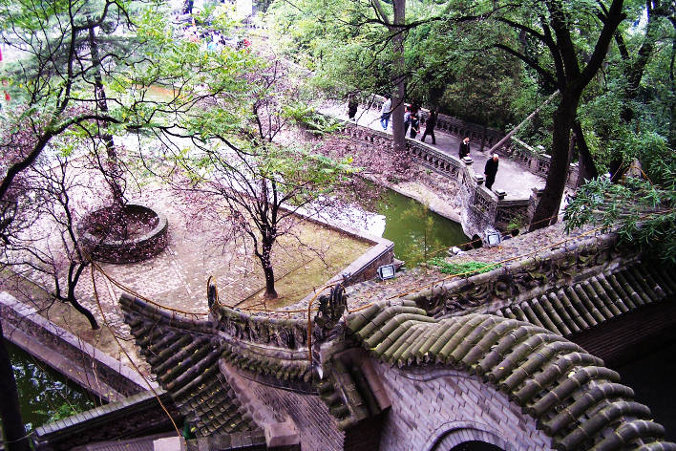 Huaqing hot springs
Huaqing hot springs
The next morning we plan to accomplish the "mandatory" visit to the Terracotta Warriors. We decide to get the 306 bus that leaves from a "small" bus station just next to train station in the northern part of the city.
 
Once inside the tiny bus, together with several thousands of Chinese tourists, we realize that the bus isn't a direct bus: the 306 stops at some tourist spots before reaching the final destination.
Not being able to hold any more the leg cramps, we get off at Huaqing Hot Springs (华清池, Huaqingchi). I have to admit we were lucky because it's a quite impressive place.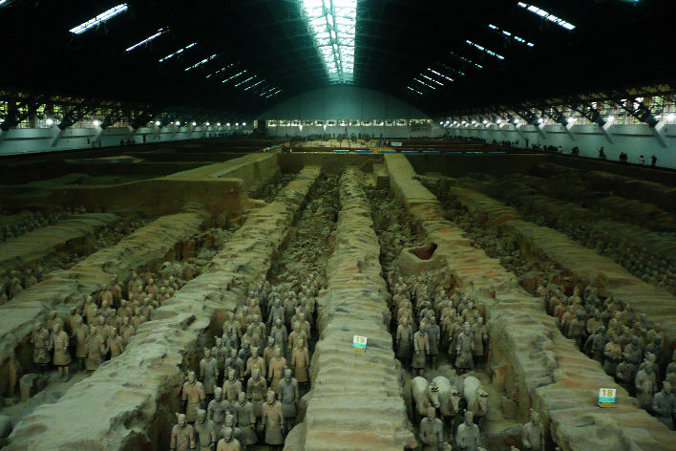 Terracotta Warriors
Even if we're overwhelmed by such a nice spot, we hurry to take the bus before it's too late to visit the Terracotta Warriors. An half hour later we arrive to our intended destination.
My memories: two huge pavilions in the middle of miles of farmland, farmers selling pomegranates and kids running around the place and looking for generous tourists.
The reality: A macro touristic complex full of fast food restaurants and souvenir shops that surround four huge pavilions. Around this aberration, thousands of local farmers trying to get their cut of this lucrative business.
 
I must say that, nonetheless, the Warriors impress me as during my first visit.
Who wants to play?
Back to the city we walk around the old town looking for a place to have a rest. In the middle of the street a group of people are playing Chinese chess. Since there's a free table, we buy a few beers in a little shop, ask for playing cards (we are not in the mood for Chinese chess), sit down and start playing.
In China the result is always the same. Anywhere there's someone playing there'll always be someone watching or, worst, suggesting the "best" move.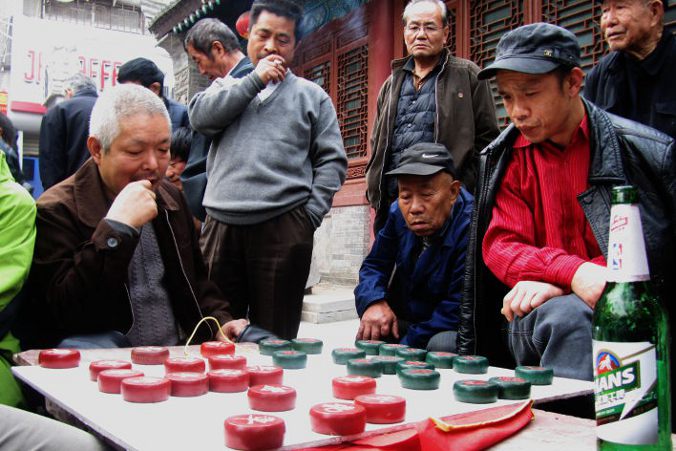 Playing Chinese chess
Little by little people start to surround the white devils playing cards trying to understand what they play.
An old woman asks to a guy:
"他们是哪里的?" which I'd translate as "Where these monkeys that play incomprehensible card games are from?"
"法国,意大利,葡萄牙, 西班牙," "France, Italy, Portugal and Spain," I answer to her.
Realizing that I can speak some Chinese language (not much, at that time), people get excited and start to ask me thousands of questions, while the crowd gets bigger and bigger.
That's the moment I finally make the peace with the city. Although in appearance Xi'an has lost some of its charm, its soul is unchanged.
The rest of the trip is another story that I'll tell you another time… today I'll just give you a visual hint: