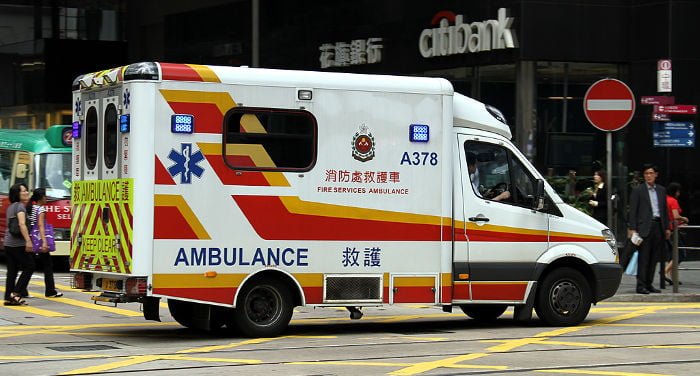 Why I wrote this article (my "emergency")?
It's really true that you never think about it until it happens to you. Yesterday I was making lunch with my new big knife (Korean steel).
The first cut surprised me, because it penetrated the topside of chicken as if it was hot butter. The knife slipped and as it finished its course, which was now beyond my view, I feel the blade pass through my pinky.
"It's not bad, not bad," I think. For a minute I stay there like that, with the knife in my right hand and left hand suspended in fear of discovering that my pinky is no longer attached to my finger (I've seen too many films about the Yakuza).
In the end I look down and discover in horror that the dish is full of blood.
I look at my pinky. It's still there. I thank the Universe, wrap two pieces of scottex on the finger and… panic.
The pinky is still there but the point of the knife has penetrated for half a centimeter, almost taking off my fingertip in one cut.
Obviously I don't have hydrogen peroxide, bandages and, above all, don't have the faintest idea of where to go and what to do.
I send shaky messages to my friends on Facebook Messenger to find out if there's a nearby hospital open on Sunday.
I go down to the first floor and ask the person at reception if they know where I can find an open clinic nearby.
She looks at my hand wrapped in tissues dripping blood and doesn't even respond.
Perhaps she's used to this type of emergency, because she runs across the street (where she's almost run over and then I'd have to take her to the hospital), she enters a 7/Eleven and returns with a pack of Band-aids.
I tell her no, I have to go to a clinic. She disappears again, this time inside the building. And I think: "that b*tch".
After a few minutes she comes out of the garage on a pastel pink scooter 125. Without a helmet, of course.
She nods for me to hop on behind her and says: "I'll bring you to the clinic!!!"
I hop on the seat and she drops me off at the clinic. I'm a little worried because I have absolutely no idea how the health care system works here in Vietnam, but at least the clinic is open.
To make things brief: they have me lay out on a small bed and a nurse handles my wound while the other takes my personal information. I give her my cell phone, where I fortunately saved a picture of my passport, my insurance policy and my address in Vietnam.
They explain to me that they have to give me stitches so as to not "lose" the fingertip. I'm shaking at this point and I don't know if it's from shock or for fear of the pain of getting stitches.
But the nurse is a saint, and gives me local anesthesia before sewing me up.
The doctor prescribes me seven days of antibiotics and anti-tetanus medicine to take right away. They also tell me where to go for the anti-tetanus medicine (at another clinic).
Emergency overcome successfully!
All this craziness for a pair of stitches on my left pinky?
No, all this craziness was because I was not prepared: I didn't know where to go or how to act, I was alone, and I don't speak the language.
And I think: fortunately it was just a pinky… what would have happened if it was something even more serious? And what if I wasn't able to walk or talk?
I promise myself again that the next time I'll be ready. But I don't want it to be the usual empty promise of the "tomorrow I'll stop" type.
I throw down a list of things I'll need to prepare for the next emergency.
I then decided to share it here with you since, of all the articles that we publish, this could be the most useful one you'll read.
But let's pass on to the practical side of things.
How to prepare before arriving in Asia?
As I've been preaching for years, if you're used to public health care in Europe, know that in Asia things work differently. You have to pay on the spot and sometimes they won't care for you if you can't show that you'll be able to pay.
The problem is that if something serious were to happen (for example if you need to stay in the hospital), the bill will be extremely high. So it's much safer to take out a health insurance policy:
What to do when you arrive in Asia?
Download, fill out and print this simple form
As I promised in the beginning part of this article, I decided to prepare myself for the next "emergency". Health insurance I already have, but not the emergency number handy.
Moreover, when you show up at a clinic or hospital, they'll ask for your personal data.
Lastly, what happens if I have a serious accident and am not able to communicate?
This is why I decided to prepare a simple file to fill out, print and put in your wallet so as to always have my necessary information with me.
Click here to download the Word version (or Open Office), which you can fill out on your pc before printing it
Click here to download the PDF version (if you prefer, print and fill it out by hand)
Here's how to fill out the form:
Information for taxi drivers: My main problem was finding a clinic open on Sunday close to my house. So I decided to enter the information for a hospital. Note that depending on your health insurance policy, you might not have access to all hospitals in your city. So I recommend that you discuss this with your insurance company before choosing a hospital (or risk them not reimbursing you);
Personal data: Insert your name, date of birth, passport and visa number, address and telephone number in Asia. They'll ask you for this during the hospital check-in, so it's best that you have it handy;
Emergency contact: Name and telephone number of the person to contact in the event of an emergency. Note that putting your mother's name who lives in another part of the world won't help you much. Insert the name of a person you trust who lives in your city and if possible, speaks the language of the country you're in;

If you've just moved to Asia and know almost no one, put the name and number of your boss, teacher or anyone you think could help you in case there's a need. I recommend that you ask for their permission before putting someone down as your emergency contact;
Your insurance company's information: At a minimum you have to enter the name of the company, your policy number, and the number to call in case of emergency. In any case, I recommend that you contact your insurance company to ask them what information you should insert;
Your consulate information: If something really serious happens, it could be useful to have the emergency number of your consulate so that they can advise your family and, when possible, help you;
Language: As you'll see the form contains two pages, one in English and one in Chinese. If you're in China, I suggest that you fill out and print them both, front and back.
Always bring these documents with you
Once you have filled out and printed the form, keep it in your wallet, purse, or wherever is most convenient for you. I also suggest that you carry with you a copy of your passport and insurance policy; but the most important thing is the form since it contains all your information.
I additionally recommend that you don't travel around without a telephone and make sure that it's connected to the internet (4G, for example), so that you can use the maps, etc.
To conclude, I always suggest that you carry a little cash with you (even just for a taxi).
What to do when you have a medical emergency?
If something very serious happens to you and you can't communicate, the documents you have in your wallet could save your life since other than finding a good soul who will call an ambulance, it will make the process of "welcoming" you into the hospital much quicker and simpler.
As was already said, it's often essential to have your medical insurance information available since in some places, if they're not sure you can pay, they won't give you priority (or, in extreme cases, they won't care for you at all).
Even if you're conscious, can talk and walk, having a document with all your useful information (including the address of the hospital for the taxi driver) will be important.
The reason is that it will allow you to avoid panicking (as I did) when, calling a taxi, and getting to a hospital as soon as possible.
Conclusion
This is an article designed for those in a situation that almost never happens. Personally, I've been living abroad for a decade and a half and I never found myself in an emergency situation.
The day something happens though, being prepared could save you an hour of panic, save you a fingertip or, in extreme cases, your life.
[Photo Credits (Creative Commons License): www.flickr.com/photos/chrisjunker/]