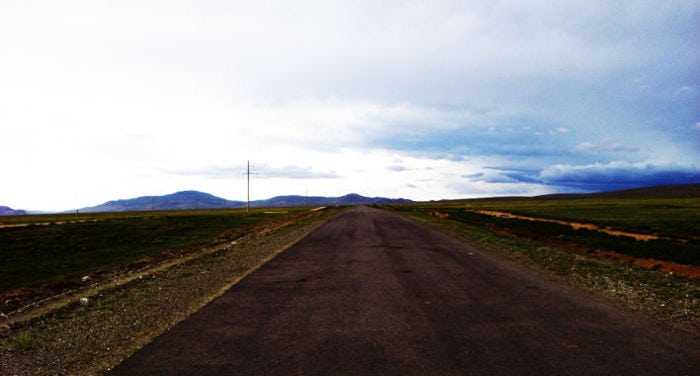 This is the second article of a series of three where I tell about my trip from Moscow to Beijing through the Transsiberian railway (actually the Transmongolian, to be precise). Here you find the first part of the story.
Ulan Bator and its outskirts
Even if in Ulan Bator there are a few things to see, we aren't interested on stay in a town. Thus we head directly to the Golden Gobi Hostel, which organizes cheap tours. Within two hours we are in a minivan with a driver and a guide. Where are we going? Into the Steppe, of course!
Into the Steppe
As soon as we leave the capital, the motorway becomes bumpier and bumpier. There are work in progress a bit everywhere but I believe they will never be able to fix it.
When it seems that there isn't any civilization anymore, we see a small house on the horizon where we stop for having a yak burger, which seem to be everywhere here.
We keep going and a couple of hours later, our ass destroyed but the jumps of the minivan, we arrive to our first destination, Elsen Tasarkhai's desert (Элсэн тасархай).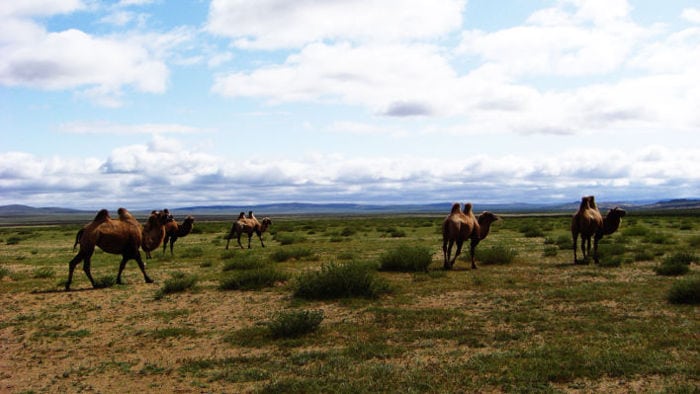 The camels at Elsen Tasarkhai
How to find a place to spend the night in the middle of the Steppe?
The solution is easy… we only need to ask somebody.
Ok… ask. But who we ask?
We can't really see anybody.
However, after a bit, we do find a ger (one of the typical Mongolian tents) and ask to the owners if they are willing to host us for the night. They accept so it's all good.
As soon as we finish to discuss the price for the ger a guy appears with a couple of camels: he's offering us to have a short camel ride. We accept. It's the first guy that tried to sell us something in Mongolia.
At night time the temperature decreases quick. The owner of the ger prepares the dinner while we stay close to the stove. Now I really regret that I didn't bring a jacket with me. We have the possibility to taste the local specialties such as the yak cheese and the spirit that is done by fermenting the yak milk. I don't really like it but what the hell, if Gengis Khan could drink it so can I!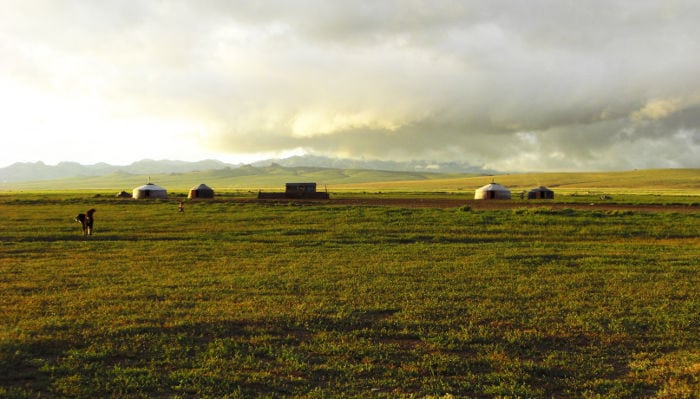 Our first ger
Better to don't go to the toilet
After a couple of drinks I go to the toilet. It's a big mistake. I think I never so I toilet worse than this one. Well I did see something worse in India and China but it was more for the number of people that were using it. Here there is anybody!
I manage to come out the toilet without puking and decide that I won't ever use another toilet in Mongolia. I can just go behind a hill.
Who wants a Mongolian name?
The morning after I wake up really early cause the fire went out and I'm freezing. After breakfast we get on the minivan again and the driver decides that it's time to give us Mongolian nicknames: "whiskered," "bald-headed," "straw's hair" and "goat's chin."
The day passes by fast among a picnic on a hill, snow even if it's August and wonderful landscapes. At 7 pm we finally arrive at Orkhon Valley (Орхоны хөндийн), where we spend the night with a new family.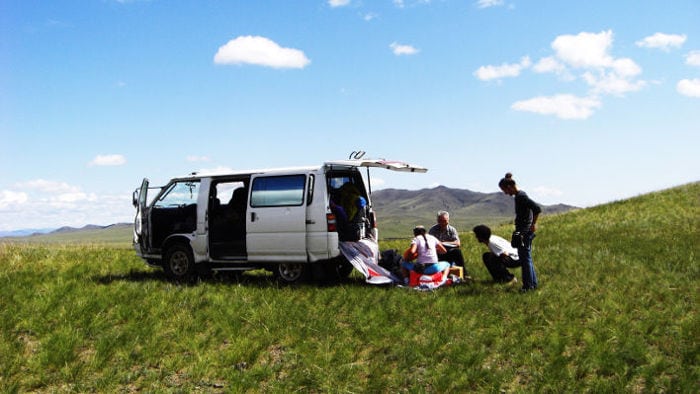 Preparying our picnic
Who wants to take a shower?
The day after I try to wash myself on the small river close to our ger but there is no way. The water comes directly from a glacier and it's bloody cold. I then decide to wait till we go back to the hostel in order to take a shower.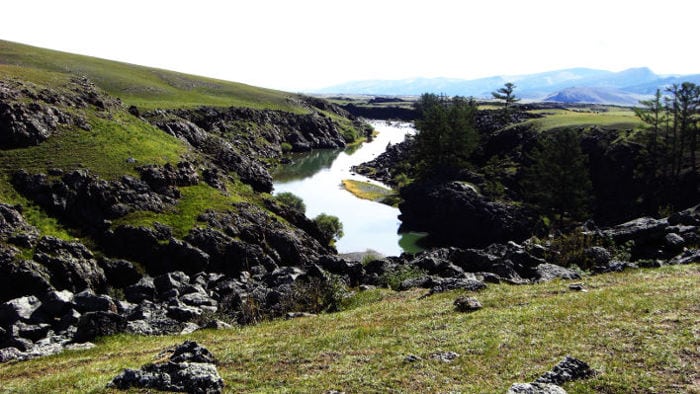 The river at Orkhon Valley
Jiao zi or Бууза
We spend the day riding a horse and traveling with the minivan till we arrive to Erdene Zuu Monastery (Эрдэнэ Зуу хийд), one of the most ancient and famous Buddhist monasteries of Mongolia. This time we have to sleep on a fake ger for tourists.
Our guide, Mungu, decides to teach us how to cook Mongolian dumplings, which at the end are very similar to Chinese jiaozi (饺子), but which much more meat!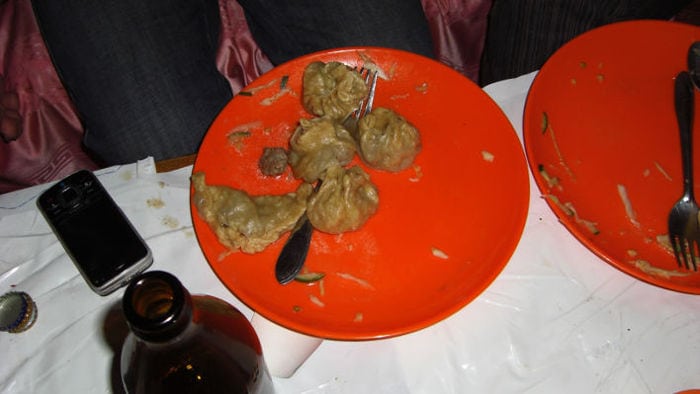 Mongolian dumplings, or at least what is still there after our dinner!
Back to Ulan Bator
After visiting the monastery we go back to Ulan Bator and say good bye to our driver and guide. I can't wait to take a hot shower but, as soon as I try, I discover that the water is cold.
I go downstairs and protest with the owner of the hostel but he tells me that it's three days that there isn't hot water in Ulan Bator. Well, it seems that I will have to wait till Beijing!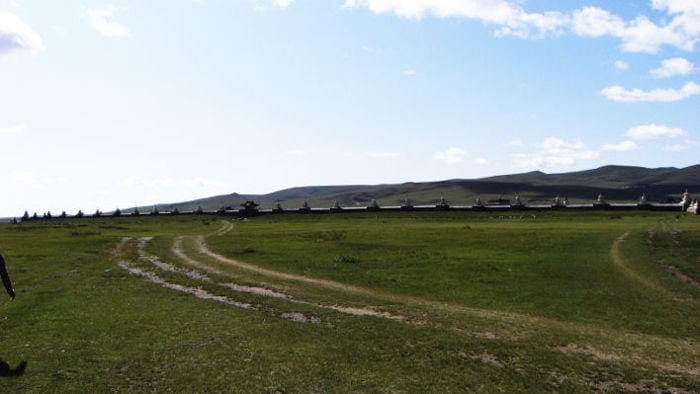 Erdene Zuu Monastery