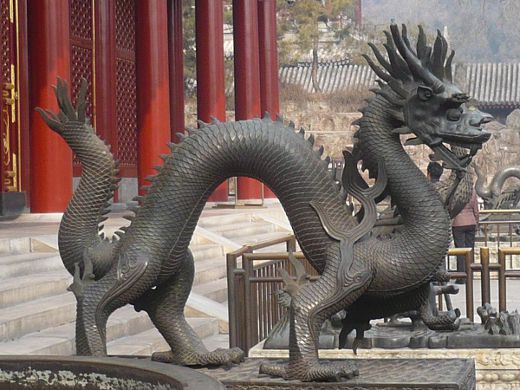 In ancient China, the Dragon was associated with the emperor. Here, the Dragon at the Summer Palace of Beijing, the summer residence of royal members in the end of the Qing Dynasty.
Today 23 January 2012 is the first day of the Year of the Water Dragon. The Dragon is the only mythical creature among the twelve animals of the Chinese zodiac (the Rat, the Ox, the Tiger, the Rabbit, the Dragon, the Snake, the Horse, the Ram, the Monkey, the Rooster, the Dog and the Pig).
According to Chinese astrology, the years of the Dragon are times of change. However, when water is the driving element (instead of earth, metal, wood or fire), the transformations are minor as the Water Dragon is more patient than the other Chinese Dragons and he prefers to evaluate situations before taking action.
All years of the Dragon have a traditional association with new beginnings, happiness and good fortune. Thus, Chinese consider the years of the Dragon the best to start a business, get married or have children. Boys born in this year are expected to be successful and wealthy.
In previous years of the Dragon, China, Hong Kong, and Taiwan have experienced baby booms. In 2000, there was a 5% rise in the number of births in Hong Kong.
Makers of baby products and companies offering infant care services have never been so excited!
Personality of the people born during the Year of the Dragon
The Dragon is the symbol of power, wealth and the emperor. The Chinese believe that there is a balance between heaven and earth in the life of people born in the Year of the Dragon, and successful follows them everywhere. They have a natural charisma and are gifted with power and luck. It is unlikely for them to escape unnoticed from a party or to take a second place in a competition. Dragon people like to do everything on a grand scale. They are egoistical and ambitious, almost to the point of megalomania, and will stop at nothing to get what they want. Who was born in this year is capable of great achievements if he/she knows how to harness his/her tremendous energy, intelligence and talent.
For a more complete profile, read gotohoroscope.