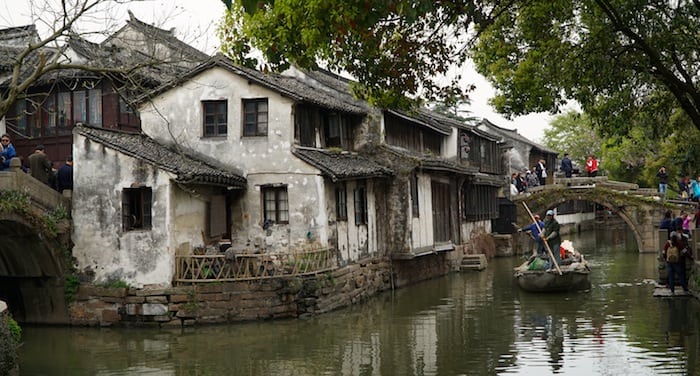 Zhouzhuang – Photo by Matteo Bosi
It would seem that Italy isn't the only country to boast about having a floating city: the Chinese enjoy pointing put that they too have a Venice, rather more than one, since neighboring cities often contend for the title. Whatever your preference may be, 100 km out of Shanghai, in Jiangsu, where there's plenty of water and lakes multiply into canals in the Yangtze delta, stand three towns that have left their mark on literature and art Suzhou (苏州), Tongli (同里) and Zhouzhuang (周庄).
The area is most famous for its silk production, which has historically been one of the greatest reasons for the blossoming of the cities. Even Marco Polo passed through these parts and he too spoke of Suzhou as a local Venice. In effect the structure of these centers, thick with canals and laced with bridges brings to mind the poetry of the Venetian city. However, forgive my ethnic bias, it doesn't quite match the architectural beauty, although Suzhou might just have the best gardens to be found in China, while its two little sisters offer a partial glimpse at traditional China.
Suzhou is a UNESCO World Heritage Site and a city that has suffered a bit due to its nearness to mighty Shanghai and the capital of Jiangsu, Nanjing; but in recent years has retaken a central role even in the local quality of life. [Read more…]