Xiamen is currently one of the fast growing economical centers; if you are traveling to the city for business or leisure finding a good hotel where to stay can be a bit time consuming. Here you'll find a short list of the best hotels in the central district of Si Ming, the famous touristic area of the Gulanyu Island and near the Xiamen Gaoqi International Airport.
You can also check this article about the best tips to book a hotel in China.
If you are looking for complete guide about Xiamen do not miss this excellent article.
Reviews of Luxury Hotels (5 Star) in Xiamen Si Ming District
Seaview Resort Xiamen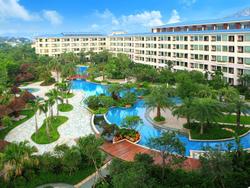 The Seaview Resort Xiamen is conveniently situated close to the city center, ideal for businessmen, tourists and shoppers. The ferry to Gulangyu Island in near and Xiamen International Airport 20 minutes' away. The resort's land includes a private hill and valley for guest relaxation. There are 465 rooms and suites with numerous ways to spend their time. There are nine pools, tennis courts in and outdoor, restaurants with a wide range of cuisine. Sauna, spa and kids' pool and playground make it ideal for families. Free Wi-Fi is provided throughout and meeting room facilities for business. The 24 hour English speaking front desk will organise tours, transfers, bicycle rental, car hire and a number of different internal services. Commonly regarded as an excellent choice.