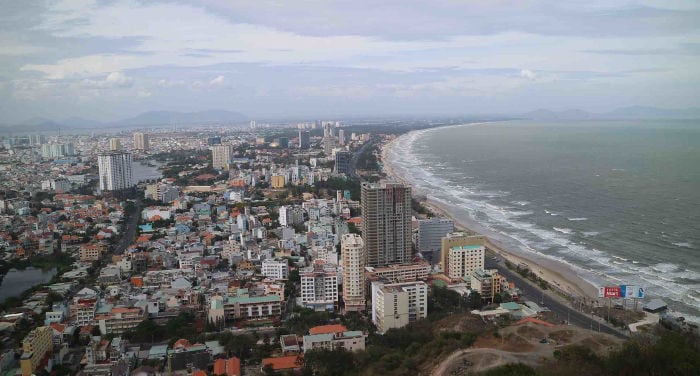 About 125 kilometers South of Saigon is the seaside town of Vung Tau, at the tip of a peninsula separated from the mainland by the Co May River. It is very popular with locals at weekends and holidays, being so close to Saigon.
Getting to Vung Tau from Saigon
There are buses from Tan Son Nath airport, and mini vans that leave every 15 minutes from Mien Dong bus station.
The journey takes around 2 hours, and the minivan will drop you at any hotel or Guesthouse in Vung Tau. It is a good idea to get the phone number or business card of the driver so that when you want to go back to Saigon, you can ask the receptionist of the hotel where you stay to call the driver. The minivan will then pick you up at your hotel, at the time of your choice.
There is also a boat that leaves from Bach Dang Pier, located in Saigon's District 1. Note that the boat is a bit more expensive (around 200,000 VND).
Where to stay in Vung Tau
There are hotels and lots of guesthouses in Vung Tau. They are very low priced, you can get a room with a fan for as little as 50,000 VND. Weekends and holidays will be a bit more expensive, with pricing starting at around 200,000 VND.
Click here to check out the best hotels in Vung Tau.
When to go in Vung Tau
You can visit Vung Tau all year. The dry season is from November to March when the weather is cooler. In April it gets quite hot and the rainy season is from May until October. [Read more…]