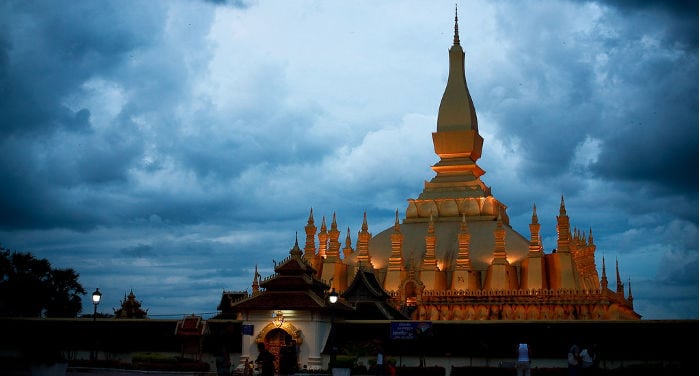 The city of Vientiane (in Lao: ວຽງຈັນ) is the capital of the Lao People's Democratic Republic. With its 200,000 inhabitants, Vientiane is a little atypical compared to other Southeast Asian capitals, especially as regards the landscape and tranquility that reigns in the center of the city.
The entire town is spread along the banks of the Mekong River, which serves as the border between Thailand and Laos. Thailand and Laos also share some traditions and customs. The Thai and Lao languages, for example, are more or less similar, and very often you'll find Laos that understand Thai and vice versa.
In 1994 the first friendship bridge between the countries was opened just twenty miles from Vientiane. This bridge is especially important due to the fact that it's the only rail line in the country, and also since it's a very popular route for tourists that arrive/leave from Thailand via train.
Besides the train, Vientiane is connected to the rest of Asia thanks to a new airport, the Vientiane-Wattay Airport. Located just 3 kilometers from the city center, it is used by airlines like in AirAsia, China Eastern Airlines, Lao Airlines, Thai Airways, and Vietnam Airlines.
Today the airport in Vientiane offers flights to different cities through Southeast Asia and beyond, such as China, South Korea, Japan, and even Australia. [Read more…]