Finding a good hotel in Ulan Bator is not an easy task. Most hotels are overpriced, if you take a close look to the services they offer, and some of the cheap hotels have unacceptable infrastructures. In this page you'll find a list of the best hotels in the Mongolian capital, just choose the one that match your budget and relax after the extenuating trip to reach this city.
Reviews of Luxury Hotels (5 Star) in Ulan Bator
Shangri-La Hotel Ulaanbaatar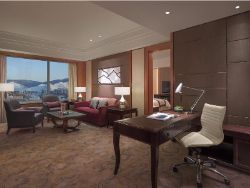 Shangri-La Hotel Ulaanbaatar is located in the Sukhbhaatar area of Ulaanbaatar, situated in the middle of the city center. The hotel is an ideal stay option for leisure and business travelers, featuring many business and recreational facilities. The hotel has 290 elegant guestrooms overlooking Great Chinggis Khan Square and Nayramdal Park. All the rooms and public areas are Wi-Fi equipped to keep you stay connected to the world throughout your stay. Relax and rejuvenate at the hotel's spa, sauna, steam bath, Jacuzzi, and eat to your heart's content at its three restaurants serving delicious Chinese and western specialties. Some of the facilities offered by the hotel include car hire, meeting facilities, business center, executive floor, currency exchange, express check-in/check-out, coffee shop, smoking area, and facilities for disabled. The hotel's is 13.4 km away from the Ulan Bator airport and a 20 minute drive away from the train station. You will not have any difficulty in speaking to the staff as the hotel's staff not just speaks fluent English but can also converse in Malay, Filipino, Russian, Vietnamese, and Korean.