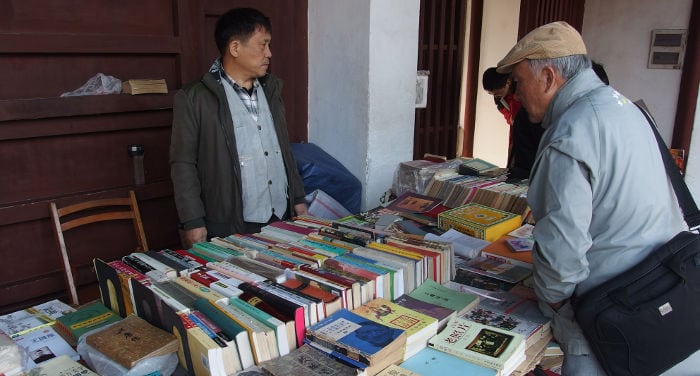 Xuegong Jie (学宫街) and Laodaoqian Jie (老道前街) are two small streets in the Huangpu District of Shanghai.
The streets are packed, full of life. There are low houses, street food, and there's no lack of bicycles and electric bikes that weave through passersby and merchants. But what makes it special is that the two roads house a beautiful temple: the Temple of Confucius in Shanghai (文庙).
The temple seems out of place with the liveliness of the area that surrounds it, there's just a small sign outside, the ticket counter consists of two holes in the wall before the temple, there's a guard at the entrance who also handles the tickets, and for those coming from Hunan Nan Road it's hard to find the entrance amid the small roads.
Fortunately the tourist guides haven't forgotten the temple, and when reading about which were the best attractions in Shanghai, not only did I learn about the existence of the Temple of Confucius, but also its details: every Sunday there's an extraordinary used book market held here.
An entrance ticket costs 10 Yuan, but to walk among the stalls of used books that invade the temple all you'll need to do is buy a ticket for the symbolic price of one Yuan. [Read more…]