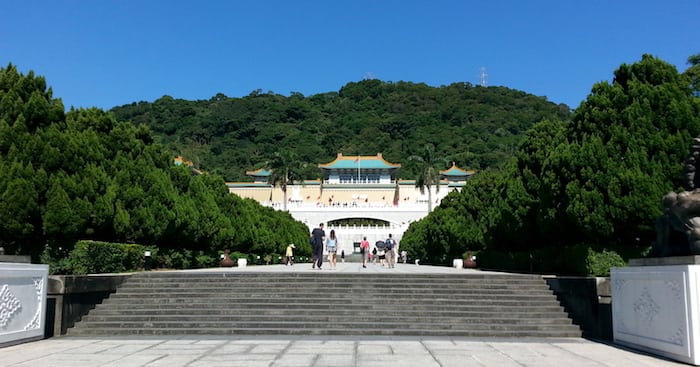 The entrance to the National Palace Museum of Taipei
One of the places in Asia that has most stayed in my heart: Taipei.
The capital (rather, provisional capital) of the island of Taiwan, or the Republic of China (ROC), or still, of Formosa: however you want to call this corner of the world, whatever your political position on it, Taipei is an indispensable starting point for entering this culture firsthand. It's certainly Chinese, but in its own unique way.
Quite quickly the Republic of China claims Nanjing (南京) as its capital on mainland China, from the times when Sun Yat-Sen had placed the seat of the first Republic there. But today, so to speak, they have to make do with Taipei.
In this guide I will refer to the island calling it Taiwan and its inhabitants as Taiwanese: in fact, from my personal experience, after spending years in China, I can say that the Taiwanese may have shared a long past, but the recent historical evolution has made them "others" compared to the Chinese. I hope I don't offend anyone with this consideration which is meant to refer to social aspects without political references.
Taipei has the characteristics of a modern large city, which is the result of Japanese, Chinese and American influence, and a very difficult internal conflict with the local populations. After the boom of the 90's of Made in Taiwan, today Taipei (and all of Taiwan) feels itself being surpassed by other nations and is slowly working to reinvent itself to its own place in the world. The city is therefore at an evident crossroads between East and West, on an architectural level as much as a gastronomic one and in the gentle ways of its people.
Note that the Taiwanese understand and can speak Mandarin Chinese (which is the official language), but an originally Fujian dialect is very widespread, hokkien. Moreover, writing is commonly done with traditional characters; Taiwan hasn't adopted pinyin in transliteration, but a phonetic system called Zhuyin or Bopomofo. [Read more…]