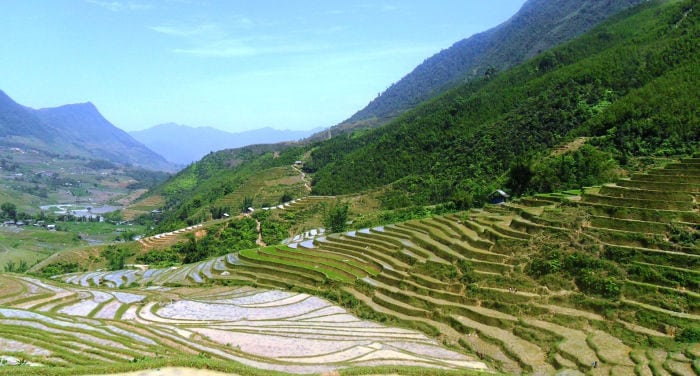 Sapa is an old mountain station in the northwest of Vietnam, dear to the French since 1922. If you like hiking, you absolutely can't miss seeing this valley that at first glance, will seem like a post-realistic painting.
In fact, Sapa is surrounded by small villages of ethnic minorities and farmers dedicated to growing rice and other cereals and sweet hills with rice terraces in view. It's an unusual and spectacular scenario.
When to go to Sapa?
The best period for visiting the town is from March to May or after the summer when there will be less rain.
Despite being late into the rainy season with thick fog, I had the pleasure to also observe the mountain peaks on two bright days. If you don't have the same good fortune, I can assure you that the town will still be colorful and bright, thanks to the colorful clothing of the ethnic minorities that live there and around, with whom I'm certain you'll come into contact with.
How to get to Sapa
Coming from Lao Cai, whether by bus or motorbike, you'll enjoy a stupendous landscape of terraced hills.
In the northern region of Vietnam riding a motorcycle is common among travelers, both for the unique mountain landscape as well as the road that is, to say the least, unusually spectacular. From Hanoi, for example, it's 380 kilometers away, and you can also put the bike on a train, get off at Lao Cai and do the last part – about 40 kilometers uphill and curvy – on bike. However the town, being very touristy, is well connected and there's even a bus station. [Read more…]