Finding a good hotel in Saint Petersburg isn't always easy. Here you will find a short list of some of the best hotels in Saint Petersburg for all range of prices, so just choose the one in the list more suitable for you and enjoy your stay in this wonderful city.
Reviews of Luxury Hotels (5 Star) in Saint Petersburg
The State Hermitage Museum Official Hotel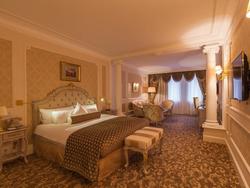 The State Hermitage Museum Official Hotel is a centrally located luxury hotel where the staff offer a range of European languages including English, German and Italian. Every en suite room is comfortably furnished and there is free Wi-Fi. Features of the hotel include an Italian restaurant as well as one serving local cuisine. There is fitness center, spa and hammam. The Staff meet all the high standards of this kind of hotel, they are on call all 24 hours and all travel and tour arrangements can be made. Be aware that there are additional charges for the spa and rail ticket arrangements.