Pattaya is one of the most famous touristic spots in Thailand and is worldwide known for its beaches and nightlife. Pattaya have plenty of accommodation to offer, but is quite normal to end up in a expensive and low quality hotel or too noisy. Unless you're not planing to sleep during your stay, you should be careful when you choose a hotel. Here you'll find a selection of some of the best hotels in the city for all kinds of budgets.
If your looking for general tips on booking hotels in Thailand click here to read our guide.
Reviews of Luxury (5 star) hotels in Pattaya
U Pattaya Hotel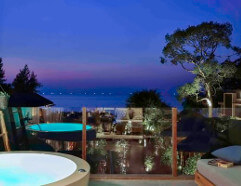 With enormous sea views, U Pattaya Hotel is one of the top hotels located on the beach with 44 guestrooms. The rooms come in the categories of Garden Villa, Pool Villa, Pool Access Villa and Beachfront Pool Villa, beautifully decked up in earthy tones using bamboo and rustic wood for a calm ambiance. All the rooms offer free Wi-Fi access and modern amenities. The rooms are spacious and for those who want complete privacy and serenity, Ocean Front Pool Villa is the one to go for. The hotel's private beach is equipped with sun beds and loungers for a relaxed soaking up of Sun. The hotel offers U Choose Program that allows the guests to choose amenities like music, tea, soap, and pillows before arriving. It houses a beachfront restaurant, terrace bar, and offers services like spa, bicycle rental, free car parking, 24 hour security and front desk. It's English speaking and highly courteous staff keeps the guests happy with their exceptional customer service. It is 14.67 km away from the Utapao International Airport and attractions like Cartoon Network Amazone and Nong Nooch Tropical Botanical Garden are within 40 minute walk away.