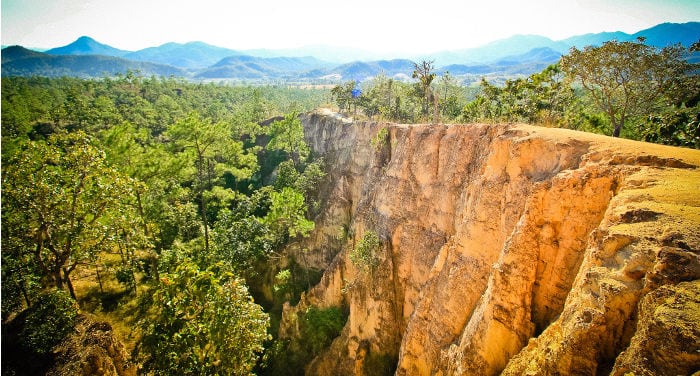 Pai is a small place located in a picturesque valley, 136 Km north of Chiang Mai. The town offers a relaxing atmosphere with lots of tourists, especially backpackers.
There's quite a mix of people that you can meet there: there are western and eastern smiles, old hippies, Rastafarians and artists, and many others. I know that these words strung together don't say much, perhaps they even sound strange, however I can assure you that they give the place a unique touch, maybe not so local and traditional, but always something special.
I recommend that you visit Pai during the low season since it could be complicated finding a place to stay between the months of October and February, which is during the dry season.
There are though about 350 guest houses and hotels and a high level of Westernization, and you can find simple accommodations in bungalows spread about the fields and along the river, as well as the many farms in the area.
To get to Pai you'll have to be ready to face 3 hours of curves, 760 curves and reckless drivers. Joking aside, driving in this area is never all that peaceful, and I invite you to take a bunch of pills to prevent car-sickness. Are you ready to get lost in Pai?
How to get to Pai?
There are regular buses and minivans that leave every hour from the central station in Pai, heading to Chiang Mai and vice versa, for a price of 150 Baht. The first bus leaves at 6:30 in the morning and the last at 17:30, but I'd recommend that you handle things personally onsite.
There are also pickups that can accommodate 12 people, which you can take from Arcade Station in Chiang Mai, like the minivans, but cost more, about 1200 Baht and are little more comfortable. [Read more…]