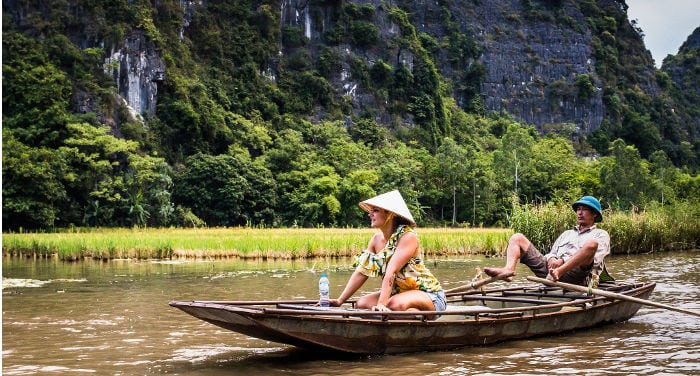 An overview of the town
Ninh Binh is located in north Vietnam, along the Red River Delta, and is also known as "Ha Long Bay on Land", because it looks a lot like famous Ha Long Bay with its karst formations; but unlike the famous bay, this is located in the interior and "floats" on immense rice paddies and waterways.
In this area you can see, and if you want, participate in the rural life of Vietnam. In fact the entire province is relaxing, without much traffic and very few tourists. You can also fully enjoy the panorama, from ancient temples, fishermen among frangipani, rice paddies and karst formations.
How to get to Ninh Binh?
Ninh Binh is the perfect place to relax after visiting Hanoi, the chaotic capital. It is located about 100 kilometers south of Hanoi, and 200 kilometers southeast of Ha Long Bay; it is therefore easily reachable by train or bus from main towns.
The ideal time for visiting this part of Vietnam is in my opinion the rainy season (from May to October), because it is in this period that nature is at its lushest and the rice paddies are a shiny green. During the rest of the year, the beauty will be just as disarming but the colors will tend towards yellow. [Read more…]