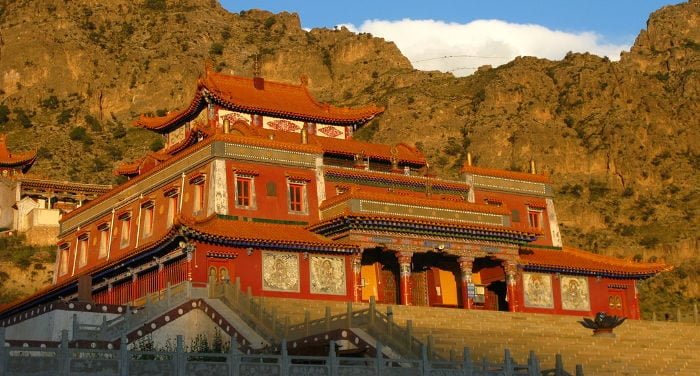 Glowing temple by Carsten Ullrich
Ningxia (宁夏), whose capital is Yinchuan (银川), is technically the smallest Chinese province, but also an autonomous region in China on the border with Inner Mongolia with a population exceeding six million three hundred thousand inhabitants.
In Yinchuan, there's an airport with a discreet network of connections, but this shouldn't scare you off: Ningxia is very small, you can easily get around by bus and train. The complete name for this place (Ningxia Huizu Zizhiqu, 宁夏回族自治区) gives us information about the ethnicity of its inhabitants: Ningxia is in fact the main dwelling place of Chinese of the Hui ethnicity (even though there's no shortage of Han, especially in the capital). In 1954, Ningxia was incorporated into Gansu (甘肃), but in 1958 it became an autonomous region.
Ningxia, with a surface area of about 66,400 square kilometers, is a very harsh territory that alternates between bare mountains and dusty plains; additionally, this area is practically divided in half by the Yellow River.
Ningxia, as part of the 黄土高原 (Huangtu Gaoyuan), known as the Loess Plateau, is primarily made up of arid mountain chains and high-altitude plains. It is important to mention the Loess Plateau because it's thanks to this that the Yellow River got its name: Loess is a sedimentary rock that gives a yellowish color to the waters of this famous river. [Read more…]