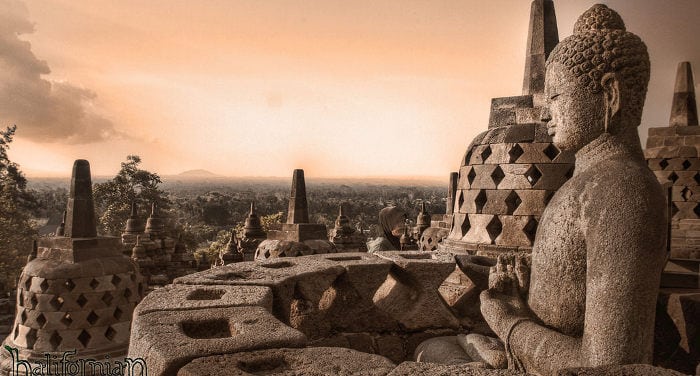 Once used as a military outpost during the Dutch East Indies colonial era, Magelang still maintains the legacy of its military past by being home to the only National Military Academy in Indonesia. However, it never ceases to amaze tourists with its beautiful scenery, the hospitality of its locals and its tranquility, cool air, and delicious food.
It is probably the only city in Indonesia that has a mountain right downtown, called Mount Tidar. In addition, Magelang is also surrounded by seven mountains: Mount Merapi, Mount Merbabu, Mount Sumbing, Mount Sindoro, Mount Andong, Mount Telomoyo, and Mount Gilipetung, making it a perfect destination for people who love hiking!
How to get to Magelang
There are several options for getting to Magelang. Since there are no direct flights to Magelang, you will need to switch over in Yogyakarta, the nearest transportation hub.
You can fly either from Jakarta, Singapore, or Malaysia to Yogyakarta Adisucipto International Airport (JOG). From Yogyakarta Adisucipto International Airport, take the Damri Bus available at airport, which will take you to Magelang. The bus is available from 7 am to 8 pm and leaves every hour. The Damri Bus costs around 35,000 IDR per person. You will arrive in Magelang in 1 to 2 hours, depending on the traffic. Because the Damri Bus serves various destinations, you need to ask the driver if the bus is going to Magelang. [Read more…]