Luoyang located in the Chinese province of Henan is one of the cradles of Chinese Civilization and one of the ancient Capitals of China and it is a famous touristic spot within China. However, it isn't a famous place to visit by international tourists. This is the reason why choosing a good hotel in Luoyang, can be a difficult task because most hotels can not host foreigners, don't meet international standards and/or their stuff can not speaking English. In this article, you will find a review of some of the best hotels in Luoyang, whatever your budget may be.
If you want some general tips about how to book hotels in China, you can read our general article here.
Reviews of Luxury (5 star) hotels in Luoyang
Yaxiang Jinling Hotel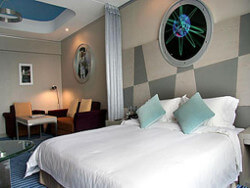 Yaxiang Jinling Hotel is one of the centrally located hotels in the Luoyang area that offers convenient access to the main attractions of the city. Some of the nearby attractions include Yishu Jie, Tang Dynasty, ZuoAn Heluo, and Ruins of Sui. The hotel features a stylish décor and 417 comfy rooms with modern amenities for a relaxed stay. In addition to this, the hotel also provides the guests with a fitness center, tennis court, game room, karaoke rooms, coffee shop, spa, casino, and Wi-Fi in public areas. The front desk staff speaks English and is warm and friendly enough to make the guests feel at home. The hotel is located 18 km away from the airport. The hotel offers great value for money and is ideal for travellers who are looking for a luxury stay at not-so high prices.