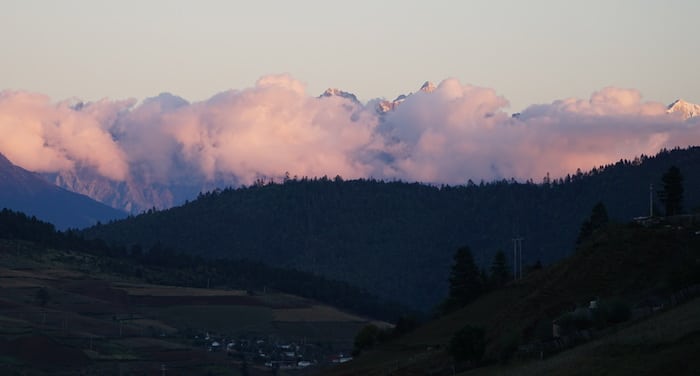 The mountains at sunset between Lijiang and Shangri-la -Photo by Matteo Bosi
Wrapped in the mountains on its high plateau, protected by the imposing Jade Dragon Snow Mountain, Lijiang (丽江) is an ancient city whose original nucleus goes back over 1000 years, when the Ancient Tea Road (or Southern Silk Road) transited here, attracting merchants from all over Asia.
The Naxi were firmly established here at the time, shaping a center that today is a renowned tourist destination. The ancient heart is surrounded by a modern city that today flaunts luxury hotels, a capacious theater and wide streets to allow the numerous crowds of tourists to appreciate the tiled ways of the historic center, curled roofs and products typical of the area.
Lijiang is an unmissable stop on a classic Yunnan itinerary; while with a little more effort you can get to Shangri-la, for sure Lijiang isn't missed by the Chinese visiting this region. As a result it's a very popular city filled with bodies.
The Naxi themselves, who once lived in these alleys and ran their businesses there, now have almost completely abandoned the place, leaving the business to the Han. What was a precious architectural and social jewel, is now in their eyes an open mall, where the streets are packed with colored lights and there's too much noise.
If you can, have a Naxi take you around the city: he'll tell you how things once were a few decades ago, before the earthquake devastated the city and the homes were in their original forms; when from the boxy square you could freely romp through the local alleys; when the locals all knew each other and each street had a specific commercial interest. [Read more…]