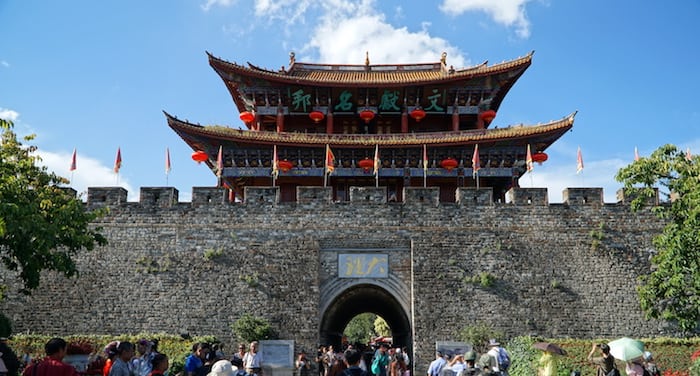 One of the entrance gates of the Dali city wall – Photo by Matteo Bosi
Located in the heart of Yunnan, Dali (大理) is a picturesque town mainly inhabited by the ethnic Bai, who settled here millenniums ago. Or better, this is the Dali Old Town, the original heart, surrounded by a city wall and characterized by typical Bai homes and architecture.
Dali New Town, which China flaunts today, is a long settlement along the shores of Lake Erhai and has almost swallowed up the small classic center on the western shore. The hotels are all close to one another, the cars battle along the road that runs along the lake going from the airport to the old center, passing by new cement monsters that are increasingly huge and in bad taste, but represent progress.
This is an area that has seen a prosperous kingdom, the Kingdom of Nanzhao, submissive to the Mongols, when the Bai Buddhists invaded and then annexed them to the Heavenly Empire; for a long time Yunnan was nothing more than a stop on the Ancient Tea Road (or the Southern Silk Road).
Today tourism is an important source of its renewal, with all the pros and cons that comes with such speculation: local artisans struggle to resist serial production, homes give in to the temptation to convert into shops, the use of local costumes has become more for the tourists than tradition, at least for new generations.
Actually it's not just in Dali, but the entire northwestern part of Yunnan, where ethnic minorities battle daily with imminent type-approval. It's here, you can say, that the situation isn't yet so compromised as, for example, Lijiang, where the locals have almost completely abandoned the old inhabited center.
This is to clarify my position as a tourist, which varies diametrically between fascination and disgust; and to make clear that in these areas it's best to go as soon as possible since, when it comes to authenticity, there's a relentless march that pushes Yunnan to lose something precious every day. The only alternative is to personally promote culturally responsible tourism. [Read more…]