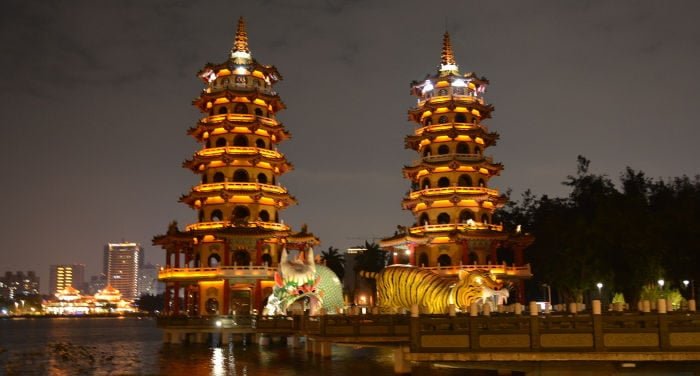 This is a travel guide to Kaohsiung, in Taiwan. Kaohsiung (pronounced GOW-shung) has a population of around 2.7 million people and is Taiwan's second largest city.
The city is found in the extreme south of Taiwan, and being located inside the tropics, the weather is understandably hot and humid. The primary part of the city is clustered around the port area, as well as the Love River. Like everywhere else in Taiwan it is clean, safe and boasts many modern conveniences.
Getting There & Around
To my knowledge, there are no direct flights from North America or Europe directly to Kaohsiung. This means that you either need to connect in a nearby Asian city, or fly into Taipei Taoyuan International Airport (TPE) and take a high-speed train down to Kaohsiung. Since my best-priced flight was nonstop Houston to Taipei on EVA Airlines (a great airline, by the way) I opted for the latter.
Getting the high-speed train is not as complicated as you might think. At Taoyaun International Airport there is a counter selling tickets for the bus (follow the signs for Bus for High Speed Rail). It costs about NT$30 (or about US$1 ) and the trip takes about 20-25 minutes. At the HSR station, buy a ticket for Zuoying Station, which is in the northern area of Kaohsiung. Depending on which train you take, the trip will take between 1.5 to 2 hours, and give you an ample look at the entire length of the western coastline.
From Zuoying you can take the Kaohsiung Mass Rapid Transit (MRT), which is a subway system to points all around the city. [Read more…]