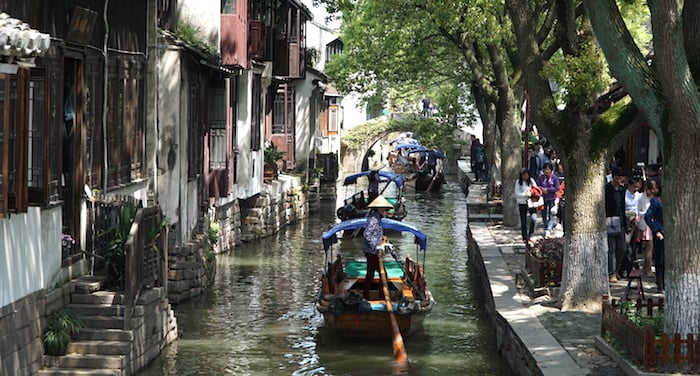 A glimpse of the canals of Tongli – Photo by Matteo Bosi
A thriving region in the east of Great China, Jiangsu is in the history books for the fundamental events that belong both to Imperial China and that of the republic. Various dynasties have chosen this central area for their capital; but when Sun Yat-Sen named Nanjing the capital of the republic for the thirty years that it lasted, and sadder still, after the famous Rape of Nanking, Jiangsu entered into modern history.
The region is currently among the richest and most developed; because of this, it's the destination for migrants and internal movements of the poorer bordering regions, such as Anhui. Just think in terms of dimensions – it's the smallest region but most densely populated of them all.
The capital city of Jiangsu is Nanjing. Shanghai was once included in part of the territory until its independence at the beginning of the last century; actually the recent history of Shanghai differs much from that of Jiangsu. However, the metropolis's influence has helped the southern part of the region to increase economically and in terms of tourism: Suzhou is the surrounding area that most benefits from its vicinity to Shanghai.
Of all the characteristics of this province, the most noteworthy is certainly the massive presence of water. Not only does the infinite Yangtze flow right through Jiangsu, Shanghai and Zhejiang, in its enormous delta, but there are also several lakes.
And obviously, the eastern coast faces the sea. This abundance of aquatic resources has resulted in…rice and fish, a staple of the local diet. It has also earned the title of 水乡 (shuǐxiāng "land of water"), especially when referring to Suzhou and its surrounding towns as the Venice of the East. [Read more…]