Irkutsk is situated in the heart of Siberia and is considered the starting point to your visit to the Lake Baikal. However it's certainly not known for its quality hotels; and finding a decent hotel here isn't always that easy. In this article you will find a selection of the best hotels in the city, whatever your budget is.
Reviews of Luxury Hotels (5 Star) in Irkutz
Kupechesky Dvor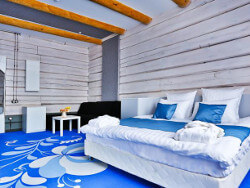 The Kupechesky Dvor is located in historical part of Irkutsk near the Angara River. It is a historic reconstruction of a traditional Siberian countryside house though inside everything is modern. There is free Wi-Fi, cable channels and the rooms are well sound-proofed. Within a few minutes walk there are shops, cafes and restaurants; the hotel scores for location with the transport network easily accessible. The helpful staff speaks English and tours, shuttle and airport transfers can be arranged at a surcharge. Facilities include luggage storage, ironing and dry cleaning, general laundry and a daily maid service. There is a gift shop within the hotel.