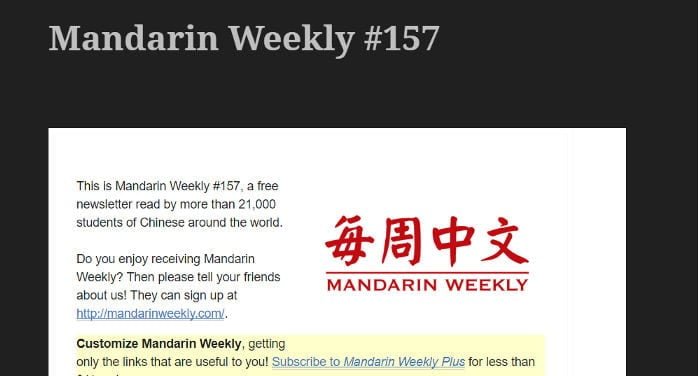 Today we interview Reuven Lerner, founder of Mandarin Weekly, a website (and weekly newsletter) that provides you the last news and tools for learning Chinese online.
I discovered Mandarin Weekly years ago, while I was researching new Chinese learning tools for updating our articles on "Free Resources to Learn Chinese Online". I'm a subscriber since then.
But let's get started!
About Mandarin Weekly
Reuven, thank you for accepting this interview. Can you tell us something about your background and how you got into Chinese language?
I have been a software consultant with my own business since 1995. Over the last decade, most of my work has been as a trainer, going to high-tech companies and teaching their programmers the tools and technologies that I know well – Python, Git, and data science. (If you don't know what those are, that's fine!).
About five years ago, a training company based in China asked me to come and teach some courses at their clients' offices. The courses went well, and I've been traveling to China 3-5 times each year ever since. I mostly go to Beijing and Shanghai, but was fortunate enough to go to Nanjing about two years ago, too.
Before my first trip, I asked several friends what I should expect. Two of them said that I should learn some Chinese. That, of course, sounded like crazy talk – after all, we know that Chinese is impossible to learn, right? The friends told me that the language isn't so bad, and that learning at least a few words would be useful. [Read more…]