The Mount Hua (or Huashan) is one of the mandatory visits when you are travelling to Xi'an. The Mount Hua is located 120 kilometres from Xi'an so if you want to enjoy a visit without hustle you may want to spend a night or two in Weinan, a small city located in the base of Huashan Scenic Area. This guide is a selection of some of best hotels in Weinan, whatever your budget may be.
If your looking for general recommendations on booking hotels in China you can click here to read our guide.
Reviews of Luxury hotels in Huashan
Huaxin International Hotel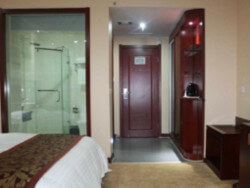 Huaxin International Hotel is a luxury hotel located close to some of the popular tourist attractions in Huayin, Weinan. This hotel is in the close vicinity of the famous Yuquan Courtyard and Xi'an Yuquan Yard of Huashan. The City Center is only a 10-minute walk away. The hotel has 116 rooms in different categories ranging from Deluxe Twin to Standard Twin to Family Suite. Each room features facilities that include a television, safe, mini bar and private bathroom with a shower and hairdryer. The 24-hour front desk, 24-hour room service and free parking are other facilities provided by the hotel that will surely delight the guests. The staff is friendly and is always prompt in helping the guests but somehow struggle with English language.