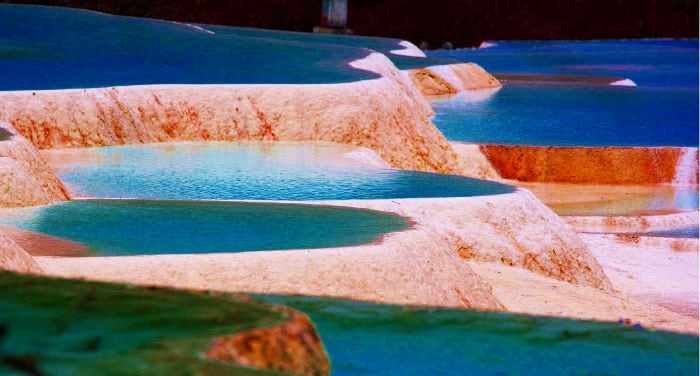 Huanglong (黄龙) is one of the most beautiful natural landscapes in China. Located in the north of the Sichuan province 380 km from Chengdu, it is without a doubt an essential visit in Western China.
The main attraction is the chain of natural pools filled with completely transparent water that run along the Yellow Dragon Valley. These pools offer a unique spectacle of turquoise terraces surrounded by a dense forest. In addition to the beautiful pools, in the nature park, you will find waterfalls and hot springs. In addition, among its fauna are giant panda bears and golden snub-nosed monkeys, a primate endemic to China that is characterized by its golden coat and bluish face. However, the latter are not easy to see.
This beautiful valley surrounded by snow-covered peaks has been a UNESCO World Heritage Site since 1992. Over the past decade and thanks to the huge popularity of the nearby Jiuzhaigou Valley, tourism has developed greatly, eliminating many of the obstacles that made this visit a real odyssey not long ago.
Note: since the earthquake on August 8, 2017, Jiuzhaigou Park will remain closed until the area is completely safe, but the damages in Huanglong were minimal, and it was reopened to the public a few days afterwards.
[Read more…]