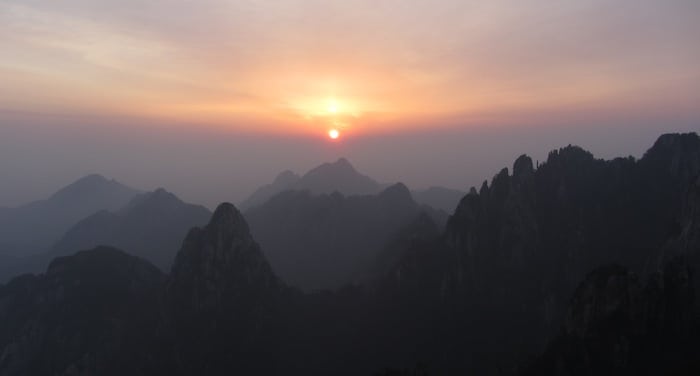 Sunrise at Huang Shan
The Yellow Mountain (Huang Shan, 黄山) is among the most visited sites in China for those looking for a unique natural landscape. It's not for nothing that the site is protected by UNESCO and tourists swarm at all times of the year.
There is therefore a rightful premise about it: if you're a tourist habitué in China, it's no longer the crowds that scare you, you know that Huang Shan is capable of dazing even the most prepared, above all during the holidays.
If instead you landed in the Middle Kingdom and have half an idea of beginning with this stop, I recommend that you start with other places so that you can gradually get used to the immensity of Chinese numbers (for example, a stop in Shanghai, Hangzhou or Nanjing).
In fact, the attraction of the Yellow Mountain is such that I saw a kilometer-long line at the entrance to the cable car, with desperate Chinese women in tears and families packed like sardines; but I have also seen young men fighting over what seemed to be the last hotel room left on all mountain peaks, when the darkness was already thick and the only alternative solution was to sleep on the hotel carpet (because the couches were already occupied).
Therefore, it's better to prepare for the trip by reading this guide. [Read more…]