Choosing a good hotel in Suzhou can be a difficult due to the large number of hotels and because in this city, many of the hotels are of doubtful quality. In this article, you will find a short review of some of the best hotels in Suzhou, whatever your budget may be.
If you are interested in general tips of how to book hotels in China, you can read our recommendations here.
Reviews of Luxury Hotels (5 Star) in Suzhou
InterContinental Suzhou Hotel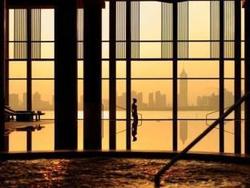 The InterContinental Suzhou Hotel has become popular with tourists and businessmen alike and is situated just 5 km from the city center. The English speaking 24 hour desk is happy to arrange tours and airport transfers. The Hotel has free Wi-Fi in every room as well as a business center and meeting facilities for commercial guests. Everyone can relax in the fitness center with a sauna, spa and indoor pool to enjoy before or after a busy day. Guests are close to all the action but can also use a coffee shop, bar, restaurant and nightclub within the hotel. Be prepared for an expensive menu if you intend to use the Riva restaurant however.