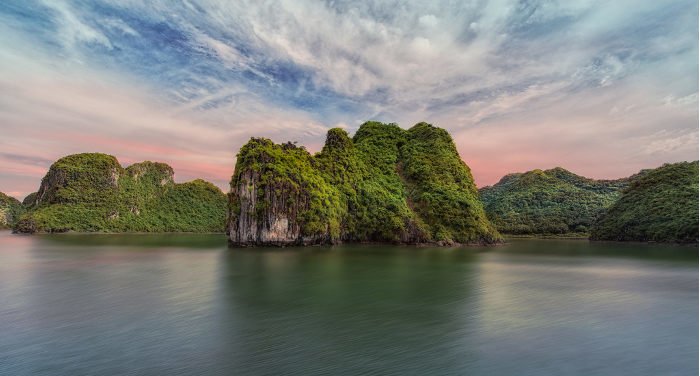 In these articles I will bring you to discover Ha Long Bay, one of the 7 wonders of the natural world!
Ha Long Bay is a UNESCO World Heritage Site since 1994. Known for its emerald waters reflecting millions of limestone rocks and islets that shoot up from the water, the bay recreates an almost surreal and mythical scene.
Many of these rocky formations are islands where nature provides a true spectacle: jungle, caves and vast marine and animal biodiversity.
How to get to Ha Long Bay?
The bay is located in the northeast of Vietnam, in the Gulf of Tonkin, off of the provincial capital of Ha Long, a few kilometers from the Chinese border.
To visit the bay you can stay in Ha Long City or get there from Hanoi.
From Hanoi
Hanoi is located 165 kilometers from the bay and in 4 hours you should get to your destination. There are various ways for getting from Hanoi to Ha Long Bay; for sure the most comfortable way is by bus, which you can also book directly at your hotel, or the minibus, a comfortable option that comes right to your accommodations.
You could also opt for a private car and driver. This last option is certainly not as cheap compared to the previous choices. [Read more…]