Haikou is the capital of the Hainan island, one of the top touristic destinations in China. Here you will find a selection of the best hotels in the city, covering all kinds of budgets. Just choose one and relax in this beautiful island!
If you want to know more about booking hotels in China, you can read our tips here.
Reviews of Luxury Hotels (5 Star) in Haikou
Mission Hills Resort Haikou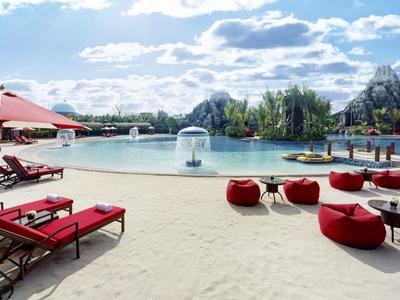 The Mission Hills Resort Haikou is an enormous hotel that houses over 500 rooms. Located in the heart of the Longhua, this hotel is a perfect place to enjoy the close by attractions and modern amenities. The rooms offer free Wi-Fi internet connectivity and the same is offered in public areas of the hotel. It is only 40-minutes away from the West Seaside and Haikou Volcanic Cluster Global Geopark, and merely 5 minutes from the Mission Hills-Huayi-Feng Xiaogang Movie Town. The hotel provides you with a wide range of recreational activities and services that include a fitness center, games room, indoor and outdoor pool, sauna, airport transfer, shuttle service, and much more. Guests can indulge in mouthwatering cuisines offered in 6 different restaurants. The staff members are fluent in English, Korean and Chinese, so you will not have any problem in communicating with them and getting things done.