In this article you'll find a review of the best hotels in Guangzhou, the capital of Guangdong Province. All the hotels are located close to the city center or near the airport. Also, we ordered them by price, covering a wide range of budgets. If you are going to Guangzhou for the Canton Fair, you may want to click here to read the review of best hotels located near the Canton Fair Complex.
Reviews of Luxury Hotels (5 Star) in Guangzhou
The Ritz-Carlton, Guangzhou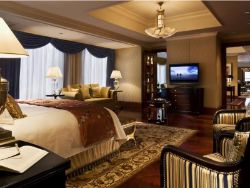 TheThe Ritz-Carlton, Guangzhou is located in the Tianhe District, featuring 351 guestrooms starting from the hotel's 20th floor. The hotel is luxurious when it comes to facilities, living to its brand name. It features an indoor pool, fully serviced spa, five restaurants, business center, salon, and ATM machine. All the rooms are spacious, smoke-free and have free Wi-Fi to keep you at ease. The hotel's staff speaks English to communicate well with guests from different countries. The hotel offers convenient access to popular attractions like Guangdong Museum, Flower City Square, Guangzhou Library, Guangzhou Opera House and Whampoa Military Academy, situated within a distance of 1.5 km only. The hotel is a 40 minute drive from the Baiyun International Airport and only 10 minute drive from the Guangzhou East Train Station.