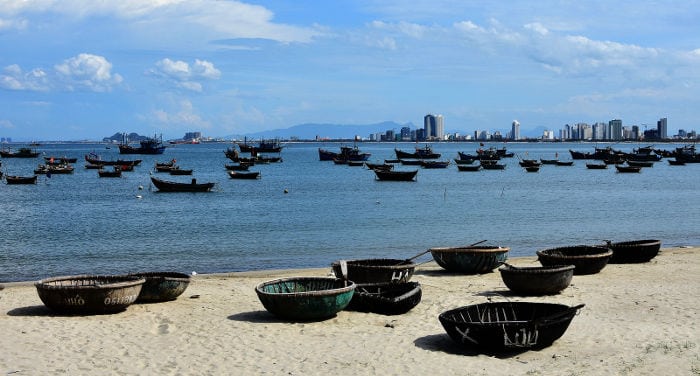 Da Nang is on the coast surrounded by beautiful beaches on two sides and the Han river running through the city. Around the city there are also mountains and many pagodas; it is an interesting place to stay and it offers easy access to surrounding places to visit, such as the ancient city Hoi An, only 20 kilometers south of Da Nang, and the Hivan Pass, a few kilometers north.
Getting to Da Nang
Da Nang is in the middle between Ho Chi Minh City and Hanoi; there are many daily flights from either city with Vietnam Air or Viet Jet, which is a low price airline.
Also if you are coming from Thailand, then Air Asia has recently started direct flights Bangkok to Da Nang. Also there is a regular train service from Ho Chi Minh or Hanoi. The travel time is about 16 hours from either city but the time can vary. Buses also offer overnight leaving in the afternoon and arriving in Da Nang in the early morning.
Where to stay in Da Nang
There are many hotels spread over the city, from 5 star luxury to budget hostels. Some hotels offer long term stay at a very reasonable price. In low season you can find decent hotels for about 8 USD per night, in both Agoda.com or Booking.com.
Finally, it's easy to find rooms by just turning up, except at holiday times such as TET which is in February about the same time as Chinese New Year. In such a periods it is recommended to book well in advance. [Read more…]