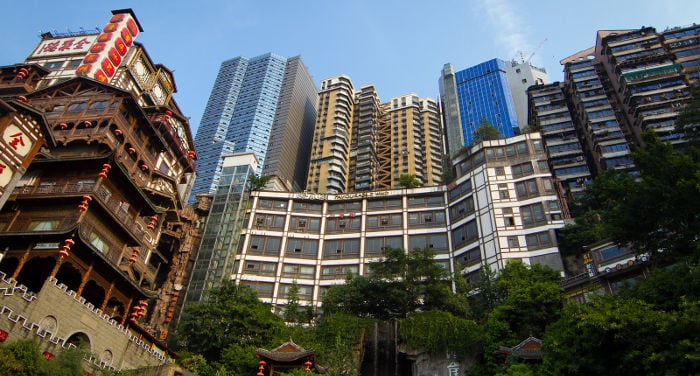 I decided to write this article to pay homage to one of the most beautiful cities I have ever visited: Chongqing (重庆). My history with this city began in February 2016. Every time I think about the days I spent in Chongqing I get a lump in my throat… and think that the first day there wasn't even the best!
Climate and topography in Chongqing
Chongqing is a hot and spicy city in all senses: high temperatures, spicy food and, especially, hot people! The lifestyle is different than any other city in China, full of energy and life in all aspects, maintaining its uniqueness. It's an unforgettable city that leaves a beautiful memory in the hearts of those who visit.
Chongqing represents one of the four cities directly controlled by the central government, along with Beijing, Shanghai and Tianjin. It's also the independent city with the most inhabitants, since the data from 2014 lists a population of 29,914,000 inhabitants.
Being located at the point of convergence between the river 长江, "Long River" (better known by its old phonetic transcription Yangtze and the name "Blue River") and the river 嘉陵江, "the Jialing River", Chongqing is a huge industrial city with a very active port – divided into 8 parts – 重庆港, the "Port of Chongqing".
The confluence between the Long River and the Jialing River is called 朝天门, "The gate that goes through heaven", an area where there's also the famous Chaotianmen Bridge, which is also where many tourist ferries depart. The most beautiful thing about Chaotianmen is being able to see the point where the two rivers converge in differing colors,
a unique panorama! [Read more…]