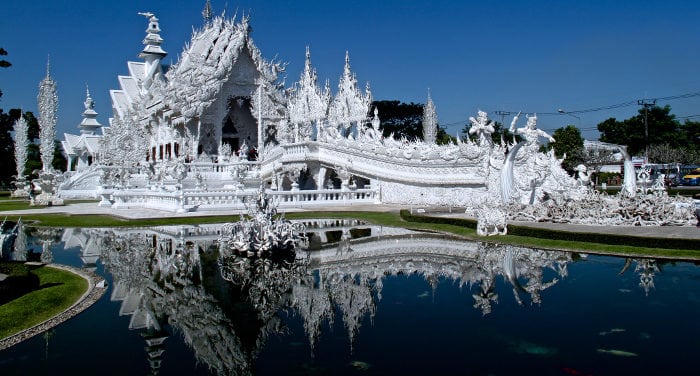 General information
Chiang Rai, a city considered noble due to its past as the capital of the Kingdom of Lanna, is especially famous for its proximity to the golden triangle; an area on the Mekong River where the territories of Thailand, Laos, and Myanmar meet, forming a triangle. The golden triangle is widely known abroad as world's most important region, second only to Afghanistan, for the production of opium during the 50's.
Chiang Rai is however known for its Buddhist temples, particularly the marvelous White Temple (in Thai: Wat Rong Khun), located a few kilometers outside the middle of the city.
The city of Chiang Rai is about 800 kilometers from Bangkok, and is the capital of the province of the same name. Just a little smaller than Chiang Mai, Chiang Rai has a population of 70,000 inhabitants. Its territory is mainly mountainous, being situated 600 meters over sea level. This characteristic makes it so that in winter the lowest temperatures go down to even 15 degrees, which is very low for Thailand.
Visiting Myanmar or Laos from Chiang Rai
Its strategic position makes Chiang Rai a perfect spot for those that also want to visit Myanmar and Laos.
Regarding the first destination, you can take a taxi from the center of Chiang Rai which will take you to the border checkpoint (Mae Sot), or a bus. Once you get to the so-called friendship bridge, the bridge connecting the customs office of Mae Sot in Thailand and Myawaddy in Myanmar, you can follow the procedures for visas on arrival directly at the border immigration office, then go on for another kilometer toward the bus station. [Read more…]