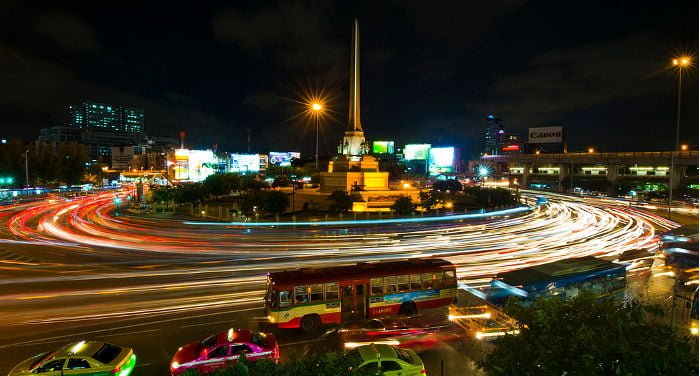 The Victory Monument Neighborhood in Bangkok – Index
One of the most stimulating areas of Bangkok is Victory Monument. As the name suggests, this area includes the area adjacent to the Victory Monument, which in Thai is called "Anu Saowari Chai Samoraphum", and is located in the northern part of the city.
The Victory Monument rotunda has Italian origins. In the middle there's an obelisk that was erected in 1941 and designed by the sculptor Corrado Feroci. During the 20's, Feroci was invited to Bangkok to teach Western sculpture at the capital university. In 1944 he was even declared a Thai citizen, and from there he changed his name to "Silpa Bhirasri".
Before the creation of the obelisk, Victory Monument was a simple rotonda with a lawn and Thai flags. The obelisk you can see today was built in the 40's to celebrate the Thai army's victory over French colonials and the later expansion of Thai rule into certain regions of Laos and Cambodia. After Thailand's defeat in the Second World War, Victory Monument became a symbol of embarrassment for its people.
Today the area adjacent to the Victory Monument is considered one of the biggest transport hubs of the city. Besides the BTS line that connects the northern part of Sukhumvit to the southern part of the city, from Anu Saowari minivans also depart for nearby cities, such as Sukhothai, Ayutthaya, Pattaya, the islands of Koh Chang and Koh Samet, and also towards the floating markets of Amphawa and Damnoen Saduak.
On the two sides opposite the rotonda (the one near the shopping malls and the one near the hospital, to be clear), you can take local buses toward almost every district of the city. For a more detailed guide on how to get around by bus and minivan in Bangkok and Thailand in general, read here. [Read more…]