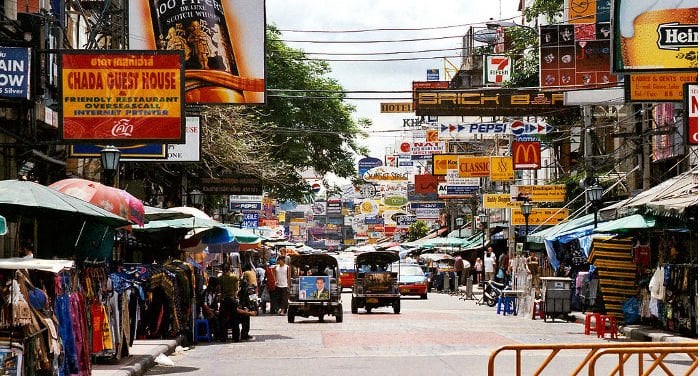 Khao San Road (ถนนข้าวสาร, in Thai) is a road that's approximately 400 meters long in the Phra Nakhon district. Located in the western part of Bangkok, this neighborhood became famous for its Rattanakosin area, which the locals call "Rattanakosin Island".
The name comes from the fact that the area has the shape of a small island: in the southwestern part it's surrounded by the Chao Praya River while in the northeast two artificial canals have been built – Saphan Lek and Khlong Rop Krung.
The birth of Rattanakosin Island goes back to 1782, when King Rama I of the Kingdom of Siam decided to move his capital from the Thonburi area south of the river (where the famous Wat Arun Temple stands today), to the north at Rattanakosin. This era is considered to be the fourth after the kingdoms of Sukhothai, Ayutthaya, and Thonburi.
Besides changing the location of the capital, King Rama I (the first monarch of the Chakri Dynasty and once a war general) also had the artificial canals built so as to protect the entire area around the royal palace. As a result, the Chinese merchants that lived there were forced to move into the area that today is called "Chinatown".
Thanks to its history, these days the area of Rattanakosin is what contains the highest number of tourist attractions in the city:
the great royal palace (Wat Phra Kaew);
the temple of the reclining Buddha (called Wat Pho);
the city Pillar Shrine;
the Giant Swing;
the national and royal theaters;
the national and Siam museums;
the Rama VIII bridge;
Santi Chai Prakan park with the Phra Sumen fort inside;
the Rama I, Rama III, and democracy monuments;
several Buddhist temples (Wat Intharawihan, Wat Sam Phraya, Wat Makutkasattriyaram, Wat Bowonniwet, Wat Chana Songkhram, Wat Mahathat, Wat Ratchabophit, Wat Ratchapradit, Wat Suthat).